February 9, 2018
Will Mauricio Pochettino's fitness obsession be enough to get Tottenham past Arsenal and their new faces?
At the end of the last session before the north London derby, Mauricio Pochettino will bring his main staff into an office at Tottenham Hotspur's state-of-the-art training base. The Argentine and his assistants will go over all of the data that comes from the GPS vests the players wear as well as other technological innovations, just to make sure they can fully trust what they're seeing on the grass.
Combined with the figures from the last few seasons, those stats should show one thing and thereby suggest something bigger: that Spurs are at top physical levels; that they're about to pick up form; that "the express train" is coming – and at speed.
That has been the trait of the first three full seasons under Pochettino. It has been at around this point that they have started to drastically improve, in terms of both results and performance.
Tottenham v Arsenal: The best north London derbies
1/11





Tottenham Hotspur 1 Arsenal 0 – December 12, 1992

It was Teddy Sheringham's (right) first North London derby and, unsurprisingly, all attention was focused on the striker. It was also the first north London derby of the newly-formed Premiership. Yet it was not Sheringham who grabbed the headlines but Paul Allen, who scored the only goal of the game.

GETTY IMAGES

2/11





Tottenham 2 Arsenal 2, 2004

2004 was Arsenal's 'invincible' season, and on top of that, they clinched the title at White Hart Lane. Arsenal were 2-0 up thanks to goals from Patrick Vieira and Robert Pires. Robbie Keane scored Tottenham's equaliser from the penalty spot to give the Gunners a late scare but there was no stopping this formidable Arsenal team.

GETTY IMAGES

3/11





Tottenham 3 Arsenal 1, 1991

This was the first FA Cup semi-final played between the two sides. Spurs midfielder Paul Gascoigne (pictured) scored a memorable free kick from 30 yards out and Gary Lineker doubled the lead. Alan Smith pulled Arsenal back into the showdown but Lineker was on target once more to seal Tottenham's place in the Final, which they won the following month. Gazza's comment after the match was, "I'm off to get measured for me soot! Yes!"

GETTY IMAGES

4/11





Tottenham 0 Arsenal 1, 1971

2004 was not the first time Arsenal won the title on their rivals soil. Arsenal went into the game needeing a win or a goalless draw to take the title and they got their reward when, with three minutes to go, Ray Kennedy headed home to secure the title. The Gunners went on to lift the FA Cup that season.

GETTY IMAGES

5/11





Arsenal 1 Tottenham Hotspur 1, 1995

This match was billed as the battle of the strikers with Jurgen Klinsmann (pictured) and Ian Wright both chasing 30 goals for the season. Arsenal's frontman was on 29, while Tottenham's German striker had 27. Both men scored but the points were shared. Klinsmann was named football writers Footballer of the Year that season.

GETTY IMAGES

6/11





Tottenham 2-3 Arsenal, 1988

All five goals in this entertaining derby came in the space of 12 first-half minutes. The best of the lot was the first, scored by Nigel Winterburn (pictured). Tony Adams went on a 40-yard run up the park before laying off a sublime through-ball to Winterburn who slipped it into the bottom corner. Chris Waddle brought things level for Spurs before two more for Arsenal, one from Brian Marwood and the other an Alan Smith header. Paul Gascoigne clawed one back, scoring with his sock after losing his shoe as he ran in on goal but it wasn't enough as Arsenal stopped the madness and held on for 3-2.

GETTY IMAGES

7/11





Arsenal 2 Tottenham Hotspur 1, 2001
Sol Campbell had given Tottenham an added incentive ahead of the FA Cup semi-final against Arsenal by revealing that he was almost certain to stay at the club if they lifted the trophy. Yet it was not to be. The Gunners dominated the tie at Old Trafford, in what was Glenn Hoddle's first match in charge. Robert Pires scored the winner and we all know where Campbell ended up.

GETTY IMAGES

8/11





Tottenham Hotspur 0 Arsenal 5, 1978

Despite the 'boring' tag they acquired under George Graham, Arsenal, especially during Liam Brady's era, used to win some games in style, and none more so than this one. The man-of-the match was hat-trick hero Alan Sunderland (pictured), but the game is better remembered for a classic Brady strike. The Irishman tackled a Spurs defender on the edge of the penalty area, stood up, and unleashed a fierce, curling shot into the top corner.

GETTY IMAGES

9/11





Arsenal 4 Tottenham Hotspur 4, 2008

In one of Harry Redknapp's first games in charge he faced the daunting task of a trip to the Emirates. A memorable long-range strike from David Bentley got things underway but Arsenal were cruising at 4-2 on the cusp of extra-time. When Clichy slipped, Jenas ran 30 yards before curling a magnificent left-footed shot past Almunia to make it 4-3 and one of the greatest games in Premier League history was sealed when Luka Modric hit the post with a dipping volley and Lennon raced in to score the equaliser.

GETTY IMAGES

10/11





Tottenham Hotspur 1 Arsenal 2, 1987
This match was the culmination of an epic League Cup semi-final encounter that took 270 minutes to complete. The first leg ended in a 1-0 Spurs victory at Highbury and the second a 2-1 defeat, so another match was needed to determine who would meet Liverpool in the final. A toss of the coin decided that it was to be played at White Hart Lane, but, once again, Spurs failed to make the home advantage count and lost out to a last gasp goal from David Rocastle (right).

GETTY IMAGES

11/11





Arsenal 5 Tottenham Hotspur 2, 2012
With both sides desperately trying to secure a top-four finish, last season's clash had a lot resting on it. Arsenal came back after conceding two early goals to be level at half time before storming to a sensational win in the second half. The result appeared to affect Spurs who eventually slipped behind Arsenal in the league table and missed out on Champions League qualification as a result of Chelsea's European success.

Getty Images
Spurs claimed 64 wins in those three campaigns, and a majority of 35 came in the back 19 games of the season. Those figures might be higher were it not for the infamous blow-up at the end of 2015-16, something that is really seen as the psychological effects of losing their first title race rather than anything physical.
And that is the really relevant point here. It is from this period in the last two seasons that Spurs set off on the imposing winning runs – and the two longest of the Pochettino era – that really launched their title challenges. It was this period that saw them streak ahead of better-resourced rivals, that saw them last season jump from fifth to second.
In 2015-16, they went on a six-game streak. In 2016-17, it was nine, and that also saw their points return shoot from 39 in the first half of the season to a remarkable 47 in the second.
That is the real key, rather than consecutive victories: the strength of force that ensured they instantly bounced back from any failures to win.
As a clear illustration of the difference, you only have to look at the fleet-footed energy shown in the 2-0 victory over Manchester United at the end of January, compared to the flatness in the 2-0 defeat to Arsenal back in November.
This is the extra incentive for Arsene Wenger now that the two teams meet again at Wembley, to stop Tottenham in the match and also maybe stop them gathering extra psychological momentum at source. It is all the more important since a Spurs win would put them seven points clear of sixth and likely end Arsenal's chances of the top four, especially since they just can't seem to generate anything like the same consistency.
This, however, is also the extra twist to this game.
Such spring winning streaks used to be the Wenger speciality. It was one big way he won all of his Premier League titles. Those campaigns were characterised by Arsenal just picking up a pace that no one could keep up with to surge home. They won 10 consecutive games in 1997-98, 13 in 2001-02 and nine in the unbeaten league season of 2003-04.
All of those are among the Premier League's longest streaks in 26 years of the competition, while all of Wenger's best runs have come in the last 19 games of seasons.
13 2001-02, match 26 to 38
10 1997-98, match 27 to 36
9 2003-04, match 21 to 29
8 1999-2000, match 29 to 36
8 2014-15, match 25 to 32
Only one of them has come in the last few years, though, and that was as far back as 2014-15. While they did win six in a row at the very end of last season, that was when top-four was already gone. The express train never got going in the way it used to.
There are bigger much-discussed football reasons for this, too, but it's difficult to get away from the argument that Wenger is no longer cutting edge in physical conditioning in the way Pochettino is.
Arsenal outstripped teams because they were the fittest. That was what so stood out about the transformed 1997-98 side.
There is an irony there, too. Stories of Wenger revolutionising Arsenal's diet and fitness became so repeated and old-hat to the point they first became parodied through jokes about broccoli. Second, that saw people become deaf to them and, third, thereby made people actually forget about them. The last development has especially been the case in an era when Arsenal have seemed to endure a customary injury crisis every season and there have been so many question about the manager's approach.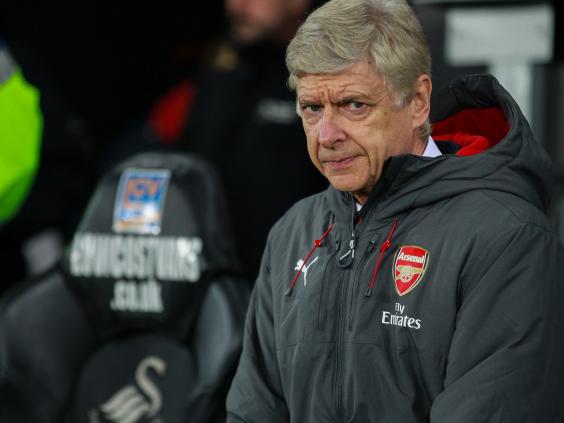 The truth is that Wenger used to be as obsessed with every little detail of the fitness and physical well-being of his players as Pochettino is now.
It was when Arsenal were at a physical peak, around 2001-02, that Pochettino the player began to take a proper interest in how a footballer's body worked. He would spend hours chatting to Paris Saint-Germain fitness coach Feliciano Di Blasi. Pochettino gradually developed a religious zeal for the topic, before adding a properly scientific rigour as he became a coach.
He would be on top of every development in the field, using every piece of data available. It was also why his first meeting with assistant Jesus Perez when at Espanyol was a meeting of minds. They just saw it the same way, but Pochettino believes Perez is the one that makes the real difference.
"One of the reasons is my guidance next to me," Pochettino said at his Thursday press conference, patting Perez on the back. "He's a genius."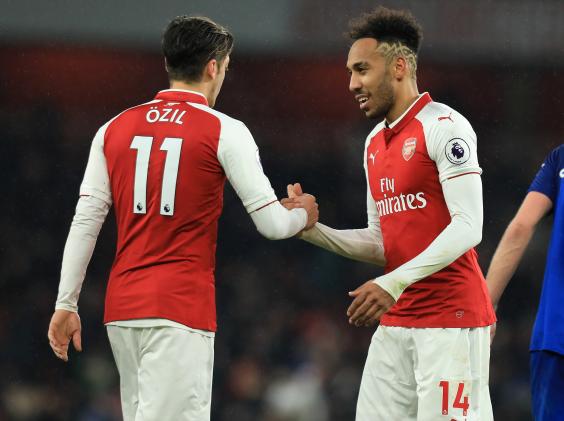 Nothing is left to chance. Spurs now have six fitness coaches working on deeply detailed programmes for every individual player, with Perez then co-ordinating everything in sophisticated cycles.
The current cycle should see them come to form, and thereby develop what Pochettino has previously described as the "aura" that surrounds winning sides.
That, however, is something else that might chime with Wenger. He didn't just build winning runs through fitness, but also through building an atmosphere of utter confidence around squads. Wenger would strive to create such mood – or "aura" – that his players get to the point where they are interchanging and expressing themselves through what seems like mere instinct. They appear to have captured that at the moment after the signing of vibrant players in Henrikh Mkhitaryan and Pierre-Emerick Aubameyang, but it's still only been one game.
And this is actually a curious difficulty for Pochettino on Saturday. While we should know what Spurs we're going to get thanks to a lot of science and numbers, we don't really know what Arsenal we're going to get, because the front side of the team remains so new and they're so dictated by emotion; by the vibe around the team.
The very human understanding of Mkhitaryan and Aubameyang with Ozil could well make this another unhappy day for Spurs, but Arsenal still have to stop the mechanic certainty of the express train.
Reuse content