October 6, 2016
Why Malta love English football and a look back to the memorable last meeting between the two
David Beckham was jogging down the right with the ball but David Carabott had other ideas. Carabott hit Beckham with a snapping tackle. "He just looked at me with that face," Carabott remembers, "of 'what do you think you're doing?'"
This was June 2000, Beckham was 25 years old, not at the peak of his fame but near the peak of his career. Here he was in Malta, at the Ta'Qali national stadium in Valletta, playing a meaningless friendly just eight days before England started at Euro 2000. For Beckham, as for the rest of the England team, this was a game to get through, to safely reach Eindhoven to face Portugal the following week.
But for Malta this match meant everything. "Just play the game," Carabott told Beckham. "I am not going to let you past just because it's a friendly."
This was the last time England played Malta, and only the third time the two teams have ever met. The first two had been qualifiers for the European Championship of 1972, but this was very different, a game of entirely uneven meaning. Officially this was a game to mark the centenary of the Maltese Football Association. In reality it was an attempt to get the Maltese Football Association to vote for their bid to host the 2006 World Cup. England had already played more testing warm-ups against Brazil and Ukraine at Wembley. This was an unnecessary third.
Not that the Maltese saw it that way. There is a long-standing Anglophile tradition in Malta, and an obsession with English football that pre-dates the more modern popularity of the Premier League abroad. The Maltese supporters clubs of Manchester United, Liverpool and Arsenal are famous for their size and their fanaticism. To have Beckham, Alan Shearer, Paul Scholes and Robbie Fowler playing in Valletta meant a lot.
"English football is very popular in Malta," explains Carabott, who ranks this as the best moment of his record-breaking 123-cap international career. "There are a lot of fanatical people who support Manchester United, Liverpool, West Ham United, Derby County and Southampton."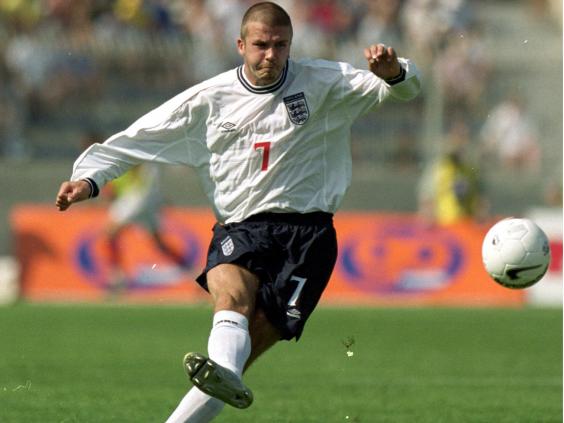 These fans, who support English clubs and often the England team, packed into the Ta'Qali stadium to support Malta. With more than 10,000 people it was as full as it could have been at that time. "Playing England created a vibe around Maltese football," remembers Gilbert Agius, who played up front for Malta. "The stadium is full and the atmosphere was electric."
The Maltese players wanted to translate that passion onto the pitch. They were semi-professionals, although the lucky ones, like government worker Carabott, were sponsored by their employers to train full-time with the national team in the build-up to the England match. "It was a big occasion for Maltese football," he says, "and we didn't want to let the nation down. We wanted to prove ourselves, even as amateurs from such a tiny country."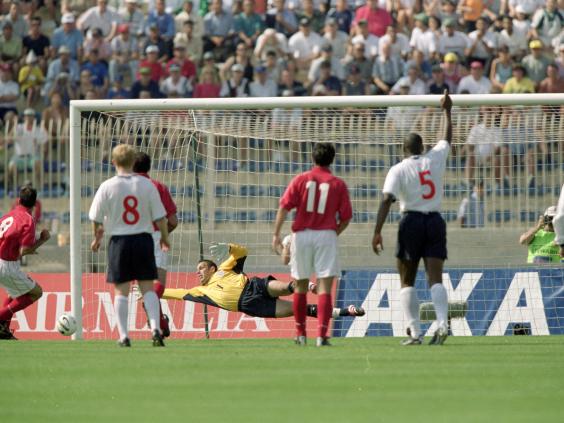 This is why Malta were able to surprise an England team who were clearly going through the motions. Keegan's men struggled to create chances, needing a Martin Keown header from a Beckham free-kick to take the lead.
But England had a 22-year-old Richard Wright in goal, and he gave away a penalty soon after. Carabott scored it, was ordered to retake, and the second kick rebounded in via the post and Wright's head.
Malta continued to push hard, and centre-back Darren Debono had to go off with a broken nose after being caught by one of Alan Shearer's flailing elbows. England finally got back into the lead with 15 minutes left through Nicky Barmby. That should have been that but it was not. Wright gave away another penalty, Carabott had a chance to make it 2-2, but could not beat the promising Ipswich Town custodian.
"We could easily have drawn 2-2," says Carabott. "We are not heroes, this is our job. And we didn't let our nation down. The England players, because it was a friendly just before the Euros, they just wanted to not get injured. For us, it was like a real competitive game. Everybody wanted to play their hearts out, and we did."
England left with a win, some goodwill, no injuries, but not much else. "If we play like that in Euro 2000," Keegan said afterwards, "we'll be on the first plane home." They did, and they had been warned.
Reuse content