April 11, 2016
West Ham 3 Arsenal 3: Andy Carroll urges Roy Hodgson to take punt on striker's unique abilities
Andy Carroll has urged Roy Hodgson to take him to the Euros this summer because of his unique style of old-school, bullying centre-forward play that was very much in evidence on Saturday as he battered a hat-trick past Arsenal in the gripping 3-3 draw at Upton Park.
"I've got something different," the West Ham striker said, "it's as simple as that. There's a lot of great strikers out there but I don't feel they've got what I've got. It's nice to be spoken about in that way [being a candidate for the England squad] but at the minute I've just got to concentrate on our job at West Ham and if selection comes, it comes. It's something at the back of my head but it's not my decision."
Carroll is right, Hodgson is blessed with strikers – a rare treat for an England manager over recent years – with Harry Kane and Jamie Vardy atop the scoring charts, Wayne Rooney as captain and Danny Welbeck and Daniel Sturridge Hodgson favourites. So Carroll's chances do look slim, especially as he has had another season blighted by injury. But while all the aforementioned forwards have their qualities none pose the challenge that Carroll does. He was too much for Laurent Koscielny and Gabriel on Saturday as he has been for many an Arsenal defence. "I'd like to think I ruffle everyone up, you know," Carroll said. "Not just Arsenal, that's just part of my game."
The Arsenal manager Arsene Wenger admitted Carroll was all but unstoppable. "With a player like Carroll they can score a goal from nothing. Any set-piece, any free-pick. He was fresh, he wanted to fight. We know that Carroll can beat anybody in the air. We jump but we didn't make it uncomfortable for him."
Carroll, though, was fortunate to have lasted 90 minutes on Saturday – still fuming from an innocuous aerial challenge, he raked Koscielny's achilles with one foot and took a swing with the other. He was booked but on another day it could have been afternoon over, just three minutes in. No one would be talking about the England squad then. Later he clashed with Gabriel. And with referees across Europe less familiar with Carroll's unusual attributes, does he not worry he could be in trouble too often?
West Ham vs Arsenal – player ratings
1/22



WEST HAM UNITED: Adrian – 5 out of 10

Though he could do little about Arsenal's goals he never seemed to be entirely confident when Welbeck pressed him in possession and was lucky to avoid a disastrous error in the first half.

2016 The Arsenal Football Club Plc

2/22



James Tomkins – 5 out of 10

It was perhaps no surprise that the converted centre-back was hooked off at half-time after a poor 45 minutes when he dropped too close to the defenders, giving Monreal too much space to cross.

2016 The Arsenal Football Club Plc

3/22



WInston Reid – 5 out of 10

All too often looked nervy on the ball, with Arsenal smartly targeting and pressing him. He was lucky his mistakes did not cost him all that often.

2016 Getty Images

4/22



Angelo Ogbonna – 7 out of 10

Calm and composed for most of the game, he seemed to have his head in the right place whenever Arsenal put a cross into the area.

2016 Getty Images

5/22



Michail Antonio – 7 out of 10

Time and time again left Monreal sprawled on the floor with direct running whilst he gave the Arsenal left-back plenty of difficulties coming forward. Adapted swiftly and effectively when deployed at right back.

2016 Getty Images

6/22



Aaron Cresswell – 7 out of 10

Provided a gorgeous cross for Carroll's first and you certainly wished to see more of his attacking game. Whenever he got forward he was dangerous.

2016 Getty Images

7/22



Mark Noble – 7 out of 10

The calmest man on the pitch in this tempestuous clash, he was not always at the centre of proceedings but when he was, as in a crucial tackle on Sanchez at 3-2, he never let anyone down.

2016 Getty Images

8/22



Cheikhou Kouyate – 7 out of 10

In the game's early stages he was overpowered too often but he soon came roaring back, winning the ball in deep areas and bursting forward to spring another West Ham attack.

2016 Getty Images

9/22



Dmitri Payet – 7 out of 10

A strange display from the Hammers star man, who at times was guilty of overcomplicating matters when the best tactic might have been just to cross it to the big guy. Still he oozed confidence whenever he had the ball and that transferred to West Ham.

10/22



Manuel Lanzini – 7 out of 10

Neat and tidy in possession whilst contributing to the attack with late surges into the box, his display deserved the early goal incorrectly ruled out.

11/22



Andy Carroll – 9 out of 10

For 43 minutes he was a liability at best and could have seen red for a foul on Koscielny but then he exploded into life with a display even the best defenders would struggle to deal with.

2016 Getty Images

12/22



ARSENAL: David Ospina – 7 out of 10

For all the pre-match nerves about the undersized Ospina against Carroll he could have done little with any of the goals and made a string of solid saves either side of half-time.

2016 Getty Images

13/22



Hector Bellerin – 5 out of 10

Fell asleep from an early cross and played Lanzini on – he was fortuitous the goal was ruled offside. That was typical of a day when Bellerin was not really at his best, often left looking leaden footed by Payet.

14/22



Gabriel Paulista – 4 out of 10

A cataclysmic display from the Brazilian – for 45 minutes he was perfectly adequate but switched off for Carroll's first two goals. That was better than the second half, where he seemed to go into hiding.

15/22



Laurent Koscielny – 5 out of 10

Meek and tame are not the sort of words usually associated with an Arsenal captain but they are only right today as the Frenchman allowed himself to be constantly outmuscled by Carroll.

2016 The Arsenal Football Club Plc

16/22



Nacho Monreal – 5 out of 10

Really struggled with the direct nature of Antonio in defence though the Spaniard was perhaps more attacking than he has been in recent months, allowing Iwobi to drift infield to great effect.

2016 Getty Images

17/22



Mohamed Elneny – 7 out of 10

No matter the pressure Elneny always wants the ball and in a match like today that was crucial for Arsenal when they were playing well. He could do nothing when they were struggling.

2016 The Arsenal Football Club Plc

18/22



Francis Coquelin – 7 out of 10

Sacrificed as Arsenal chased the win but he had brought crucial balance to their midfield and relished the physical encounters of the London derby.

2016 Getty Images

19/22



Alex Iwobi – 7 out of 10

With the likes of Payet and Ozil on the pitch the 19-year-old Nigerian looked at least the equal, with his assist for Sanchez worthy of either of that pair.

2016 The Arsenal Football Club Plc

20/22



Mesut Ozil – 6 out of 10

When Arsenal were playing well he thrived, scoring a quite excellent opener, but did he ever take the game by the scruff of its neck and look to change the momentum? If he did it didn't work.

2016 The Arsenal Football Club Plc

21/22



Alexis Sanchez – 6 out of 10

Still not at his very best but he took his goal superbly and might have had a penalty when he burst into the area late on. He still looks tired .

2016 The Arsenal Football Club Plc

22/22



Danny Welbeck – 7 out of 10

Exactly what Arsenal need in a striker, more than just a Giroud-Walcott hybrid he is a pacey, direct runner who never let West Ham's backline settle for a second. Needs to get into goalscoring positions more though.

2016 The Arsenal Football Club Plc
"I've just got to be sensible haven't I?" Carroll said. "Simple as that. You can be sensible in a lot of the tackles and still be physical. I did OK at Euro 2012. You know exactly what the European referees are going to do. Off a little touch, a little scream, a little dive, they're going to send you off, give a yellow card, a foul, you know, you've just got to be clever. And I don't think it's really that hard to be that clever when you're playing with them refs and players."
Carroll's case would be strengthened by a run in the team until the end of the season but that requires him to stay fit. "It's been disappointing all season with injuries," he admitted. "It's just stop and start and very frustrating. I certainly don't want to be injured. I just want to be on the pitch. It's my job, it's my hobby, it's my life. I hope the injuries are behind me but every time I say that they come back, so…"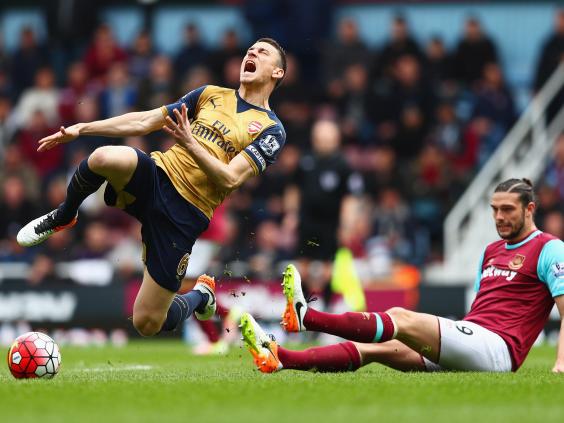 Slaven Bilic believes Carroll could do more to help himself on that front. "When he gets consistency he is like that [against Arsenal]," the West Ham manager said. "So, he has got to do something. The medical team, the club we are doing everything. OK, he's doing it but he should be even more dedicated or it's a waste. It's a waste for West Ham, it's a waste probably for England or big clubs in Europe who want to buy him. But the biggest waste is for him." But, what more can he do than a nine-minute hat-trick? "Well, if he goes to bed at 10, he should go to bed at 9.30 now."
Wenger, who must now know Arsenal's race is run even if he will not admit it, was lost for an answer as to why his side threw away a two-goal lead and only gained a point, his season summed up in 90 up and down minutes. "Every time we concede goals people come up with the same thing: you lack leaders or you lack this or you lack that," Wenger said. "I don't deny that we lacked something at 2-0. Is it leadership? I'm not completely convinced. Just heading the ball." Carroll can certainly do that.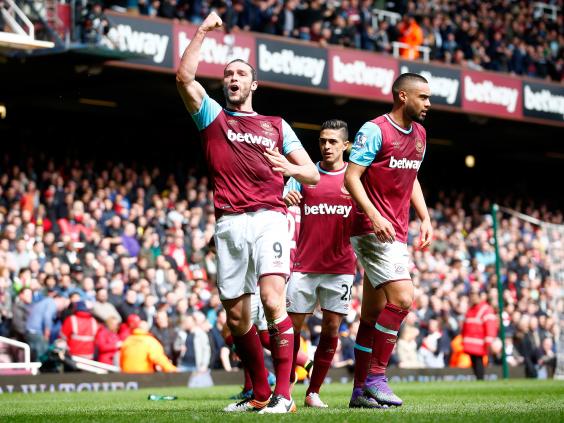 So, when was the last time Carroll chatted with Hodgson? "Last time I was with England." But is he expecting a phone call? "I'd love a phone call. I don't know if I'm expecting one."