June 10, 2016
Wenger rates Wales' chances – Ramsey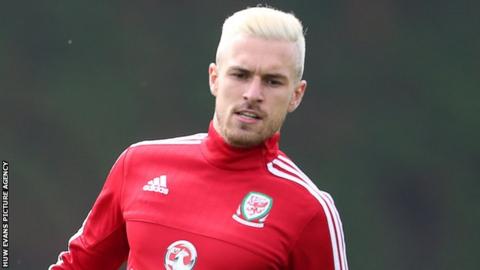 Midfielder Aaron Ramsey has revealed his Arsenal manager Arsene Wenger feels Wales could be Euro 2016 dark horses.
Wales face Slovakia in their opening match of the European Championships on Saturday before games against England and Russia.
Ramsey, 25, is one of nine players from the Premier League runners-up who will be playing in the finals in France.
"The manager said we could be pretty dangerous so hopefully that proves right. He's a wise man," said Ramsey.
Ramsey will be part of the first Wales side in 58 years to play at a major finals when they face Slovakia.
The former Cardiff City midfielder scored two of Wales' 11 goals in Euro 2016 qualification.
"Normally I'm on holiday now," Ramsey said.
"When the campaign started and we got those couple of wins early on I kept winding the Arsenal boys up saying 'I'll see you in France'.
"The way things were developing it was looking promising. To finally achieve it was great.
"To go in knowing I would actually be playing in the finals… I can share that experience now with some of the players who've done it.
"I know what it's like with other sports in the country, in the Six Nations the whole country is there for you.
"I wouldn't say I was jealous of rugby, but I wanted to experience that same buzz they get when that's all people talk about."
Who do you think should start at Euro 2016? Step into Chris Coleman's shoes and pick your XI – and then share it with your friends using our brand new team selector.