July 5, 2016
Wales vs Portugal Euro 2016 preview: Cristiano Ronaldo can not afford to let this final opportunity pass by
There must have been moments, even for a man so crammed with self-belief, when Cristiano Ronaldo feared that this would be another early flight home, another missed chance, another tournament in which he was unable to drag his team to glory. Portugal drew all three of their group games, and were 1-0, 2-1 and 3-2 down to Hungary before getting that third point that sent them through.
It took Portugal 117 minutes to get a shot on goal against Croatia in the last sixteen, but when Ronaldo's shot was saved, Ricardo Quaresma put in the rebound, still their only real win from five games. They were on the back foot for most of their quarter-final against Poland, but won on penalties.
Now Ronaldo finds himself facing a semi-final against Wales, a prospect that would have been scarcely believable one month ago. Even given Wales' noble over-performance, this semi-final is still a world away from the clashing giants in Marseille on Thursday evening.
Portugal are no strangers to semi-finals, having lost to Spain in 2012 and France in 2006. But this is a far better chance than either of those. This is the best chance Portugal and Ronaldo have had to win something since 2004, when they ran into a spoiling Greek side in the Euro final who ruined their party with a 1-0 win in Lisbon that no-one expected. Nineteen-year-old Ronaldo left the pitch in tears.
Since then Ronaldo has won three European Cups, four domestic titles and three Ballons d'Or, marking him out as the best European player of his generation. He is now 31 years old and has passed his peak as a player. He is not the dashing young hope of this team out on the wing, but Portugal's leader and spearhead up front.
Back at Euro 2004 Ronaldo played in a team with Luis Figo, Deco and Rui Costa, but now he is the main danger in a team which plays conservative minimalistic football. Coach Fernando Santos does not find a starting place for Joao Moutinho, their best creative midfielder, preferring to trust in two banks of four and the occasional threat on the break.
It is similar to the football Greece played when they beat Portugal twice in 2004, and it is no surprise that Santos spent much of his career there. Portugal could very plausibly do to France or Germany what Greece did to them three European championships ago.
All tournament Ronaldo has looked like a man who knows that this is his last best chance at this level. He will be 33 by the time of the next World Cup in Russia, and for a player so reliant on physical power he cannot count on producing so much of it in two years time. This is an open Euros, thanks to the format and the lack of top rivals.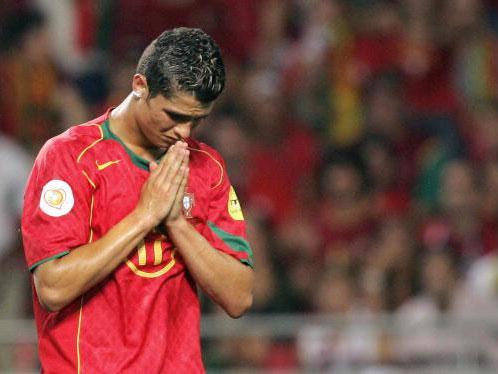 That is why Ronaldo was so furious when Portugal blew their opening-game lead to Iceland, prompting his laughable comments about Iceland having a "small mentality". That is why he has looked so tense away from the pitch, throwing a journalist's microphone into a lake when he did not like a line of questioning. That explains the contrast with Gareth Bale, more relaxed, more happy to drink in his first tournament experience, more excited at 27 years old about what him and his team may be able to do at the next tournament or the one after that.
But almost all of that nervous energy and desperation has been backed up so far. Ronaldo may never have played in a team that sees less of the ball than this one, but, penalty miss against Austria aside, when he does get it he is doing enough to keep them alive. He scored twice against Hungary to keep Portugal in the group stage. He set up Quaresma's winner at the death against Croatia. He converted his penalty in the shoot-out against Poland, setting the tone with Portugal's first kick rather than futilely waiting for the fifth as he did against Spain four years ago.
So Ronaldo will go into Wednesday's duel with Wales consumed by the importance of not letting this opportunity go. This year has been good to Ronaldo: less than six weeks ago he won the Champions League despite not playing especially well for Real Madrid over the run-in. Having won that trophy twice in the last three years, he now has a medal-haul that does more justice to his remarkable individual performances.
If Ronaldo were to leave Paris on Sunday night with a European Championship medal too, it would add a whole new dimension to a lifetime of achievement. It would elevate him into a group of players – Zinedine Zidane, Diego Maradona, Michel Platini – who dominated both the club and international games. That is not a category that Lionel Messi currently belongs to, having lost his third international final in three years with Argentina last month, prompting an exasperated international retirement.
But these judgements, as definitive as they sound, often obscure a simple but forgotten point, that football is still a team game. That is why Leicester City won the Premier League this year. Or why Atletico Madrid have gone toe-to-toe with the giants for the last few years. Or why England went out to Iceland last week, while Wales have reached the semi-finals.
And as desperate as Ronaldo is to win this, he knows that it is not entirely in his hands. Even football's great individualist, the Ballon d'Or obsessive, the man who has done more than anyone else to recast football from a collective to an individual pursuit is still just one of 22 players on the pitch in Lyon on Wednesday night. As Bale said, it is 11 against 11, not just a duel of two stars.
Even if Ronaldo does not see it that way.
Reuse content