July 1, 2016
Wales vs Belgium reaction: Real Madrid? The Bernabeu? Gareth Bale will tell you that it just never gets better than this
It was just like any other soggy wet night in Blaenau Ffestiniog or Blaenau Gwent and though the very thought of the teeming rain might raise a smirk among the Madrilenos, let it be said that this was something infinitely finer than anything Gareth Bale has ever found in the Spanish capital.
It is a matter of conjecture why Wales matters to him so much that he was once flown from Cardiff to Scotland after one World Cup qualifier in a separate plane to avoid contaminating his teammates. And still played the next day. It is because Wales has belonged to him for all of his days, of course, in a way that few Englishmen could tell you that their country is in their bones.
In Bale's Tottenham years, Harry Redknapp once said that Bale would rather head back over the River Severn than out to the sun when the time for a break had come.
But Wales and its team are also such a blessed release from the struggles and the spite which are undoubtedly a fog around his life in Madrid. The Real fans haven't banged on his car roof in anger for a year or so now but the ego of Cristiano Ronaldo is always there.
He might have been carrying the burden of arguably the nation's biggest football moment of all time but you could see before the game had even started that he would carry the night with him for all of his years. His teammates warmed up collectively, perhaps a touch anxiously. It was he who peeled away and sought out the small pocket of fans. He had done that four times before the match had even started.
The joke Bale and Joe Allen exchanged in front of them suggested a frame of mind uncluttered enough to shape the course of the night to his own destiny. Belgian borders were only 70 miles away and their people outnumbered the Welsh by very many; it didn't look like an alien land.
And though some of Bale's team-mates were initially tight and heavy in possession, skewing their passes as Allen did to allow the breakaway which brought Belgium their early strike, Bale just ran like the wind. A counter-attacking break through 30 yards in the 10th minute, just after Belgium had played ominously dangerous pin-ball with the Welsh. A dance round the dead-ball line to win the corner which Aaron Ramsey planted onto Ashley Williams for the equaliser. A race through 20 yards and cut inside Jason Denayer to drive the shot that Thibaut Courtois repelled.
Bale soared – and after three weeks trudging around this country after England, our hearts soared with him.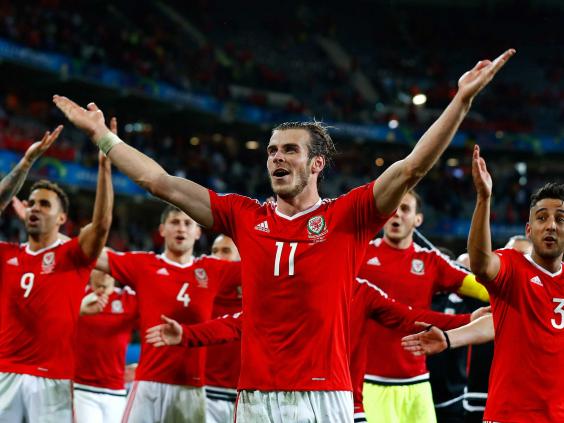 Everywhere you looked there was the signal to the Football Association that there is another way to do it than the joyless England way. Matchwinner Hal Robson-Kanu? That would be the striker – always equal to Belgium here – whose Reading contract expired on Thursday. He was an under-19 England player when Brian Flynn, the brilliant Wales under-21s manager and talent spotter, approached him at Reading. 'Try Wales', Flynn said. Robson-Kanu wasn't so sure. 'I'll be back,'. Flynn said. 'And I won't take no for an answer.'
There were other heroes, too, as Wales discovered that with their collective spirit there was no need to be cowed by the side who are second in the Fifa world rankings, while they are No 26. Ashley Williams, who struggled badly to find the level against England and injured his shoulder against Northern Ireland, should be remembered by his teammates as much for his goal as for the timing of his leap to nod away a cross from which Romelu Lukaku lurked behind with venom.
Allen worked with industrious precision in a tournament which has provided its own blessed release from the struggle to make headway at Liverpool. James Chester was one of three defenders booked within the first 25 minutes as Wales fought to cling on to the advancing Belgians in any conceivable way. By the time the job was done he was an international defender worthy of a part in Wednesday's Lyon semi-final.
There were no dramatics from Bale amid all of this. There is none of the play within a play we see when Ronaldo drives Portugal, just a presence whose threat disturbs and unsettles those he faces. The camera does not seek him out as much.
Ashley Williams covered his head with his shirt at the end in an action which suggested he could hardly believe it. Bale was different. He looked as if he could believe it. He looked for the others, summoned them together in one of those lines that runs to their fans in union, breaking hands as they thumped on to the turf. Then they stood in a circle and jumped in unexpurgated joy. Madrid? The Bernabeu? El Clasico? The Champions League? Bale will tell you that it never gets better than this.
Reuse content