March 2, 2016
'Villa not equipped for Championship'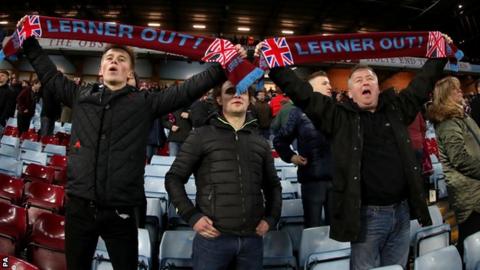 Aston Villa do not have a team that is equipped for life in the Championship and need to "press the reset button", says Burnley midfielder Joey Barton.
Barton, 33, has been relegated from the Premier League with both Newcastle and QPR – but the Burnley team he joined in the summer lead the Championship.
He told BBC Radio 5 live: "You have seen teams go straight through the Championship to League One before. Wolves did.
"I feel awfully sorry for Villa fans."
Villa, who have not been relegated since 1987, are eight points short of safety with 10 games left after a 3-1 home defeat by Everton on Tuesday, during which home fans staged a walkout.
"You look at that Villa team and it is not a team which is equipped for Championship football," said Barton.
"I feel sorry for manager Remi Garde as the ship had massive holes in it when he took over. It is a fantastic place to play and a fantastic club.
"Randy Lerner and the board – I've called them muppets before – and nothing has changed.
"If you don't spend in January and say that you are going to prepare for life in the Championship, then why not start playing some kids from the academy? At least they'll show some passion."
Barton said 18-year-old Marcus Rashford, who has scored four goals in his first two appearances for Manchester United, had provided evidence young British players can "do a lot better than some of these ridiculously over-priced foreign players".
"The Villa fans are showing discontent and you can't blame them," said Barton. "The only way out of this is: can they press the reset button?
"Aston Villa have never been out of the Premier League. This is going to be a terrible injustice for football, but they deserve to go down."
'I can't blame the fans'
Garde believes survival is still possible for Villa despite a eighth home defeat of the season, with the Frenchman refusing to criticise those supporters who walked out with his team 3-0 down.
Villa face Manchester City and Tottenham in their next two games, and Garde said: "I am concentrating on my job. I don't have any comments about the fans. It's something very deep, very old.
"I don't want to spend energy on commenting on that. My job is difficult enough keeping players concentrating on a target which is getting more difficult, but still possible.
"I said to the players that in a difficult situation we have to stick together. If not we have no chance."
Watch Match of the Day on Wednesday on BBC One and online – 22:45-00:15 in England, 23:45-01:15 in Scotland & NI; 23:20-00:50 in Wales.