April 1, 2016
Uefa reveal Euro 2016 goal-line technology plans featuring mini-speaker in ball
Uefa's executive committee has revealed new details about its plans to use goal-line technology at this summer's European Championship.
Michel Platini, the suspended president of European football's governing body had been a long-term opponent of such technology but had allowed officials to review the question. In January it was confirmed that goal-line technology would be utilised at the upcoming tournament.
Now, Uefa has revealed the system to be used. Dubbed 'talking balls' by wags at the English FA, the technology will rely on each match day football being implanted with a microchip at its centre. Further chips will be embedded into goalposts, thereby creating an invisible electronic barrier across the mouth of the goal.
In the event that the microchip passes through the goal-line 'barrier' the referee will receive a signal through his earpiece and will be able to confirm that a goal has been scored. In addition, a miniature speaker placed inside the ball will shout "Gooooaaaaaaal". Uefa officials indicated today that the gimmick had a serious purpose.
"We are conscious of the scrutiny our sport has been under in recent years. By allowing the ball to speak for itself there can be no questions about the personal integrity of referees or other officials. Of course, it will be pleasing also to crowds inside stadiums and those watching on television," said a spokesman.
England XI who SHOULDN'T go to Euro 2016
1/11



Tom Heaton – goalkeeper – 0 caps

The Burnley goalkeeper has emerged as third choice goalkeeper now Jack Butland is out of the reckoning. It's incredibly unlikely he'll be called upon in France – however if England were needing to look to their third choice wouldn't a stopper who has featured for England before and been playing in the Premier League be a better choice? Ben Foster fits that bill.

2016 Getty Images

2/11



Luke Shaw – left-back – 6 caps

The £30m signing is set to return to action following his broken leg just before the season is over. But the possibility of a relapse and lack of game time make the Manchester United player too big a risk.

2016 Manchester United FC

3/11



Phil Jones – centre-back – 20 caps

With 20 caps for England, Jones has long been considered among the regular contenders. However he's been edged out at Manchester United and deserves to be edged out from the England set-up too.

2015 Manchester United FC

4/11



Calum Chambers – centre-back – 3 caps

After joining Arsenal it seemed as though Chambers might turn out to be the next Tony Adams and in late 2014 he collected his three England caps – without conceding a single goal in any of them. However, he's failed to make much progress at the Emirates since then and is out of the picture for this summer's tournament.

2016 Getty Images

5/11



Glen Johnson – right-back – 54 caps

At the last major tournament – the 2014 World Cup – Johnson was a certain starter at right-back. But much has changed since then – including the emergence of Kyle Walker and Nathaniel Clyne as alternative options, plus his own move from Liverpool to Stoke. Still only 31-years-old, Johnson has been consistent at the Britannia, but has failed to catch the eye as much as his rivals.

2016 Getty Images

6/11



Andros Townsend – left midfield – 10 caps

A screamer against Montenegro helped England qualify for the World Cup and his performance in the following crucial game against Poland made him a firm favourite of Hodgson's. Another wonderful goal is among the three he has scored in his 10 caps for England. But while impressing for the Three Lions, nagging doubts about his ability saw his former club Spurs willing to sell him to Newcastle.

2016 Getty Images

7/11



Jack Wilshere – central midfield – 28 caps

Hodgson's positive view of the Arsenal midfielder is well known – and Wilshere's ability isn't in doubt. But neither is his injury record. He hasn't played a single minute of competitive football since scoring a brace for England in June last year and the idea of him waltzing into a side filled with alternate midfield options doesn't sit right.

2015 The Arsenal Football Club Plc

8/11



Michael Carrick – central midfield – 34 caps

In a parallel universe, Carrick has over 100 caps and is considered one of the great England midfielders. But in this one, despite his ability and versatility, he has just 34 because something about the Manchester United player doesn't scream 'pick me'. Right now, that shout is coming louder from Eric Dier and Danny Drinkwater who both performed well in the latest set of friendlies.

2016 Manchester United FC

9/11



Alex Oxlade-Chamberlain – right midfield – 24 caps

In the World Cup squad two years ago, Oxlade-Chamberlain has simply failed to progress as much as was expected. A single goal in the Premier League this season says much. With 24 caps and still only 22-years-old, his England career isn't over but there are simply better options this summer.

2016 The Arsenal Football Club Plc

10/11



Theo Walcott – forward – 42 caps

In the latest set of friendlies Walcott was among the five forwards selected by Hodgson – but he looks the weakest of the bunch. And with Wayne Rooney certain to come back in when fit again, the Arsenal man will rightly be chopped. Despite an exciting start to the season, the old concerns about the 27-year-old – picking the wrong pass, panicking when in on goal, hiding for long periods – all remain.

11/11



Andy Carroll – forward – 9 caps

Hodgson has always liked to have a 'big man' option. At Euro 2012 that was Carroll and at the 2014 World Cup it was Rickie Lambert. Unfortunately for Carroll, his consistently dodgy fitness has denied him a lengthy run in the West Ham side this season and Hodgson now has a big man in the shape of Harry Kane with much more to his game than acting as a long-ball target.

2016 Getty Images
Some players have expressed concerns about the electrical field created by the chips embedded in the posts of the goal. Russian goalkeeping great Lev Yashin was said to be "turning in his grave" at the potential risks being run by goalies in particular. Other players are more sanguine and Roy Hodgson is understood to be fully supportive of the initiative.
"Gooooaaaaaaaaaal," he mimicked, with a chuckle, when asked to comment.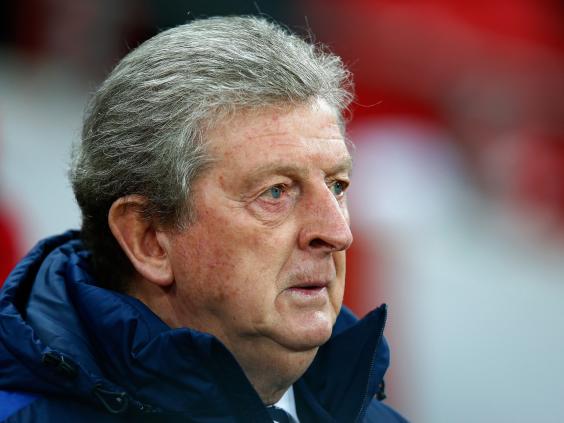 If Uefa's trial with 'talking balls' is successful at Euro 2016, the system could be used in domestic leagues from next season.
The Uefa spokesman said: "All being well we hope to take things to the next level. Bespoke accents and facial expressions for match day balls are likely to become a reality in the near future.
"They needn't be human features either," he added. "We have prospective designs including 'Angry Bulldog', 'Crowing Cockerel' and 'Chilli-pickled herring' to suit our whole European football family."