March 8, 2016
Sunderland chief resigns over Johnson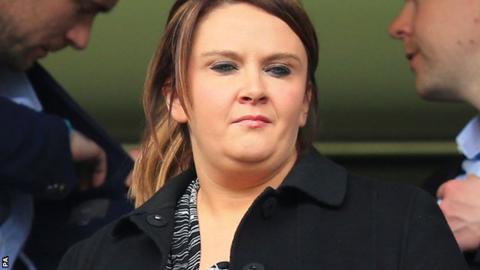 Sunderland chief executive Margaret Byrne has resigned following the Adam Johnson child abuse case.
Johnson, 28, faces a jail sentence after being found guilty of sexual activity with a 15-year-old girl.
The Premier League club has been criticised for letting the England winger play after his arrest.
Byrne, chief executive since 2011, said that decision "was a serious mistake", with the club adding: "We are so very sorry for this."
In a statement, Sunderland said Johnson's victim had been "very badly let down first and foremost" by the player and "his despicable actions", but also "by the club they support".
The club initially suspended Johnson in March 2015 but lifted that ban after just 16 days.
He was eventually sacked on the eve of his trial last month, when he admitted grooming the girl and one charge of sexual activity.
In the intervening 10 months, he played 28 times for the Black Cats.
Byrne, who joined Sunderland in 2007, said in a statement: "Contrary to what has been suggested, I did not understand that Mr Johnson intended to change his plea at trial or at all.
"I was astounded when he did plead guilty.
"I accept that Mr Johnson should not have been permitted to play again, irrespective of what he was going to plead.
"It was a serious error of judgement and I accept full responsibility for this."