August 31, 2016
Stubbs calls for Rotherham 'winners'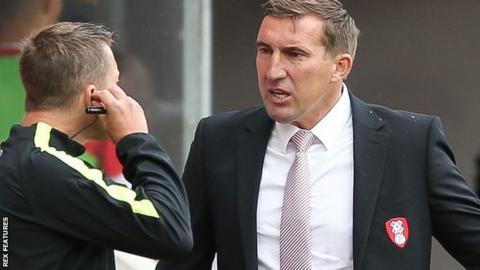 Rotherham manager Alan Stubbs says more players will leave the club than originally planned following their 4-0 thrashing at neighbours Barnsley.
Speaking after Saturday's derby, Stubbs said "one or two more will leave" before deadline day on Wednesday.
"I want winners here, it's as simple as that," he told BBC Radio Sheffield.
"I want people who are prepared to give 100%, people it means something to. If they're not showing that, then they're not going to be in my team."
Former Bolton and Celtic defender Stubbs took charge at the New York Stadium in June and has already brought in 12 new players.
"There will be players coming in and there will be players going," he added. "There might be one or two more going after that performance today.
"We always knew it was going to take a bit of time, but it will take a bit longer when you have such a rebuilding job to do.
"I know the frustration from today from the fans as it was disappointing, but I know the fans will stick behind the team and it's up to us to put it right on the pitch."