March 13, 2017
Steven Caulker arrested and charged with failing to provide breath sample after QPR defender stopped by police
Queens Park Rangers footballer Steven Caulker has been arrested and charged with failing to provide a breath sample following a police incident in the early hours of Sunday morning.
Caulker, 25, from Feltham, was stopped by police near the Victoria Street Car Park in Windsor on Sunday morning, having been seen in the Istanbul Kebab House shortly before. Caulker refused to give a breath sample, and was charged by police with a spokesman confirming his arrest.
"[We] can confirm that Steven Caulker, aged 25, of Richmond, has been charged with failing to provide a specimen for breath analysis required under the Road Traffic Act 1988," said a Thames Valley Police spokesman.
"It is connection with an incident near the Victoria Street Car Park, Windsor this morning 12/03/17."
Caulker has been bailed and ordered to appear at Slough Magistrates' Court on 27 March.
His arrest is the fourth time that Caulker has been in trouble with the police, and comes less than a month after he was fined for throwing objects at passers-by and attempting to put a temporary barrier on someone's head in an incident at Clapham Junction Station.
The former Tottenham defender pleaded guilty to being drunk and disorderly at Wimbledon Magistrates' Court, and was fined £650 and ordered to pay £85 costs.
Caulker has previously been in trouble after he was arrested and fined for sweating in the street in in 2011 during his spell with Swansea City, and last month a magistrate made a point of his poor police record, to which he promised to clean up his act.
Magistrate Elizabeth Hopper said to Caulker: "It's the third time you have been in trouble for doing things out in the street you should not be doing."
The incident is the latest in a bizarre series of events that has seen Caulker make headlines for all the wrong reasons. The centre-back has not played for QPR since 28 October due to a hip injury, and a proposed loan move to Lokomotiv Moscow, that would've landed him a reported £1m, fell through on transfer deadline day.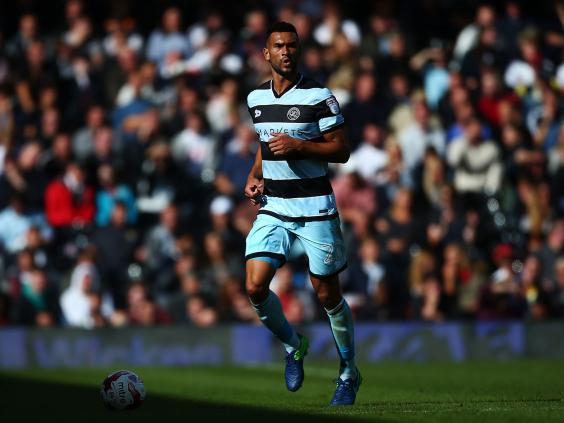 Furthermore, Caulker had his £125,000 Range Rover covered in graffiti after the words "Heart Breaker" and "Rot in Hell" were spray painted on the vehicle, and a post on his Instagram account showing a photo of a pig and the words "I'm a dirty cheat and I've broken a poor girls heart" appeared the same day before being deleted.
Caulker issued a response in Instagram shortly after, in which he said: "I've made mistakes in my life, that's no big secret and I'm sorry to anyone I have hurt or offended along the way. I'm working hard to correct this and won't let anything get in my way."
Caulker strongly denied the allegations and said that his social media account had been hacked, and claimed that the picture of his Range Rover had been photoshopped.
Reuse content