April 27, 2016
'Speedo Mick' smashes fundraising target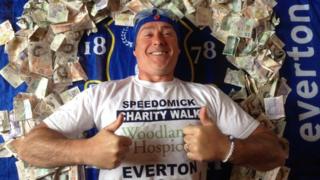 A football fan who walked to Wembley wearing his swimming trunks has broken his £50,000 fundraising target.
Everton supporter Michael Cullen, 50, completed the 11-day challenge ahead of his team's FA Cup semi-final against Manchester United on Saturday.
He has now raised more than £53,000 for the Woodlands Hospice in Liverpool, having previously raised £30,000 after swimming the English Channel.
Everton lost the game 2-1, with United scoring a late injury time winner.
Mr Cullen said: "I'm very tired, but elated. On the last day I was very happy all the way and it was great to arrive there.
"I'm back at work tomorrow and I'm actually looking forward to getting back to normality."
Carole Riley, of Woodlands Hospice, said: "We are very proud and appreciative of Michael's efforts.
"Not only has he generated a massive amount of money but he has raised the awareness and profile of Woodlands Hospice and the need for hospice services to such a wide audience.
"We would like to give a massive big and sincere thank you to Speedo Mick and all those who have supported him."