June 12, 2016
Spain vs Czech Republic: David De Gea 'scandal' won't affect Euro 2016 defence, insists Vicente del Bosque
Spain manager Vicente del Bosque believes the holders have the experience and ability to retain their crown in France despite the David de Gea scandal that rocked preparations on Friday.
The Spanish kick-off their attempt at a third straight European Championship success against the Czech Republic in the Stadium de Toulouse in Group D on Monday and asked what it was that most made him believe in a group of players that no longer has Xavi in midfield and is also unlikely to have Iker Casillas in goal because De Gea is set to start ahead of him.
"Their experience and their ability," said the 65-year-old Spain coach. "Now they have to transmit that experience and ability in the games. Every final brings with it its own uncertainties but we have that tournament expertise."
This is Del Bosque's fourth and final tournament in charge of the team before he steps down. They have won two of those three, plus the 2008 European Championship under Luis Aragones that began what has been a golden era.
And four of Del Bosque's starters will be veterans of that finals win in Austria eight years ago. David Silva, Cesc Fabregas, Andres Iniesta and Sergio Ramos will all face the Czechs.  Asked if the controversy around De Gea would bring the squad closer together, Ramos's response did exactly suggest the controversy over the 25-year-old goalkeeper has had the sort of bonding effect on the Spain group that the Dentist Chair front pages had on England in 1996.
 "When something happens to one of the players then the others support him so maybe it helps a little bit but the group is very united anyway," was his rather cold answer.
Ramos comes into the tournament as a European Champion at club level. Del Bosque had to call four of his squad up late because they were involved in the Champions League final two weeks ago.
"We are in good shape physically despite the singularity of our preparations and we ready for the tournament to start for us," Del Bosque said.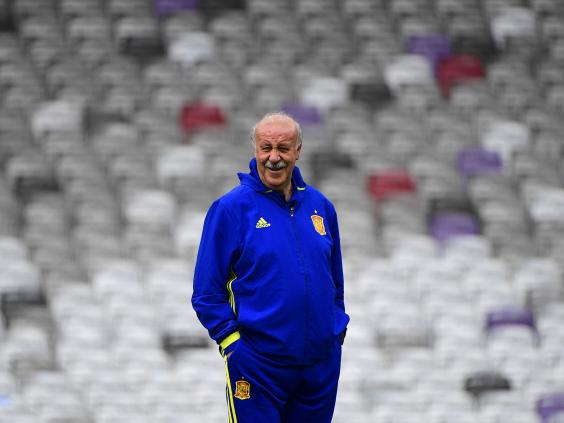 The Spain manager made the decision to pick De Gea ahead of Casillas several weeks ago but it now remains to be seen if the events of the last three days have changed his mind.
On the eve of the game he was still insisting: "They [De Gea and Casillas] will find out when the rest of the squad finds out. These are decisions that go over and over in your head a thousand times during the year. We now we just have to take the final decision."
Asked if it would be better for the players to know sooner rather than later who would be starting the game he broke the rather somber tone of the press conference by saying: "I don't think there is any added pressure on them. They are old enough, they have passed puberty."
The consensus in Toulouse among those closest to the Spain squad was that nothing gets to De Gea, not even him being associated with a criminal investigation into a pornographer accused of people-trafficking and organising a child prostitution ring.
"If we see that the player has been affected [by off-the-field problem] then we will take measures but if not then we will do what we were going to do anyway," said Del Bosque. It would be a major surprised if the Manchester United goalkeeper did not start.
10 deadliest strikers at Euro 2016
1/10



10. Aleksandr Kokorin (Russia/Zenit)

Russia's hopes to match their 2008 escapades will largely depend on talented centre-forward Aleksandr Kokorin. Linked with Arsenal in the past, Kokorin has talent and promise in abundance. 12 Goals in 39 games for Russia have firmly placed the Zenit striker in Leonid Slutsky's starting XI. However, with both Igor Denisov and Alan Dzagoev both being ruled out of the tournament through injury, service might be few and fair between for Russia's number 9.

Getty

2/10



9. Romelu Lukaku (Belgium/Everton)

The importance of this tournament has multiplied for Lukaku. Should Belgium's beastly forward propel the former world number one's to European glory, Lukaku will surely find himself out of Merseyside and in the Champions League next year, where he rightfully belongs. Strong, surprisingly quick, and capable of moments of magic, Lukaku enters the Euro's a representation of his team – brilliant, yet unpredictable.

Getty

3/10



8. Mario Mandžukić (Croatia/Juventus)

After a successful yet acrimonious spell with Atletico, Mandžukić has thrived since his move to Juventus. 10 Goals and 5 assists in 27 games (where he often came off the bench) offer a glimmer of his potential. With a deft touch and the ability to dominate aerial battles in the box, Mandžukić will be relying on quality deliveries from Luka Modriç, so that he can put the ball in the back of the net.

Getty

4/10



7. Olivier Giroud (France/Arsenal)

Giroud has come under unfair criticism from French supporters recently as they vent their frustration at Karim Benzema's exclusion from the France squad. Yet with three goals in their past two matches, Giroud is France's number one option upfront. When coupled with an exceptional ability to form a wall between the opposition's defence and his wingers, Giroud might prove provider as often as he does finisher.

Getty

5/10



6. Harry Kane (England/Tottenham)

A disappointing end to a domestic campaign aside, Kane has gone from strength to strength.
The winner of the Premier League's golden boot with 25 goals, Kane will be looking to carry his form over to France. Partnered alongside Jamie Vardy, and just ahead of Wayne Rooney, there will most certainly be opportunities for the Spurs striker to fire England past a beatable group and into the lottery that is the knockout rounds.

Getty

6/10



5. Gareth Bale (Wales/Real Madrid)

The world's most expensive footballer and a nation's talisman, Bale will head into the Euro's spearheading one of the tournament's dark horses. 19 Goals and 11 assists in 23 league games show the ability of the man. Blessed with a sublime touch and a shot to match, Wales will be heavily relying on the Real Madrid man – should he find form then we might just see the tournament minnows shock the continent.

Getty

7/10



4. Thomas Muller (Germany/Bayern Munich)

After joining Bayern's youth academy at 10 years old, Müller has managed to become one of the world's best. Unassuming and deceptive, he has regularly proved the bane of English sides in the Champions League. While not particularly fast, nor tall or strong, Müller excels at the basics, and at bamboozling midfielders and defenders alike with his agility and ability to be at the right place at the right time. A potential golden boot winner should Germany go far.

Getty

8/10



3. Zlatan Ibrahimovic (Sweden)

Zlatan would claim that he deserves a list of his own, and that on that list first place would still be unfair to him. His self-belief has no rival, nor does his ability to do the spectacular. A defender's nightmare (and a journalist's), Zlatan can produce something magical seemingly at will. Yet with age against him he's lost a yard of pace and a position on this list.

Getty

9/10



2. Robert Lewandowski (Poland/Bayern Munich)

Underestimate Lewandowski at your peril. The Polish front man can put a game out of sight in the matter of minutes (just ask Wolfsburg). With 30 Goals in 32 Bundesliga games, averaging a goal every 88 minutes, Lewandowski enters the Euro's in red-hot form, the onus now rests with the Polish midfield – should they get quality balls into his path they'll find their way through the group stage at a canter.

Getty

10/10



1. Cristiano Ronaldo (Portugal/Real Madrid)

Ronaldo is the deadliest striker in the world, not just at the Euro's. With the ability to score with either foot, his head (aided by an incredible leap), and seemingly from nothing, Ronaldo is clinical and deadly. When one considers that he's scored a goal in every minute of a football match (1-90), his ability shines through. At times he's single-handedly carried Portugal through matches, might he be able to finally add the Euro's to his overwhelmingly impressive list of honours?

Getty
Asked if the pressure was off for Spain having won the last two tournaments Del Bosque said: "No, the responsibility we feel is just the same, in fact it is even more. We know we have to make a good start. The Czech Republic are very well organized and are very effective from set-plays."
Spain ought to get off to a winning start. The Czech Republic are contemplating playing 35-year-old Tomas Rosicky as a false nine which points to them not being at the height of their powers.
"We still have players with a lot of quality," said Ramos. "And there are also players here who have done well and deserve to be here.
"This has been a great era for our football and the idea is to keep it going. I don't know if we can play as well as previous Spain teams but we can play at a very high level, I'm sure of that."