May 1, 2016
Southampton vs Manchester City match report: Mane sinks distracted City
The best way to get into Europe is to be out of Europe, as Southampton hope to prove. This was the perfect afternoon for Saints' pursuit of Europa League football, and it all owed to the distracted minds of two sides still competing continentally.
First Liverpool, caught between two legs of a Europa League semi-final, put up little fight in a 3-1 defeat at Swansea City, leaving them on 55 points.
Then Southampton faced a Manchester City clearly focused on their big trip to the Bernabeu on Wednesday. Just three men started for City who can expect to do so in Madrid, and the rest of them did not look especially keen to change Manuel Pellegrini's mind. Not for the first time this season, City put up no fight when things started to go wrong. Southampton won 4-2 and it could have been more.
The result pushes Southampton up to seventh in the table, a position which, if Manchester United win the FA Cup, will take them into the third qualifying round of the Europa League. They could even catch West Ham United, currently in sixth, if Slaven Bilic's men stumble over the finishing line.
That would be a very impressive culmination of the season for Southampton and Koeman, who at the turn of the year were in 13th place and heading in the wrong direction. Since then, though, they have lost just three league games out of 16, rediscovered their solidity and their style. 
Here, at a loud and impressed St Mary's, they produced a performance of incisive, purposeful counter-attacking, slicing through a Manchester City side with no obvious desire to stop them. Three goals came on the break, another from a set piece, and Sadio Mane gleefully collected a hat-trick. He could have had more, and it would have been a fair reflection on the chances, and the commitment, of the two teams.
Koeman likes his teams to take the initiative but here he was happy for them to sit back and play on the break, to see what City had to offer. This was a side with eight changes from Tuesday night, certainly a B-team, but they played with no desire to persuade Pellegrini to pick them at the Bernabeu, never mind any commitment to the three Premier League points and the pursuit of third place. This was a teenage strop of a performance from players who only served to prove Pellegrini right.
Anyone who has watched Manchester City this season knows that the full-backs, especially the second-choicers Aleksandar Kolarov and Pablo Zabaleta, push up too high and leave space in behind. Koeman knew this too and exploited it, as Saints scored two goals within three minutes from simple balls behind Kolarov on the left.
The first came when Cuco Martina knocked the ball down the line to Dusan Tadic, running in to that space. The Serbian creator, who was brilliant throughout, touched a delightful first-time pass with the outside of his boot into the box. Shane Long caught Nicolas Otamendi napping at the near post and scored.
That should have been a warning but City did not heed it. Soon after Tadic had the ball in space and threaded it in between Eliaquim Mangala and Kolarov, who made no real attempt to get back. Mane ran on and beat Hart low for 2-0.
Just before the break City pulled one back through Kelechi Iheanacho, their only player to emerge with any credit. He started a move in midfield, and when Samir Nasri's cross hit Cuco Martina, Iheanacho leaped highest to head the ball beyond Fraser Forster. No City played showed as much initiative all afternoon.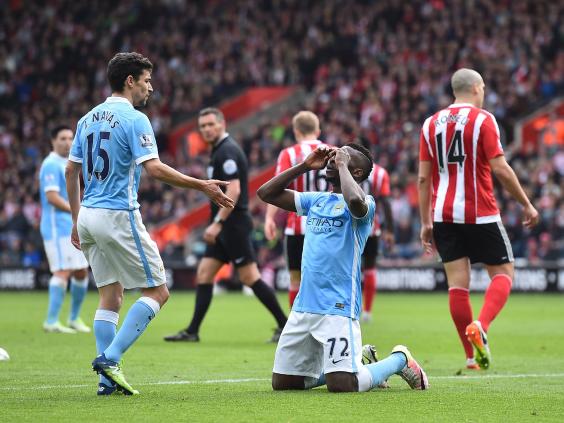 That might have provided a platform for City in the second half but they did not use it. Instead, they opened themselves up again and Southampton won the game. Just before the hour-mark Steven Davis curled in a corner, Virgil van Dijk headed against the bar, the ball bounced down and Mane was the first to react, acrobatically volleying the ball in at the near post.
The rout was complete when Southampton scored their fourth, identical to their second. Van Dijk won the ball, Tadic fed another pass in behind Kolarov, and Mane ran onto it and slotted home. If this game had gone on all night City would never have patched up their glaring weaknesses.
There was time for one consolation, from Iheanacho, City's only player who put anything into his afternoon. He took the ball on the edge of the box, took a touch, and curled it into the far top corner. He deserved his two goals. The rest of the City team deserved nothing at all.