May 5, 2016
Real Madrid 1 Manchester City 0: City manager Manuel Pellegrini brands Real 'lucky' after narrow semi-final win
Manuel Pellegrini claimed Real Madrid were no better than Manchester City and dismissed Gareth Bales deflected goal as 'lucky' after watching his team's Champions League ambitions evaporate with a whimper in the Santiago Bernabeu.
Real will face city rivals Atletico Madrid in the final in Milan later this month – a repeat of the 2014 Final which was won by Real – after Bale's first-half cross deflected off the shin of Fernando to settle this semi-final tie 1-0 on aggregate.
But although his team failed to create a single effort on target, as opposed to five by Real, City manager Pellegrini insisted his players were unlucky to go out and deserved to take the game to penalties.
"We didn't deserve to lose," Pellegrini said. "They were very lucky with the goal, a deflection into the top corner.
"I don't think Real Madrid demonstrated tonight that they are a better team than Manchester City.
"Of course I am not happy in the way we created chances. We tried, but we couldn't. Both teams couldn't create, though, like in the first game and we were missing David Silva and Samir Nasri, so we had creative players missing in midfield.
"But Real also didn't create chances and I think none of the teams deserved to win.
Real Madrid 1 Manchester City 0 player ratings
1/22



Real Madrid Keylor Navas: 7 out of 10

Had precious little to do for long periods as he equalled the record for most clean sheets in a single Champions League season

2016 Getty Images

2/22



Dani Carvajal: 8 out of 10

Made most of lack of City attacks to surge forward and provide attacking outlet. Set up Ronaldo header

2016 Getty Images

3/22



Pepe: 7 out of 10

Made numerous blocks and interceptions and kept threat of Aguero to an absolute minimum

2016 Getty Images

4/22



Sergio Ramos: 7 out of 10

Strong in the tackle as ever and quicker to the ball than City's forwards

2016 Getty Images

5/22



Marcelo: 6 out of 10

Went down easily to earn De Bruyne a card and spent rest of evening getting forward

2016 Getty Images

6/22



Luka Modric: 8 out of 10

Another splendid showing from the polished Croatian. Range of passing impressed and so quick with decision-making

7/22



Toni Kroos: 7 out of 10

Just does not cede possession and was the link between defence and attack. Made more passes than any other player

2016 Getty Images

8/22



Isco: 7 out of 10

Alongside Kroos and Modric dictated the flow of the match. Slowed down play when required and sparked attacks elsewhere

2016 Getty Images

9/22



Gareth Bale: 8 out of 10

Shot from angle led to only goal of the tie and also hit the woodwork with second half header. Enjoying a fine run of form

This content is subject to copyright.

10/22



Jese: 7 out of 10

Replaced Benzema up front and sent one effort over Hart's bar before another went straight at the keeper

2016 Getty Images

11/22



Cristiano Ronaldo: 7 out of 10

Not his most dominant of performances as he feels his way back from injury. Should be back in shape for Milan final. Escaped booking for slam dunk

2016 Getty Images

12/22



Manchester City: Joe Hart: 7 out of 10

One of the only City players to turn up on the night. Could not be faulted for goal and made a number of key stops

2016 Getty Images

13/22



Bacary Sagna: 7 out of 10

Stuck to his task against the power of Ronaldo and Bale but was fighting a losing battle at times

2016 Getty Images

14/22



Vincent Kompany: n/a

Another injury on the big stage for the Belgian, who must be fearing for his future should these injury problems persist with such regularity under Guardiola

2016 Getty Images

15/22



Nicolas Otamendi: 7 out of 10

Used size and frame well but struggled with movement of Ronaldo and Jese. Covered well for Kompany

2016 Getty Images

16/22



Gael Clichy: 6 out of 10

Enjoyed getting forward in first leg but kept busy at the back here. Unable to stem constant flow of attacks

2016 Getty Images

17/22



Fernando: 7 out of 10

Presented a danger from set-pieces but it was his deflection which ultimately decided the outcome of the tie

2016 Getty Images

18/22



Fernandinho: 6 out of 10

Fizzed around the middle of the park to little overall effect, save for one shot he sent at the post with Keylor Navas beaten

2016 Getty Images

19/22



Jesus Navas: 5 out of 10

Speed does not always equal effectiveness, as he so often proves. Poor yet again with final delivery and replaced after the hour

2016 Getty Images

20/22



Yaya Toure: 4 out of 10

Cuts such a languid figure as he strolls around the pitch. Pity he treated this Champions League semi-final as nothing more than meaningless friendly. Ineffective and likely to be off this summer

2016 Getty Images

21/22



Kevin De Bruyne: 6 out of 10

One of the few to trouble Keylor Navas in the Real goal but did not see his efforts come to anything. Booked for challenge on Marcelo

2016 Getty Images

22/22



Sergio Aguero: 5 out of 10

Looked out of sorts in last week's first leg and again disappeared for long spells here, save for late effort from distance that had Keylor Navas scrambling

2016 Getty Images
"We should have gone to penalties because I don't think Real were better than us."
Pellegrini's stance was echoed by goalkeeper Joe Hart, who claimed that Real enjoyed luck to progress to the final.
"We could easily be in the final, but they managed the game well," Hart said. "They got a very lucky goal but it is what it is.
"We just did not have that little bit more. Sergio Aguero announced himself in the 88th minute, it was a good effort, but did we do enough over the two games? I don't know.
"It was a close semi-final and we have come out the wrong side of it.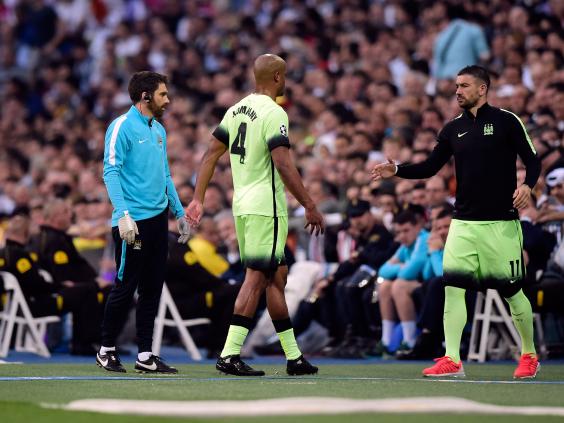 "But I don't think we can be bothered by criticism. We turned up to win the game like we do every game but that is gone now."
When asked whether he regretted his game-plan and City's failure to show more ambition against Real, Pellegrini rejected suggestions that he and his players lacked fight.
"No regrets," Pellegrini said. "I think we worked very well for ninety minutes.
"If you don't reach the final, you miss an opportunity. Both games were close, but we are usually a team which creates a lot of chances and we didn't do that tonight."
Pellegrini, meanwhile, admitted that club captain Vincent Kompany will be assessed in Manchester on Thursday after limping out of the game after just six minutes with an apparent groin strain.
Kompany, who has only recently returned to action following a lengthy calf injury lay-off, is now expected to miss Sunday's Premier League fixture at home to Arsenal.
"It's not best to lose your captain in six minutes," Pellegrini said. "But I don't think defending was a problem for us tonight.
"Vincent will be assessed on Thursday. Maybe it is his groin, a different injury from the last one."