April 23, 2016
Rafa Benitez: Newcastle boss rubbishes criticism of 'inhuman' style
Rafa Benitez has dismissed criticism of his 'inhumane' management style as his improbable bid to lead Newcastle to Premier League safety sees the Spaniard return to Liverpool, a club synonymous with his greatest achievement as a coach.  
The Spaniard attempted to play down talk of an emotional reunion with the club he guided to Champions League final glory in 2005, the pinnacle of a celebrated six-year Merseyside reign where his achievements were in stark contrast to the rather more modest goals he has taken on in a 10-match survival mission at St James' Park.
His latest visit – he led Chelsea at Anfield 2013 in a game made infamous by Luis Suarez sinking his teeth into the arm of defender Branislav Ivanovic – coincides with the 56-year-old coming in for stinging criticism from one of the heroes of their unforgettable victory over AC Milan in Istanbul, with goalkeeper Jerzy Dudek labelling his coaching style 'cold' and 'unfair', after revealed how he came close to punching Benitez when he was refused a move from Anfield in 2006.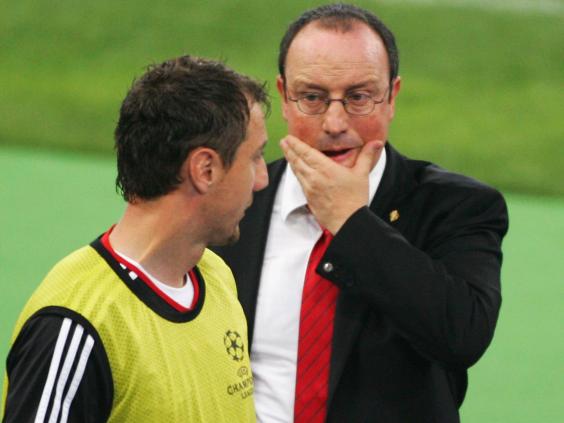 While calling his former manager a 'genius' the Polish international also describes him as 'hard-faced' and 'inhumane' in his newly-released autobiography. The latter are views with which the Newcastle manager unsurprisingly doesn't concur. "As a manager you have to make decisions," he said in the build up to a game that could see the second-from-bottom Tyneside club set an unwanted club record of 10 consecutive away defeats in the league. 
He added: "I don't see any Liverpool fan wanting to allow your second-choice keeper to leave on the last day of the transfer window. You have to do what you have to do as a manager, and he has to understand your responsibilities. People say I'm cold. To be fair I'm professional. I wouldn't say I was cold with players, it depends which players you're talking about. You have 25 players in a squad, and you can't play them all – they have to realise I have to make decisions. Because of that you have players who are closer to you, others who are not so close, and that's where relationships are built. It's important that I don't tell lies."
Benitez admits it will be difficult how to take the emotion out of a game crucial to Newcastle's survival hopes as they sit two points adrift of safety, and he added: "It will be hard, but I'm a professional. I wanted to win there with Chelsea, and I want to win now with Newcastle. If the Liverpool fans appreciate me it's because I'm professional and I wanted to win every game for them.
"I hope to receive another good reception from the Liverpool supporters. My connection with the city is fantastic, my family lives there and we have a charitable foundation helping people there, but of course we will try to get three points."  A first league win at Anfield for 22 years will lift Newcastle out of the bottom three for at least 24 hours, with Norwich not in action, and Sunderland hosting Arsenal on Sunday.
Benitez looks increasingly likely to be without Fabricio Coloccini in the four remaining games as the club captain struggles to regain fitness after suffering a setback in his recovery from a recurring calf problem. The 34-year-old has been out since mid-February, and Benitez conceded: "I hope he'll play again this season, but I'm not very optimistic."