May 15, 2016
Rafa Benitez could remain at Newcastle United despite relegation to Championship
Rafa Benitez is ready to sign a deal this week that will keep him at Newcastle to lead the club out of the Championship.
The former Real Madrid and Liverpool manager will agree to extend his spell in charge at St James' Park, having taken over in April.
Benitez will hold talks with the Newcastle owner Mike Ashley this week that are expected to see him confirm he is staying at the club after being convinced he can be given the control to mould the club for a return to the Premier League.
The 56-year-old had a release clause in the three year deal he signed in April allowing him to leave Newcastle if they were relegated, which they were on Wednesday night when Sunderland beat Everton.
Ashley was actually keen to hold a meeting then such is his and managing director Lee Charnley's desire to keep the Spaniard at St James' Park.
Benitez is expected to be sounded out about the Valencia and the Spain national job but he has admitted he wants to stay in England to be close to his family, who live in the Wirral. 
Speculation about potential moves to either Everton or Southampton has cooled, leaving Newcastle a free run to land the European Cup winner and former Real Madrid manager.
Benitez will be given ultimate control in player recruitment, which will see the dilution in power of chief scout Graham Carr.
"I would say that when you are in the position we are now in you have to change something," he said. "That is between us to decide.
"I want to be honest but I also don't think that, as a professional, I have to say everything that was wrong, in my opinion, in a press conference. I talk with the people in charge and give them my opinion and, to be fair, Lee Charnley (Newcastle's managing director) agree. We've talked about changing two or three things and, to be fair, we share the opinion.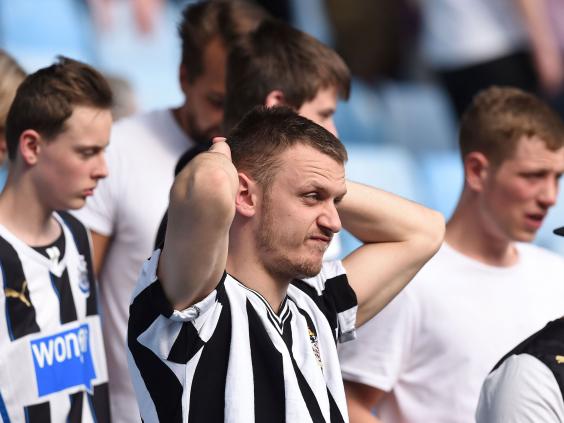 "After the game against Tottenham, we will start working to ensure that the conditions are the best to compete. I am talking with Lee Charnley, but I want to be fair, Mike Ashley told him that maybe he could talk with me this week before the game on Wednesday but I said, 'Listen, we cannot say too much so I think it is better if we wait and I can talk with you if necessary next week.'
"Mike Ashley is keen to talk and I am really pleased that we can sit down and talk, I don't have any problem with that. The message he is sending is quite positive and Lee was very positive but I wanted to be sure that we could do well against Tottenham and then after that we have some time to talk.
"I will not lie, I am considering (staying). I am quite happy with everything here. Can we improve things? Can we change some things? Then it will be easier for me to make a decision. Obviously these conversations are with this idea.
"I am really pleased with the first conversation and really pleased with the people here: the staff, players, directors, everyone here since I came has been fantastic so I cannot say other things. I want to be sure that if everything is fine, it has to be fine for me but also for the club, the fans and everyone.
"If I stay it is because I want to win, not because I want to stay here in the Championship for 10 years. That is not my target, my target, if I stay, is one year and five in the Premier league. If I decide to stay it is because I have confidence we can get the job done, for sure.
"I can see that I can help the club with my experience and making the right decisions to move forward if it is possible. I will make mistakes, like everyone else, but the difference when you are successful is that you make less mistakes than others."
Benitez wants to build as strong as team as possible to ensure an immediate return to the Premier League. There will be a major overhaul of the first team squad with big earners like Fabricio Coloccini, Steven Taylor, Papiss Cisse and Cheick Tiote all set to leave. 
Benitez, who started last season at Real Madrid, also paid tribute to the reception he has had from Newcastle supporters and the part they have played in his desire to stay.
"They have done so much it is difficult for them to do more," he added. "Flattered is the word. They have been fantastic. Even today they were showing me a video of the fans singing my name like in Liverpool when we won the champions league. You cannot expect more from them.
"It is just to make sure we have what we want for the future in terms of a strong team that can compete and promote again.
"It is very similar. It was the same song, the same way. It was very good. I was in Liverpool six years so the connection and the feelings are there. My family lives there. I could see the connection. The two cities are very similar.
"Working class cities and the passion of the fans and the support of the team. A lot of similarities. It is one of the reason why I decided to come, a big club that needed to maybe wake up."