July 22, 2016
Police van decorated to support Pride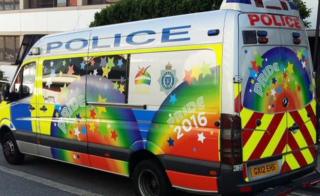 A police force criticised for decorating a patrol car in rainbow colours for a Pride event has gone one step further this year and emblazoned a van.
Sussex Police splashed some colour on a car in a show of support for last year's Brighton Pride parade.
Responding to the criticisms, now it has decorated its "biggest vehicle".
Ch Supt Nev Kemp said he "wanted to send a message" to those critical of the LGBT event.
Two decorated motorcycles will also take part in this year's parade, the force said.
A row erupted on social media after the rainbow decorations were added to one of the force's cars for the 2015 event, with Michelle Johnstone questioning on Twitter "where the police's priorities lie".
Ch Supt Nev Kemp tweeted: "This year I decided to emblazon a van in pride colours because I wanted to send a message that we wholeheartedly reject the view of those who appear to be critical because it is an LGBT event.
"I looked around for the biggest vehicle I have to demonstrate to and show our support for the LGBT community."
The cost of decorating the vehicles was £420, a spokesman said.