October 12, 2016
Pereira opted for Forest exit – Montanier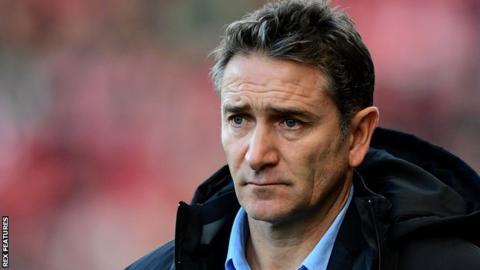 Director of football Pedro Pereira's decision to leave Nottingham Forest was his own choice, says head coach Philippe Montanier.
Pereira had only been at Forest since June 2016, arriving at the City Ground after a spell at Fiorentina.
Montanier described his relationship with the former Sporting Lisbon CEO as "very good" and would not confirm the reasons for the exit.
"It's his decision, we respect that," Montanier told BBC Radio Nottingham.
"We worked together over the summer, but that's football, I wish him the best for the future."
Forest made 12 signings during Pereira's stint, including Denmark striker Nicklas Bendtner and Portuguese duo Hildeberto Pereira and Lica.
Montanier was unsure whether a new appointment would be made but would be keen to play a part in the selection process.
"We will see with the chairman," the Frenchman said. "It's not the most important thing at the moment. We have to talk about the future organisation.
"I hope to have a say, I like to work with my squad, my team, not on my own. I have good people at the club and we take the decisions together for Forest."