9 Jul
The acclimatisation is under way. Pep Guardiola has already become acquainted with Manchester's 'Iberica' and 'El Gato Negro' Spanish restaurants and there was one of those cultural initiations which come at moments like this. He wanted to know more about the contents of the gift set he had been handed when he was introduced to the club's fans last Sunday. It prompted an explanation of Vimto, a product which his new home city gave to the world.
Yet he did not sound like – or claim to be – an individual convinced he had all the answers when he arrived to talk on Friday in suit and waistcoat, the creators of which tell us was 'London grey'. This is the individual whose presence on the Premier League's managerial landscape has been more anticipated than any other, and yet we saw diffidence, humility, even uncertainty in him. It was a remarkable foil to what he we saw at the start of this week from Jose Mourinho, in a conference suite across town. 
Mourinho knows this territory like the back of his hand. His acquaintance with the Premier League began fully 12 years ago. Yet it was he who armed himself against potential critics, by producing that bizarre list of players he has 'developed', including Dominic Solanke and John Swift.
Guardiola might be just starting out in his new landscape but he didn't require props. The first question of his first press conference as City manager included a reminder him of how he told Barcelona's supporters to "fasten your seatbelts" when he took over at the club eight years ago. So he worked off-the-cuff, used that as a device for some self-effacement. "It's our first time here. Fasten your seat belt for the other side of the car," he replied. 
The generally accepted managerial custom at moments like this is to bang a drum and proclaim that there will be trophies and glory just around the corner, though Guardiola was so far removed from such proclamations that he did not offer an answer to the questions of where City might be three years from now – "It depends on what happens". Nor to what was required to succeed in the world he now occupies, with "Big Sam", Boxing Day games and stadiums which are "windy and freezing," as he put it. Ask me half way through the season, he replied. "I will need time to discover."
This was not false modesty. Guardiola looked mildly nervous when proceedings began in front of so many cameras that his first two answers were entirely drowned out by the shutters. He has never been the showman like Mourinho. 
When he later sat down to talk more intimately, in a side room beneath the press conference theatre, he made it clinically clear that he knows what he is up against. It was here, for example, that he could address the question of Mourinho's head start on him . "If we see the Premier League, yes. He has six or seven years a coach here," Guardiola said.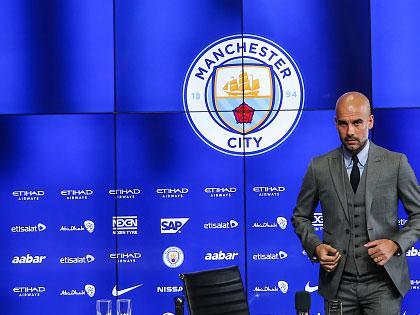 There was a sense in much of the Spaniard's discussion that he knows the Premier League can't be bent to his style of football in quite the same way as La Liga and the Bundesliga. His most significant words came in that side room, where he observed that he had not "come here to think I can change the mentality or the culture of England." That would be "presumptuous," he said, the vocabulary already demonstrating the virtue of those 12 months on sabbatical in New York. The course of the conversation shifted between Guardiola suggesting that players would fit with his style and acknowledging that he must fit with the environment he now occupies.
He is offering the diplomatic answers where Mourinho is concerned, though was honest enough to say, in response to the question that two of them might eventually dine together, that a chance encounter at a restaurant was about as good as it would get. "I think it will happen naturally. One day I will arrive and he will be there. It will be: 'Hi how are you?' He will say 'hi' as well." He made the point that City have the very serious business of the Champions League to deal with. "We cannot forget we are in the Champions League. There are many good teams." Not a challenge Mourinho faces.  
Guardiola's three meetings with City chairman Khaldoon al-Mubarak, all in Abu Dhabi, will have entailed al-Mubarak sharing his views on how succeeding simultaneously both in the Premier League and Champions League, when the former provide no help with fixture time-tabling, is a monumental challenge.
He will have surveyed the fixtures and seen exactly where the "windy and freezy" terrain lies: the season's first away day at Stoke, champions Leicester in early December, Hull's North Sea coast on Boxing Day. It is, of course, the league in which anyone can beat anyone.
"I don't need two months to know here will be completely different," Guardiola said. "When I see a guy who played here, like Xabi Alonso, I'm like, 'Tell me about England, tell me about the Premier League, the Premier League, the Premier League'. I never found one person who said, 'Oh, it will be easy for you.' They all said: 'It's tough. It's tough. I don't know why. That's what I want to discover. The big clubs go wherever, they're soft [in a game] and they are able to lose. I have to discover that for myself. I have to see that."
There were a striking number of references – five – to what the effects of a City setback would be. "I know when it's not going well you are not going to help us," he said to one journalist. "I know this is business. So that's why sometimes it's better to leave a bit of distance, because sometimes when we are close friends and when we play bad you have to say: 'Oh, this team played bad'. And I'm disappointed. That's why it's better to be a little bit far away. You do your job freely and I can do my job freely. Every three days I will be here to spend our time together."
Of course, Mourinho's approach to the media realm is more binary – charm, abuse and nothing in between. The trade-off for his quotable one-liners is an expectation that there will be no criticism from his inquisitors. Set against that perspective, Guardiola's 'I don't really want to know you too well' was actually welcome. 
No certainties, then. No soundbites. No commitment to City for life. Just a man who has a very substantial challenge and is not entirely sure how he will approach it, yet. Whatever the outcome, Guardiola and his understated intelligence are a hugely liberating force amid the Premier League noise, which so frequently signifies nothing.
Reuse content