29 Jul
As much time and energy has been spent at Old Trafford over the last three years worrying about how to replace Sir Alex Ferguson, there is another question, almost as important, which has been troubling them for four years longer than that: how to replace Cristiano Ronaldo.
For seven years now Manchester United has been a superclub with no real star, only a slowly fading Wayne Rooney and a brief flicker of Angel Di Maria two seasons ago. It has been Ed Woodward's mission since he replaced David Gill in 2013 to find United a player of that calibre and fame. He tried for Gareth Bale, tried for Neymar, and even tried to get Ronaldo back to the club where he made his name. But it never came to anything.
This weekend, three years after stepping up into the Old Trafford hot-seat, Woodward will bring another United alumnus home. And all it took was the best part of £100million.
Signing Paul Pogba will be one of the most significant events in the modern history of Manchester United. To break the world transfer record, spending a whole £10m more than Real Madrid did on Gareth Bale three years ago, is a statement, even given the fee-inflation of this summer. And Pogba is that expensive for a reason. He is the most sought-after gifted accomplished player of his generation. He is a very rare talent, and a four-time Italian champion to boot. Zlatan Ibrahimovic may be a bigger name, but he is 34 years old. Pogba is 23 and now United will have the best years of his career. Opportunities like this do not come along every transfer window.
United have only been able to watch over the last seven years, the post-Ronaldo era, as the three biggest teams in Europe moved away from them. The 2009 Champions League final was Ronaldo's last game for United. They went into it as European champions, and on level terms with Pep Guardiola's Barcelona. But United lost 2-0 that night. Their one European Cup final since then, in 2011, they lost 3-1 to the same opponents.
Manchester United's best XI
1/11



David De Gea

Has been Manchester United's best player for the last four or five seasons and, after having a move to Real Madrid collapse last summer he is now more important than ever. He saved United repeatedly under David Moyes and Louis van Gaal and will hope under Jose Mourinho that there is less to do.

Getty

2/11



Matteo Darmian

A good player whose first season at Old Trafford was badly affected by injuries, Darmian should improve next year under the guidance of Mourinho. He has played for a similarly prescriptive coach for Italy in Antonio Conte and will provide exactly what Mourinho wants in the role.

Getty

3/11



Chris Smalling

One of United's most improved players under Louis van Gaal, he established a leadership and consistency that he had lacked before. Now he is near the peak of his powers and gives Mourinho someone to build around at the back.

Getty

4/11



Eric Bailly

The first of Mourinho's summer signings, the £30million man from Villarreal has looked good in pre-season already. Will need to adjust to the speed of the Premier League but looks well equipped to do that and form a strong pairing with Smalling.

Getty

5/11



Luke Shaw

Had his last season ruined by a broken leg against PSV Eindhoven and without him United lacked pace and width down the left. Mourinho will like his competitive attitude and Shaw will surely feature in Sam Allardyce's England squads soon enough.

Getty

6/11



Morgan Schneiderlin

Mourinho teams always have a midfield anchor, what he calls a 'number 6', and there is no-one better suited to the job at United now than Schneiderlin. Did not play as much as he should have done last year but that should change now.

Getty

7/11



Paul Pogba

The big issue for Mourinho will be where to fit in the £100million man. There will be times when he plays alongside Schneiderlin in a 4-2-3-1, when United can afford to attack more, and others where he is pushed further up with two midfielders behind him. Finding the perfect platform will be Mourinho's hardest task.

Getty

8/11



Henrikh Mkhitaryan

Not the highest profile summer signing at Old Trafford but a technical wizard who excelled in his three seasons at Borussia Dortmund, which is why Arsenal wanted him too. Likelier to be on the right of a 4-2-3-1, where he will provide creativity and intelligence.

Getty

9/11



Wayne Rooney

Mourinho said very clearly that Rooney will not play in midfield this season for United, so he will have to partner with Zlatan Ibrahimovic up front. Rooney will likely start as a second striker or number 10, but has a job to prove that he is still sharp enough for the job.

Getty

10/11



Anthony Martial

Never looked weighed down by his fee last season and showed pace, class and natural calm in front of goal. Likely to continue on the left this season where he will provide pace on the break, as long as he does the defending Mourinho demands too.

Getty

11/11



Zlatan Ibrahimovic

One final challenge for the big Swede who has won the league everywhere else he has played. Still has incredible strength and skill, even if he will be one of the slower strikers at the top this year. Just needs to find a way to be a focal point for his team-mates.

Getty
In those eight finals, from 2009 and 2016, Barcelona, Real Madrid and Bayern Munich have carved up the Champions League between them. Barca have won it three times, Real Madrid twice and Bayern once. There has not been a final with none of those three teams in since 2008. The effect has been to create a 'big three' at the top of the European game, with United and the rest of the English teams shut out.
That new non-English elite has had the biggest transfers in the world sewn up between them. In 2013 Barcelona signed Neymar and Madrid signed Gareth Bale. The next year Barcelona signed Luis Suarez and Madrid signed James Rodriguez. The best English clubs were powerless to do anything about those deals. The best players they signed were either cast-offs from the big three, like Di Maria, Mesut Ozil or Alexis Sanchez, or just beneath their level, like Kevin De Bruyne.
This is why United signing Pogba feels so important. It feels as if the last seven years of history, of United drifting away from the chasing pack at the top of the game, has been stopped. United may not now be fully level with Barcelona and Real Madrid in profile terms, or on the pitch, although they are surely closer. But they have just pulled off a transfer that neither of those quite had the stomach for.
So will this be the start of a great re-alignment of European football, with the best players moving away from Spain and towards England? Of course this is just one data point, and earlier this summer Renato Sanches, four years younger than Pogba, ended up at Bayern Munich rather than Manchester United.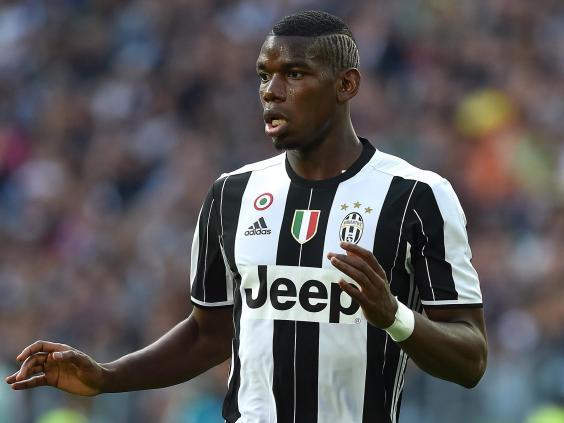 But the Premier League's new £5.1billion TV deal kicks in this year, with further increases from foreign broadcast rights to follow. Combined with increased commercial revenues – an area where United lead the rest of the English clubs – there is a new firepower here to tempt the top players away from La Liga.
Having become financially competitive again, all English teams must do now is show they are footballistically competitive. Since Ronaldo left for Madrid there has only been one Champions Leauge winner from England, and that was a fortunate Chelsea side in 2012. There has only been one other English finalist too, Manchester United in 2011. United, Chelsea and City now need to show that they can build teams worthy of their riches. Then the top players will follow Pogba back.
Reuse content