May 12, 2016
Norwich vs Watford match report: Canaries finally put up a fight – but suffer relegation to the Championship
If only Norwich had played anything like this all season…
The Canaries' demotion back to the Championship was confirmed by Sunderland's victory at home to Everton but at least they gave their supporters a performance that was both bold and brave, albeit against opponents with nothing at stake.
If only Norwich had played anything like this all season…
The Canaries' Premier League return ended up lasting just a single season as, despite this flurry of goals, Sunderland's comprehensive and simultaneous victory over Everton meant there can be no last-day reprieve, not for them or for Newcastle.
Dieumerci Mbokani scored twice after Nathan Redmond had cancelled out Troy Deeney's early opener for the Hornets, whose own performance had 'end of season' written all over it. Redmond, who also contributed two assists, was electric, although it was Wes Hoolahan who tempted Craig Cathcart into putting through his own goal towards the end of a frantic but mesmerising first half.
At that point anything suddenly seemed possible but news of a brace of Sunderland goals changed the picture; the second half, in which Odion Ighalo pulled one back for Watford and Mbokani completed the scoring, meant little and everyone knew it.
Yet the majority of the Norwich fans stayed to applaud their players afterwards and made a point of chanting the name of Alex Neil, the manager who had taken them up and then back down.
"That, for me, was really, really humbling," the Scot said. "I feel as if I've let them down. I feel as if we've come up short as a group, as a club. For them to respond in that way, I didn't expect. I think it's really unusual. I can only thank them for that. It makes it even more difficult for me to accept that we've come up short."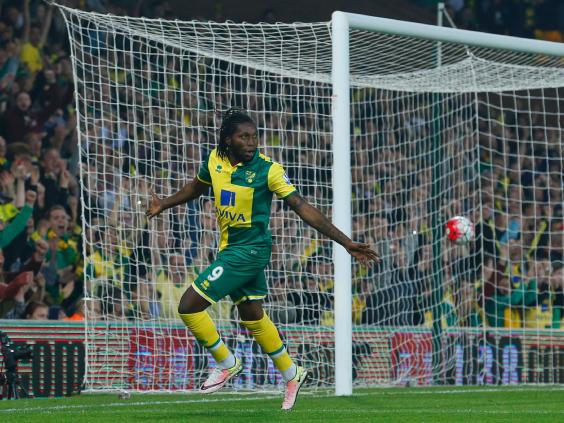 Neil, at 34 still something of a managerial rookie, also told his players he felt he owed them an apology. "I think my decision making at certain times across the season could've been better," he admitted. "Probably in hindsight I could've made better decisions or different decisions."
Some of those were tactical – Norwich attacked with relish in this game yet had not scored a single goal in their previous four matches, all of which were lost. Others centered around player recruitment, a perceived failing that saw chief executive David McNally fall on his sword earlier in the week. Deficiencies in all positions but especially up front and at the back have cost Norwich dearly this term: Mbokani and Redmond, the two top scorers, are not yet approaching double figures.
"At the start of the season we needed to strengthen the squad probably more than we did to give the team the best chance to stay in the league," Neil added.
At other clubs the fans would have long been gone and the board sharpening their knives. Watford, who came up with Norwich, have not once been threatened with relegation and also made it as far as the semi-finals, at Wembley, in the FA Cup. Yet Quique Sanchez Flores, the manager, is expected to be on his way as soon as the season is completed on Sunday.
In a season where Leicester are runaway champions little makes sense and Flores has been fielding questions about his imminent demise for a number of weeks now. The Spaniard has a break clause in his contract and knows he will be able to find employment elsewhere with little difficulty.
"The contract is very clear," he said ahead of a scheduled end-of-season meeting with Watford's owners, the Pozzo family. "We need to meet, to say what is our feelings. We chose this kind of contract, after one year it is important to share the feelings, if we are happy, if we share the same point of view. It's time to do that in a few days. It's time now to reflect, and know exactly. We got the objectives a long time ago."
Flores has the opportunity to say his farewells at Vicarage Road on Sunday when Sunderland are the visitors in a fixture that is now a dead rubber. Norwich travel to Everton, the team whose limp showing at Sunderland confirmed the Canaries relegation.
Neil knows he and his colleagues have only themselves to blame of course. "There's been games this season where we were leading and we ultimately cost ourselves points," he said. "There's games where we made crucial errors, where you'd like to think under those circumstances that if anybody's going to beat you they're going to have to work to beat you.
"It's always tough to pinpoint one or two games, I think there's a whole host of games over the course of the season where we'll look and think we deserved a bit more. Ultimately you've got to do enough.
"Ultimately across the season so far we've made too many errors at crucial times in games, I think we've missed too many opportunities at crucial times in games."