June 7, 2016
NI boss plays down Lafferty injury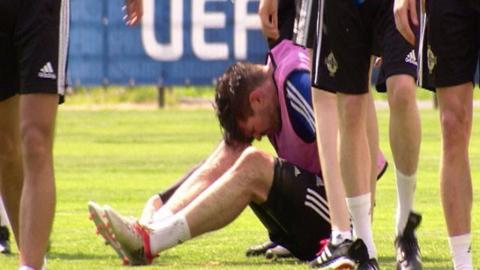 Northern Ireland manager Michael O'Neill has played down injury concerns over Kyle Lafferty after the striker hobbled out of training on Tuesday.
Lafferty, 28, pulled up after appearing to stretch his groin but O'Neill later insisted that there were "no concerns at all" about the striker's fitness.
Northern Ireland face Poland in their Euro 2016 opener on Sunday.
"All fine, all good. It was precautionary to take him out of training," said O'Neill.
"After examination by the doctor, he feels good.
"It's a little twist, but on examination we don't expect any major issues at all.
"We're just being careful. We're more concerned about the thunder and lightning, to be honest."
Lafferty's goals crucial to NI qualification
Lafferty's seven goals were crucial to Northern Ireland's surprise qualification for the finals in France.
The Norwich striker, 28, appeared to be in some pain after he had reached to control a ball.
After sustaining the injury, Lafferty was directed into an ice bath on the side of the pitch at Northern Ireland's training base of Saint-Georges-de-Reneins near Lyon.
Lafferty later walked gingerly to the changing rooms.
Gareth McAuley and Craig Cathcart did not train on Tuesday morning but their absence was said to be "purely precautionary".