September 23, 2016
Manchester United news: Zlatan Ibrahimovic is like a cross between the Terminator and a brick wall
Playing against Zlatan Ibrahimovic was like coming up against a cross between a "brick wall" and the "Terminator", according to Northampton Town defender Gabriel Zakuani.
Zakuani came up against the 6ft 5in Swede as Manchester United travelled to Sixfields in the EFL Cup game on Wednesday night.
Ibrahimovic was hurled on with Marcus Rashford in the second half and turned the tie in United's favour as the Premier League side won 3-1 to progress to the fourth round, where they face Manchester City.
United took the lead against the League One side through Michael Carrick only for Alex Revell to score the equaliser from the penalty spot.
Ander Herrera and Rashford goal sealed the win for United in the second half, but it was Ibrahimovic's influence which made the greatest impression on Zakuani.
"I feel like I bumped into a brick wall a couple of times," Zakuani told the BBC.
"He's a lot stronger than I thought so I had to be a bit smart and try to win the second ball because there was no getting around him. He was a lot bigger than I thought he was.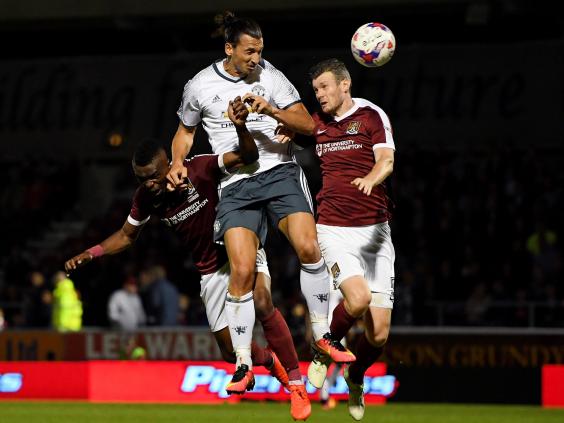 "He talks a lot on the pitch, but he talks a bit like a robot, kind of like Terminator. It's sort of in slow motion.
"You can see his influence on their team. He'll tell a few of the players that are rushing past him to just calm down and relax on the ball.
"He does influence a lot of their attacks and off the ball he does get their players going. You can see his experience and his influence on the team and he has got the respect of everyone at the club.
"You can see straight away that he has the respect of everyone at the club."
Reuse content