July 22, 2016
Manchester United news: Jose Mourinho Q+A – Is Paul Pogba worth £100m and will Wayne Rooney remain captain?
What are your opening impressions of the squad?
JM: "As we know not every player is here working yet, quite a few [are missing] but I was impressed. I'm not surprised because I think at this level players are professional, they want to work, but I was impressed with the way they were working. Even here in Shanghai we have had two training sessions where it's very easy not to work well, it's very easy to be affected by the weather, to be affected by the pitch which is dry and slow, it's very easy to say: 'I've got jet lag, I didn't sleep very well'. And Wednesday we'd arrived, had lunch, had commercial duties but the training in the first session was fantastic.
"So the attitude is very good, the appetite is very good, they want to work, they want to improve and they need to work a lot really because the most difficult thing in football that I've found during my career is when I go to a new club and I need the change the dynamic, the way of thinking, things that the players do automatically.
"Maybe some managers who go after me at clubs find the same thing if they're not happy with the dynamic of the team. This is quite hard for the players because they become quite automatic in their way of thinking so to change some dynamics is not easy. They must be very focused but the players are giving all of this. The last couple of days Rooney, [Chris] Smalling and Rashford have brought a different plus in quality because they replaced some players who stayed back at home with extra players of quality.
"On Sunday even before we arrive back in Manchester I will send two of my coaches to start working with the other players so they'll start working on Sunday. Step by step we are going to do the puzzle but it's easy to feel that they want it and that's very important."
Zlatan Ibrahimovic is 35 in October. Can he perform in the Premier League?
JM: "Yes because first of all I know him very well [from coaching him at Internazionale in 2009-10]. I always think there's our age in ID terms but then there's our real age because for me the real age is not the age on your ID. That's just a date when you were born. The real age, the real ID is your body, your brain, your attitude and this guy is young, his body is amazing.
"The way he grew up playing the sports he did before football, especially martial arts, he was prepared in terms of his muscles and the mental point of view in a different way to the traditional football player, his DNA, his motivation.
"Let's be honest, he's very rich. He's made money all his career, he's won a lot of things, you only come to the most difficult championship in the world if you feel you can do it. If you don't feel you can do it you go to America, China, stay in the French League one more season. So the guy wanted this one more challenge. When I told him that I had won in England, Spain and Italy and he hadn't, that he'd done Spain, Italy and France, he thought: 'Ahh, I want to go. I want to win every one.' So his motivation is high. His body is amazing.
"On Sunday he is going to start a specific programme we have prepared before he joins our group on the Thursday so he has five days just for him. So I expect he is going to be very good for us."
Manchester United summer transfer targets
1/8



Paul Pogba, Juventus

Despite letting him go on Sir Alex Ferguson's watch in 2012, United are desperate to land Juventus star Paul Pogba. It may yet take a world record fee of £100m to lure the 23-year-old away from Turin, however, but Jose Mourinho has made his intentions to sign world-class players known this summer. The Portuguese will hope Pogba can replicate the sort of form which has helped him scored 23 goals in 124 appearances in Serie A.

Getty

2/8



Blaise Matuidi, Paris Saint-Germain

There have been conflicting reports over United's interest in Matuidi. Initially, it was thought he was a back-up option should United fail in their attempt to sign Pogba, though some have since suggested that Mourinho is keen on bringing both players to the club.

Getty

3/8



Hirving Lozano, Pachuca

Young Pachuca forward Hirving Lozano might not sell a mass of shirts immediately, if indeed he does sign, the 20-year-old is considered one of the most exciting talents in world football. Nicknamed 'Chunky', Lozano is capped seven times for Mexico despite his tender age, having scored 21 goals in 91 senior appearances for Pachuca.

Getty

4/8



Alvaro Morata, Real Madrid

Having signed Zlatan Ibrahimovic in June, United remain on the lookout for cover in attacking positions with a move for Alvaro Morata seeming likely. The Spaniard was in fine form for his country at Euro 2016 this summer before it was announced that Real Madrid had utilised a buy-back clause in his Juventus contract. That isn't the end of matters, though, with the Spanish giants planning to sell Morata on immediately for profit.

Getty

5/8



James Rodriguez, Real Madrid

After seeing little game time under Zinedine Zidane at Madrid, another name to be thrown into the Old Traffor mix is that of James Rodriguez. The Columbian superstar was even relegated to the La Liga B side on occasions as he fell quite spectacularly down the pecking order in the Spanish capital. While Paris Saint-Germain remains his most likely destination, with reports suggesting a fee has been agreed, don't rule out a late counter offer from United.

Getty

6/8



N'Golo Kante, Leicester City

It seems everyone has been linked with Leicester City's midfield maestro N'Golo Kante this summer. The Frenchman made a name for himself during the Foxes' remarkable march to the Premier League title in 2016 following a low-key £5.6m transfer from Caen the previous summer. Kante is both combative and industrious, refusing to let up until possession is won back. While the champions may be keen to keep their little midfield star, the presence of a release clause in his contract at the King Power Stadium means a move away remains entirely possible.

Getty

7/8



Aaron Ramsey, Arsenal

In a surprise rumour, Arsenal midfielder Aaron Ramsey was linked with a switch to the North West. The 25-year-old has been in scintillating form for Wales at Euro 2016 this summer but it remains to be seen if the Gunners would be willing to entertain an approach from one of their main titles for the Premier League throne. Ramsey is reportedly frustrated at the levels of competition in the centre at the Emirates but it is unlikely United would be able to offer a firmer guarantee of first-team football.

Getty

8/8



Will Hughes, Derby County

Many thought Hughes may have missed his chance to make a big-money move away from the iPro Stadium when he rejected the chance to sign for Liverpool last summer. The young Englishman remains one of the most promising players outside the top flight despite being unable to inspire Derby to promotion from the Championship. The East Midlands outfit are likely to demand an inflated transfer fee for their midfield wizard too but United have shown in the past that money is usually no object.

Getty
Can the rest of your squad feed off his attitude?
JM: "Sometimes people say the team has no leaders, it's this, it's that, but what we need is everybody with the same kind of mentality. I like communication and push them to communicate. I give a lot of instruction in training. It's difficult for me to do the same in matches so I need guys on the pitch to read the game, to understand what we want. Zlatan is going to be one of them and I feel already that we have guys to do the same.
"I don't think we're going to have a problem at that level. We have lots of quality. When I see our group in the attacking areas. Zlatan, [Marcus] Rashford, [Wayne] Rooney, [Henrikh Mkhitaryan, [Juan] Mata, all the wingers we have. I think we have lots of quality in attack to produce good football and score goals."
Your career has always been closely associated with United, from the outset with Porto and during your years at Chelsea – did you ever feel it was your destiny to manage the club?
JM: "I never thought about it really. The only thing I thought is that every club I was at I was always playing against Man United – with Porto, Inter, Real Madrid, always, Champions League matches, big matches, then with Chelsea matches to decide the title, FA Cup finals, Community Shields. I've played so many times against Man United and what I felt was – and you know this is not easy with me – so many matches and no problems.
"It's very difficult to play against a club so many times and I have no problems. No problems. Not a yellow card, not a red card, not a strange quote, not an offensive word. I won a lot of times but I also lost and there were not any negative comments."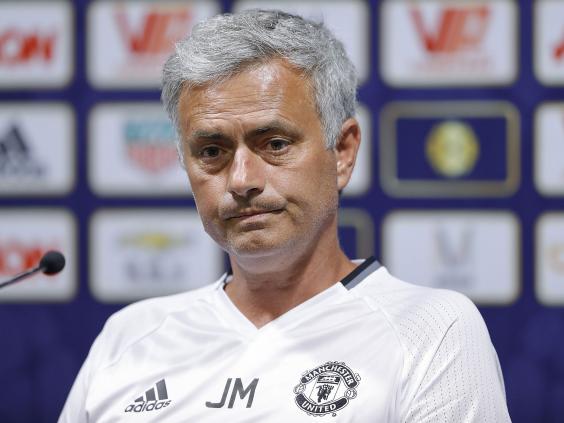 How about when you first played United as Porto coach in 2004 in the Champions League Ferguson was unhappy at Roy Keane's sending off?  
JM: "That was him [Ferguson], not me! It was him, not me. So I always had that good feeling, for sure, and I think the fans feel the same. I remember playing at Old Trafford and the way to the dugout was always nice. It was never like in other stadiums. There was always a connection. Then can you end up being their manager one day or not? I always felt that what has to happen happens and it happened so."
United have not won the title since May 2013. What would it mean personally to you to return the club to the top?
JM: "It's more important for the club and the fans than me – that is the way I have to look at it. The club is much more important than me, the fans are much more important than me so it's not for me. I'm not working for me I'm working for the club, for the fans. That's the way I look at things.
"Can it be nice for my career to win trophies in every club? That would be amazing, to be champion in very club would be amazing, but that's an individual selfish perspective that I don't want. I work for the club, the club brought me here because they trust me.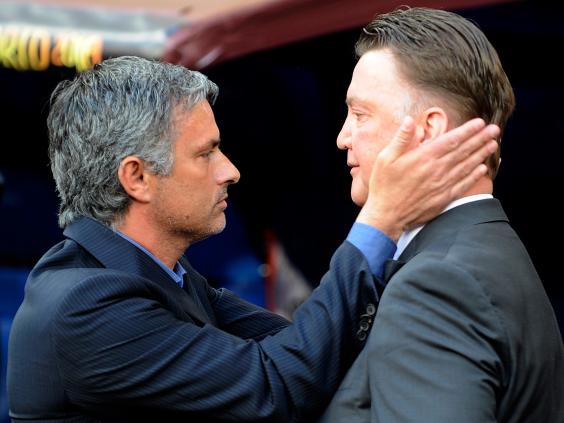 "I have the feeling – of course not everyone, I guess – that the majority of the supporters they trust me, they believe that I can help the club. I have the feeling that the players want me. I'm not saying they didn't want Mr Van Gaal [predecessor], I'm saying that since I arrived I feel that they are very fine with me and my way of leading and my way of work. But I want just to see my things in this way of perspective and let's enjoy the season because a big season is waiting for us."
You sold Mata from Chelsea to United for £37.1m in January 2014. Does he have a future under you?
JM: "I sold because he asked for that. Nobody in my previous club wanted to sell or push him.
"He wanted to leave and my philosophy is I don't want players that want to leave. I want players that want to come and want to stay. But I think since the first day everything is clear between us. There is space for him. He's a talented player and I don't promise places to anyone. I promise respect and I like him so if he wants to stay and I think he wants – until this moment I don't have one little sign that he wanted to leave – so he wants to stay and yes there is space for him and yes I think he can be useful to the club."
Is Paul Pogba worth £100m and do you think you'll get him?
 "I don't speak about players from other clubs he's a Juventus player. If any club wants one of my players and it speaks about him so Paul Pogba is a Juve player and what we are trying to do we are trying to do in an honest, correct, institutional way.
"The only thing I can say to you is we did 75% of our market. We established four important target profiles – not faces profiles – and we got 3 of them at the very early stage of the market and now we have 25% of our market to conclude until the 31st of August and that player is not the only one. It's a profile we have, we have options for that profile and we're going to get a fourth player but maybe it's not the one you think."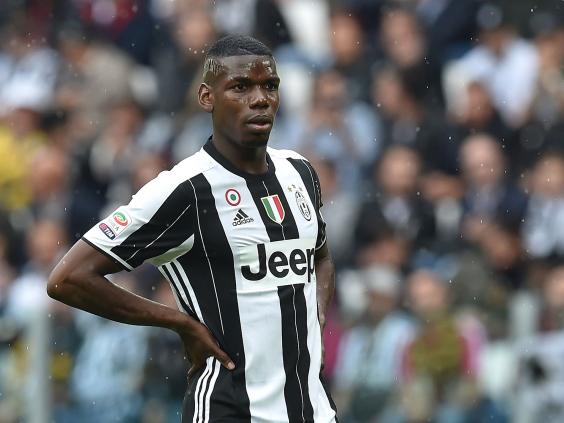 If you obtain your fourth and final player of this market, are you confident that by May that United will be challenging for the Premier League?
JM: "I don't know but I want. I'm not going to hide behind three bad seasons, three bad championships, behind 2 seasons not even with the fourth place finish. I'm not going to hide behind that, I'm not going to hide also in that fourth is the target and everything better than that is amazing for us. No I want to win the title and I want my players to feel."
Is Rooney to remain your captain?
JM: "Of course."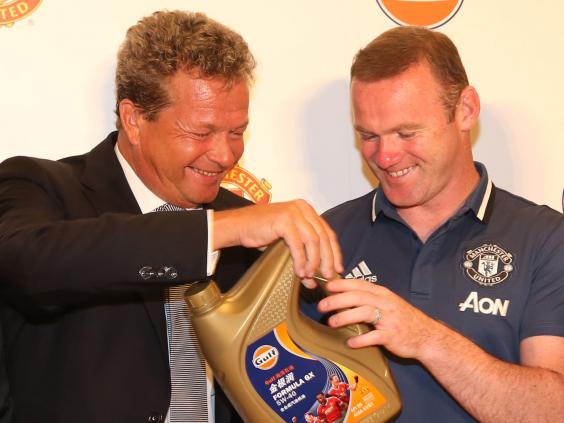 When you became Chelsea manager for the second time in summer 2013 you talked about building a dynasty. Do you wish to do the same at United?
JM: "I'm not at Chelsea because the owner didn't want me [sacking him in December]. If he wanted me I would still be there. I have the contract I have at United and for that the owners are happy. To give me a new [extended] contract I will be happy to do that because that is what I want at this moment in my career, that's what I want but I think it depends on many things. And I will try to do my work to make the owners realise that I am the right guy for this job. But in this moment I've only played Wigan [in Saturday's friendly]."
Reuse content