August 25, 2016
Manchester City vs Steaua Bucharest: Losing 'legend' Joe Hart could be a big mistake, admits Pep Guardiola
Pep Guardiola admitted his treatment of Joe Hart may prove to be a mistake, but insisted he will continue to take controversial decisions for the benefit of Manchester City.
Hart applauded all four corners of the Etihad Stadium after playing his first game of the season – and potentially his last for the club – in the 1-0 Champions League Play-Off second-leg victory against Steaua Bucharest.
With Guardiola confirming that a £17m deal for Barcelona goalkeeper Claudio Bravo was 'almost done' following the 6-0 aggregate win against Steaua, Hart is expected to leave City before next Wednesday's transfer deadline.
But while admitting that his decision to drop Hart has been unpopular among City supporters, who chanted the 'keeper's name throughout the game, Guardiola claimed it is one he had to make.
"Joe is still a player of us and I am happy with him today," Guardiola said. "I know he is a legend of the club and part of the reason the club has been successful is Joe. "He helped make City one step above, with success in the Premier League and the cups, so I am so happy with how people treat him.
"But I am here to take the decisions. I make a lot of mistakes in my career, but I try to be honest and I can't deny what I feel.
"At Barcelona or Bayern Munich, all of my decisions weren't right, but I have to take them.
"I am here and I have to take decisions, that's all. Some will agree, some will not agree. I understand.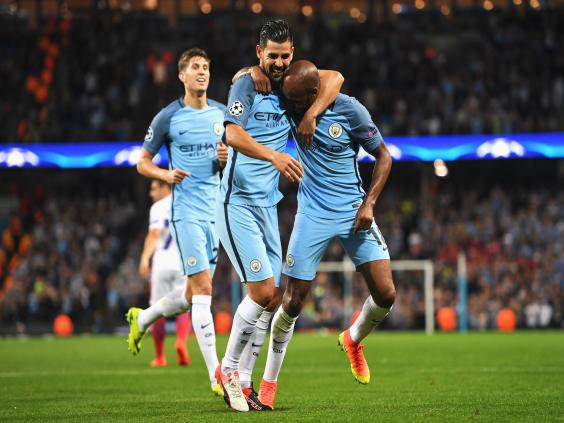 "I was honest with Joe and the club and all the players. The people who want to follow me, I am here to do that for them.
"The City fans can express what they feel. I would like all my decisions to make everyone happy – the fans, the media the club, but it is impossible."
Hart, who has spent ten years at City since being signed from Shrewsbury Town as a teenager by former manager Stuart Pearce, insisted he and Guardiola were being 'men' while dealing with the current situation. But the England number one admitted he did not know what lay ahead and where his future would be.
"It's not for me to say," Hart said. "It is what it is. "But that was a really special night for me. I have had a lot of good nights in football, but it was a really nice night. "We all know there is a situation going on, but I feel that inside, outside of all the circus, we are handling it well as a good team with a good management staff.
"This is a special place for me, I don't think there has been any secret made of that. "It is a place I love to be, but situations occur in football. But we are men, we get on with it and I really appreciate the people of Man City city and it turns out they appreciate me.
Champions League clubs – confirmed
1/27



Pot 1: Real Madrid




Getty

2/27



Pot 1: Barcelona




Getty

3/27



Pot 1: Leicester City




Getty

4/27



Pot 1: Bayern Munich




Getty

5/27



Pot 1: Juventus




Getty

6/27



Pot 1: Benfica




Getty

7/27



Pot 1: Paris Saint-Germain




Getty

8/27



Pot 1: CSKA Moscow




Getty

9/27



Pot 2: Atletico Madrid




Getty

10/27



Pot 2: Borussia Dortmund




Getty

11/27



Pot 2: Arsenal




Getty

12/27



Pot 2: Sevilla




Getty

13/27



Pot 2: Porto




Getty

14/27



Pot 2: Napoli




Getty

15/27



Pot 2: Bayer Leverkusen




Getty

16/27



Pot 3: Tottenham




Getty

17/27



Pot 3: Dynamo Kiev




Getty

18/27



Pot 3: Lyon




Getty

19/27



Pot 3: PSV Eindhoven




Getty

20/27



Pot 3: Sporting Lisbon




Getty

21/27



Pot 3: Club Brugge




Getty

22/27



Pot 4: Monaco




Getty

23/27



Pot 4: Besiktas




Getty

24/27



Pot 4: Legia Warsaw




Getty

25/27



Pot 4: Ludogorets




Getty

26/27



Pot 2 or 3: Basel




Getty

27/27



Pot 3 or 4: Celtic

Brendan Rodgers celebrates Celtic's progression to the Champions League play-offs

Getty
"It's a situation, we have a top manager that the club has wanted for a long, long time for and he will have his opinion on things. "But we are dealing with it. Tonight I played for Man City and I enjoyed it and I have done every time I have played for Man City."
City, meanwhile, go into Thursday's Champions League group stage draw in Pot Two after cruising past Steaua. And Guardiola insisted that was reason for celebration following his team's fourth successive victory of the campaign.
"We have had two good games (against Steaua), so we are ready for Champions League," Guardiola said. "We were better team in Bucharest and better team today. "They had ten men behind the ball, but in the second-half, we attacked much better and we can celebrate being in the Champions League."
Reuse content