September 13, 2016
Man City v Borussia Monchengladbach off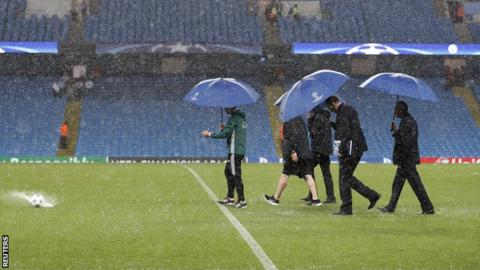 Manchester City's Champions League group match at home to German side Borussia Monchengladbach has been postponed because of adverse weather.
Heavy rain, thunder and lightning hit Manchester on Tuesday evening and 15 minutes before kick-off it was announced the match was abandoned.
In a statement, City said localised flooding led to a decision being made on "safety and security grounds".
A meeting will be held at 21:30 BST to decide when the match will be held.
According to the European governing body's rules, a rescheduled date must be agreed on between the two clubs, and the associations concerned, within two hours of the postponement.
Uefa's rules state the match must be played either the next day or "on a reserve date or other date set by the Uefa administration".
Unconfirmed reports suggest City's Group C opener with the Bundesliga side will be held on Wednesday.
The goalmouth at one end was heavily waterlogged at one stage, while services were stopped on Manchester's tram network.
Referee Bjorn Kuipers and officials inspected the surface at about 18.55 BST and a decision to postpone was communicated around 30 minutes later.
In Prestbury, Greater Manchester, 32.4mm of rain fell in an hour, which meteorologist Mark Wilson described as "pretty exceptional".
Analysis: BBC Sport's Simon Stone at the Etihad Stadium
Manchester City's fans were told the Champions League tie with Borussia Monchengladbach had been called off before their players.
It is understood the stadium safety officer decided the torrential thunderstorms around the Etihad Stadium meant the area was unfit for the game to take place.
This information was immediately relayed over the sound system at 19:25 BST to the supporters – including a large number of visitors – who greeted it with whistles and boos, even though the pitch was saturated.
The announcement came as a surprise to members of the City hierarchy, and manager Pep Guardiola and his squad, who were waiting to discover whether they needed to go out and prepare for the game.