March 19, 2016
Louis van Gaal, not Manuel Pellegrini, is to blame for the Manchester malaise and a wasted season
The Manchester derby should be the biggest game in the country but it is not even the biggest game on Sunday. Manchester United are the best-supported club in the country and Manchester City are the richest. They have won four of the last five Premier League titles between them. But this season both have dramatically underperformed: City are fourth and fading from the title race, United are sixth and out of it.
So how did we get here? How have these two sides been left so far behind by Leicester City and Tottenham Hotspur? The top people at the clubs are to blame, but not necessarily the people you might think.
The problem at Manchester United is simple and obvious: Louis van Gaal.
United have been badly managed for two years now, and that is why they are where they are, 16 points off the top, out of Europe, now just trying to hang on in the FA Cup and the race for fourth.
I know Ed Woodward, the United chief executive, has been blamed for signing the wrong players but I believe that blame is misplaced. The buys were not bad buys. The squad is not a bad squad. It is certainly not a squad that should be below Leicester, Tottenham and West Ham United in the table, 30 games in.
Yes, some of the signings have struggled, but whose fault is that? 
Memphis Depay, Matteo Darmian and, to a lesser extent, Anthony Martial, started well before struggling. None of these players has improved under Van Gaal, which is damning. The problem is that they are not being used correctly.
If Martial plays up front, he needs support from wide areas, which he does not get. If he plays out wide, he needs Wayne Rooney inside him dropping deep to provide passes. If Depay plays out wide, he needs a full-back running outside him to give him more space. If Ander Herrera plays, he needs support to play box to box. But none of this is happening.
Instead, United's players look inhibited by Van Gaal's cautious approach, reluctant to express themselves or take risks.
United spend more time worrying about the opposition rather than letting the opposition worry about them, planning around the opposition's strengths rather than their own. They have quick players but the football is so slow.
Manchester United 1 Liverpool 1 player ratings
1/24



David de Gea – 7 out of 10

Could he potentially have stood up better for Coutinho's goal? Maybe but once again, it was his saves and stops which kept it from getting embarrassing.

2/24



Guillermo Varela – 5 out of 10

Tenacity, dynamism but full of defensive lapses. He is like a proto-Rafael and a player that supporters should grow to love, but one that has a lot to learn.

3/24



Chris Smalling – 6 out of 10

Faced little threat in the first half with the onus on his attacking team-mates but looked troubled as the game went on, especially after Origi's introduction.

2016 Liverpool FC

4/24



Daley Blind – 7 out of 10

Like his defensive partner, benefited from his team needing to attack. Largely solid, distributed well and coped well with Liverpool's pace in behind.

2016 Manchester United FC

5/24



Marcos Rojo – 6 out of 10

Looked more comfortable with his offensive duties tonight and offered excellent support to Martial, compounding Clyne's misery. Defensively, still suspect and often switched off.

2016 Manchester United FC

6/24



Michael Carrick – 6 out of 10

Far more comfortable at the base of midfield than the makeshift-sweeper role he took up at Anfield but, judging by his fitness, will not operate at this level much longer.

2016 Manchester United FC

7/24



Marouane Fellaini – 4 out of 10

The most unpopular man in the ground. The jeers may be undeserved but so is his starting place, and he should not have stayed on after his elbow on Lovren.

2016 Manchester United FC

8/24



Jesse Lingard – 5 out of 10

The young winger will feel he could have done better with an early header on goal. Interchanged with the rest of the forward line but offered nothing decisive.

2016 Manchester United FC

9/24



Juan Mata – 5 out of 10

Loose passes early on gave the impression this would be one of the Spaniard's poorer evenings and a scuffed volley minutes later confirmed as much.

GETTY IMAGES

10/24



Anthony Martial – 8 out of 10

United's best attacking outlet. He had the beating of his man from the first minute to the last but he cannot do it all himself

2016 Manchester United FC

11/24



Marcus Rashford – 6 out of 10

Seven consecutive starts told on the youngster's legs. He often lacked the zip required to beat the last man but was adventurous nonetheless.

12/24



BEST OFF THE BENCH: Bastian Schweinsteiger – 5 out of 10

The German, who looks 'well wintered' after his injury break, scuffed a shot and made a silly tackle. Influential on Sunday, anything but here.

13/24



Simon Mignolet – 6 out of 10

Denied Lingard acrobatically in the first-half when a simpler save may do. The Belgian largely maintained the uncharacteristic composure he's shown in recent weeks.

2016 Liverpool FC

14/24



James Milner – 6 out of 10

Filling in at left-back at times seemed a big ask, especially against the adventurous Varela in the first-half, but he slowly grew into the role.

15/24



Dejan Lovren – 7 out of 10

Another to maintain the improved form he's shown recently, give or take a few shaky moments. a new confidence under Klopp.

2016 Manchester United FC

16/24



Mamadou Sakho – 7 out of 10

Cumbersome, inelegant but at least he can pass a ball. Much of Liverpool's best attacking play came out of the back through the Frenchman.

2016 Manchester United FC

17/24



Nathaniel Clyne – 4 out of 10

Since joining last summer, the right back has been solid, week in and week out. Tonight was his off-night and Martial made the most of it.

18/24



Philippe Coutinho – 7 out of 10

The Brazilian looked out-of-sorts until his sublime goal, which will go down as one of Liverpool's best on this ground. Ultimately, a tie-winning performance.

2016 Liverpool FC

19/24



Roberto Firmino – 5 out of 10

Failed to carry his excellent form into this encounter. Instead, he reminded us that he easily drifts out of games and still much to prove.

2016 Getty Images

20/24



Jordan Henderson – 5 out of 10

Liverpool's captain failed to impose himself on the occasion. The one moment he did, he earned a clear cut chance but could only fire over.

2016 Liverpool FC

21/24



Roberto Firmino – 5 out of 10

Failed to carry his excellent form into this encounter. Instead, he reminded us that he easily drifts out of games and still much to prove.

22/24



Daniel Sturridge – 5 out of 10

Liverpool will be glad they learned how to play him during his time out injured. He's been in a rut since returning and this was no better.

23/24



Adam Lallana – 5 out of 10

A peripheral figure for much of the match and will be disappointed not to have built on the dynamism he showed at Anfield.

2016 Manchester United FC

24/24



BEST OFF THE BENCH: Divock Origi – 7 out of 10

An intelligent substitution by Klopp. His pace, strength and drive pushed Liverpool ten yards up the field, keeping United at bay in the closing stages.
It is telling that David De Gea is set to be United's player of the season again, having been man of the match in both legs of their Europa League defeat by Liverpool. He is a brilliant goalkeeper, of course, but the fact that he is United's top performer shows that the rest of the team is not working properly.
That is why it is wrong to blame the players – they are only doing what the manager tells them. They know that if they don't they will be dropped or sold.
Just look at Angel Di Maria – constrained by Van Gaal, absolutely sensational for Paris Saint-Germain. Or Javier Hernandez and Danny Welbeck, who are certainly doing well enough at their new clubs to have justified a place in this United team.
Van Gaal's approach is wrong for this club and wrong for this league. 
This is not romanticising "the Manchester United way" or anything like that. No one could expect them to play with two flying wingers and two strikers in 2016. There are not many natural wingers in the game any more. 
What people want is a recognition that football has changed, that the game is becoming less about possession and more about counter-attacking.
That is the lesson of Leicester's success, top of the league with less than 50 per cent possession in almost every game. Tottenham, too, are a counter-attacking team. But United sit still, playing pointless passes, allowing the opposition to get back into place before they consider going forward.
Yet they are still just four points behind Manchester City, who have their own problems. Given what they have spent, City are underachieving just as badly as United. And while their manager, Manuel Pellegrini, is paying with his job this summer, I do not believe it is his fault.
Pellegrini is not perfect and has made tactical mistakes in Europe. But his domestic record – one Premier League title, two League Cups – is good. I believe City's struggles are not down to him, but to poor recruitment by the club.
Sporting director Txiki Begiristain has so much money to play with yet City are still desperately reliant on two world-class players, Vincent Kompany and Sergio Aguero. All teams have their stars, but the best sides must be able to cope without them. City cannot.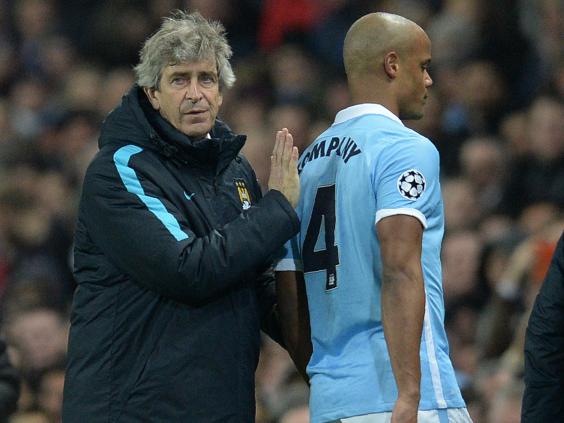 Their problem at centre-back is one of balance. All good centre-back partnerships are made of one ball-winner and one who sits back and reads the game. City have four centre-backs, but Kompany is the only one who can do both jobs. The other three all like to charge out to win the ball.
City had only just found some defensive balance, with Kompany and Nicolas Otamendi looking secure together. But now Kompany is injured again, City will see how much they rely on him. 
None of their other centre-backs, all good players individually, can play together. Eliaquim Mangala cost £42m and Otamendi £30m but only one of them can play at any one time, which is just a lack of planning by the club.
But the fact that City will play two aggressive centre-backs, with attacking full-backs too, will give United some space to attack on Sunday. This is why it is not a day for Van Gaal football. United will need to get the ball forward in three passes, rather than six, to take advantage of the pace of Martial, Jesse Lingard and Marcus Rashford.
City have a similar problem up front as at centre-back. Aguero is another world-class player but City no longer have good alternatives or partners for him. They used to have strikers such as Edin Dzeko, Carlos Tevez and Alvaro Negredo to share the workload but this year, because of transfer market blundering, they are left with Wilfried Bony and Kelechi Iheanacho. When Aguero is out it is a long way down.
Bony is not a bad player, but he has not been a successful buy and is the opposite of what City need up front. Aguero likes to stretch the game, creating the space David Silva needs behind him. But Bony always comes short, dropping into Silva's space, making it harder for him to create chances and goals.
Up front and in defence, City have bought badly, spending too much money on good players the team didn't need. It is the opposite problem to United, who have bought the right players but used them in the wrong way.
That is why both sides are nowhere near where they should be, and why both are facing a summer of transition. 
City have Pep Guardiola, the best manager in world football, coming in, and if they sign the right players – such as Thiago Alcantara from Bayern Munich – their future looks very bright.
United may need to follow suit, which is why Jose Mourinho is the right man to take over if Van Gaal does leave. They are at a moment now when the only thing that matters is results, and that is what Mourinho guarantees – although they must keep Ryan Giggs at the club so he can learn from Mourinho, as well as helping new signings to settle by telling them what it means to play for the club. Then, I hope, he can replace Mourinho when he goes.
Van Gaal was meant to bring substance over style but United have neither. Neither they nor City can afford another wasted season like this one.