May 19, 2016
Liverpool 'will come back stronger'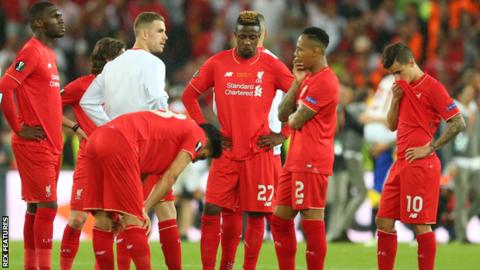 Liverpool boss Jurgen Klopp took responsibility for his side's 3-1 Europa League final defeat by Sevilla – and said they would come back stronger.
The Reds led at the interval only to suffer a second-half collapse as Sevilla became the first team to win the competition three seasons in a row.
"I am responsible for this performance," said Klopp, who took charge at Anfield last October.
"I promise everybody we will use it and come back stronger."
Liverpool were on course to secure Champions League football – on offer to the winners of the competition this year – when Daniel Sturridge's magnificent strike with the outside of his left foot gave them the interval lead.
But the Reds crumbled, conceding three goals in the space of 24 second-half minutes.
"There is no criticism and I have spoken to my players," added Klopp. "Nobody in the stadium believed, I thought we could change it but it was not enough.
"What I think about not being in the Champions League is that we have to use the time.
"It is not about the size of the squad, it is about using the time in training to get better.
"It was 50-60% of our usual quality and we have to accept that. We will come back."
More to follow.