April 22, 2016
Lerner takes blame for Villa relegation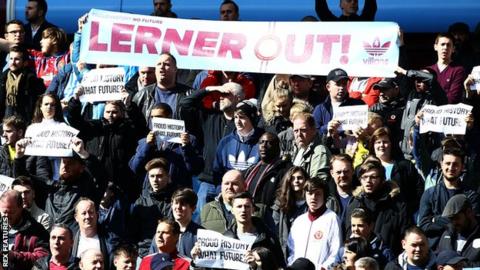 Owner Randy Lerner says Aston Villa's relegation from the Premier League "lies at my feet and no-one else's".
The American said the club's "desperate existence is totally unacceptable, unbearable and totally incompatible with Villa's glorious past".
Villa, who are without a manager, have won only three league games this season and two directors quit this week after falling out with the billionaire owner.
"I believe in Aston Villa and know it will come back stronger," Lerner added.
"Memories of Acorns on the shirt, and Ashley Young scoring a late winner against Everton still romantically nourish me."
The logo of Acorns Children's Hospice was carried on the team's shirts for free during the 2008-09 season.
Lerner, who put Villa up for sale in May 2014, says he will continue "to try to put the club into worthy hands".
'A nagging sense of inevitability set in'
Despite winning their first game of the season, Villa have taken only 16 points from 34 league matches and relegation was confirmed when they lost 1-0 at Manchester United on Saturday.
Two managers have left this season – Tim Sherwood in October and Remi Garde, after just 147 days, last month – while David Bernstein and Lord King resigned from the board on Monday.
Striker Gabriel Agbonlahor, meanwhile, was suspended on Monday after he was allegedly pictured with laughing gas canisters on the night Villa were relegated.
Agbonlahor was already on the sidelines after being told he was not fit enough.
Lerner suggested he was aware the season would end badly when they conceded three goals in the final 18 minutes from 2-0 up to lose 3-2 at Leicester in September.
He wrote: "A nagging sense of inevitability set in against Leicester City despite the late lead we enjoyed. Can't say why although I doubt I'm alone…"
More to follow.