August 22, 2016
Leon Britton agrees new Swansea deal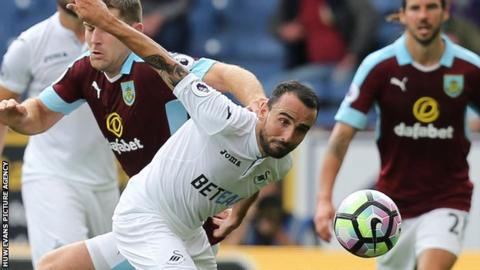 Midfielder Leon Britton will remain with Swansea City until the summer of 2018 after agreeing a one-year extension to his contract.
Britton has played 514 games for the Welsh club since first joining on loan in 2002.
The 33-year-old did not rule out reaching the 600 game landmark.
"Getting up to 600 appearances for the club might be a big ask, but you have always got to have targets," said Britton.
"If you include the loan deals when I first came, I have now signed 13 contracts at Swansea.
"You never know, there might be a 14th – it's down to me to try to prove I can still do a job. "
Britton missed Saturday's 2-0 home defeat by Hull City with illness but made his 514th appearances in the o1-0 win at Burnley on the opening weekend of the Premeir League season.
"Looking forward, I know my role will change a little bit in terms of not playing as regularly as I have done over the years," he added.
"I have spoken to the manager about that and I understand it. I have said to him that I am ready to start, to come on or just to be involved in the squad and trying to help the other players.
"But I still feel fresh, I still train well and I still feel I can get around the pitch, so I think there is life in me yet."