7 Aug
Jose Mourinho is an individual who clearly relishes the spotlight and pressure that comes with managing one of the world's biggest football clubs.
His major objective, as he takes charge of Manchester United for the first time in a competitive game today is to ensure that his players do likewise.
This is a United squad rare in recent times, accustomed to mediocrity and the stifling tactical approach of Louis van Gaal who delivered the FA Cup for the club in his two seasons in charge, but little else and set the club back years in terms of its reputation for adventurous football.
Mourinho, who will aim to win his first silverware with United in today's Community Shield meeting with Leicester, concedes that it will take time to impose his own philosophy on his squad, eradicating the approach of his predecessor that seemed universally disliked by spectator and player alike.
But above all, as Mourinho has already spoken of winning the league title in his debut season, his new players must discover the same unshakable self-belief, some would say arrogance, demonstrated by their manager.
"It is not new in my career," said Mourinho. "Everywhere I've had to cope with that situation. It doesn't matter where I am, everyone expects big things. It's nothing new for me.
Manchester United's best XI with Paul Pogba
1/11



David De Gea

Has been Manchester United's best player for the last four or five seasons and, after having a move to Real Madrid collapse last summer he is now more important than ever. He saved United repeatedly under David Moyes and Louis van Gaal and will hope under Jose Mourinho that there is less to do.

Getty

2/11



Matteo Darmian

A good player whose first season at Old Trafford was badly affected by injuries, Darmian should improve next year under the guidance of Mourinho. He has played for a similarly prescriptive coach for Italy in Antonio Conte and will provide exactly what Mourinho wants in the role.

Getty

3/11



Chris Smalling

One of United's most improved players under Louis van Gaal, he established a leadership and consistency that he had lacked before. Now he is near the peak of his powers and gives Mourinho someone to build around at the back.

Getty

4/11



Eric Bailly

The first of Mourinho's summer signings, the £30million man from Villarreal has looked good in pre-season already. Will need to adjust to the speed of the Premier League but looks well equipped to do that and form a strong pairing with Smalling.

Getty

5/11



Luke Shaw

Had his last season ruined by a broken leg against PSV Eindhoven and without him United lacked pace and width down the left. Mourinho will like his competitive attitude and Shaw will surely feature in Sam Allardyce's England squads soon enough.

Getty

6/11



Morgan Schneiderlin

Mourinho teams always have a midfield anchor, what he calls a 'number 6', and there is no-one better suited to the job at United now than Schneiderlin. Did not play as much as he should have done last year but that should change now.

Getty

7/11



Paul Pogba

The big issue for Mourinho will be where to fit in the £100million man. There will be times when he plays alongside Schneiderlin in a 4-2-3-1, when United can afford to attack more, and others where he is pushed further up with two midfielders behind him. Finding the perfect platform will be Mourinho's hardest task.

Getty

8/11



Henrikh Mkhitaryan

Not the highest profile summer signing at Old Trafford but a technical wizard who excelled in his three seasons at Borussia Dortmund, which is why Arsenal wanted him too. Likelier to be on the right of a 4-2-3-1, where he will provide creativity and intelligence.

Getty

9/11



Wayne Rooney

Mourinho said very clearly that Rooney will not play in midfield this season for United, so he will have to partner with Zlatan Ibrahimovic up front. Rooney will likely start as a second striker or number 10, but has a job to prove that he is still sharp enough for the job.

Getty

10/11



Anthony Martial

Never looked weighed down by his fee last season and showed pace, class and natural calm in front of goal. Likely to continue on the left this season where he will provide pace on the break, as long as he does the defending Mourinho demands too.

Getty

11/11



Zlatan Ibrahimovic

One final challenge for the big Swede who has won the league everywhere else he has played. Still has incredible strength and skill, even if he will be one of the slower strikers at the top this year. Just needs to find a way to be a focal point for his team-mates.

Getty
"I like to create that expectation. I like the players to feel it. Sometimes during my career I've created some unrealistic targets and by creating these you push the team to unexpected levels. To win the Champions League with Porto or Inter is unexpected and a very risky objective target.
"To win championships in the first season is a little bit of the same but I like that. People analyse it as arrogant and so on, that's not a problem for me.
"The reality is I always feel for players, managers, clubs that this kind of establishment of very difficult targets can only help us."
While Mourinho's reputation as a serial winner has never been in question, his approach and style of football employed to achieve success is a more complicated topic.
With Chelsea, it is fair to say, Mourinho came across as the ultimate pragmatist, the end justifying the means in terms of the entertainment he did, or did not, attempt to provide for his club's supporters.
Given a summer of transfer activity that has brought in, among others, European football's greatest extrovert Zlatan Ibrahimovic and, soon, the world's most expensive player in Paul Pogba, the early signs are at least encouraging for those United supporters who were left unimpressed by three years of David Moyes and van Gaal.
Not that Mourinho expects the transition to his own brand of United football to be simple or swift.
"It is very difficult," he said. "It would be easier to get 20 new players and start with them from zero than to get a squad that was previously with a top manager but with different ideas than mine.
"Sometimes we all feel that contradiction between what they are used to doing and what they want to do, and that from the mental point of view is not easy to adapt.
"So we need time. I cannot tell you that we are going to start the season at 100 miles per hour. I cannot say that.
"It takes time. If you are a right-back or a left-back and every time you have the ball you pass to a central defender and you repeat that for two years; just because I say get the ball and look for solutions in between the lines and look for solutions in the space behind (does not mean) that they are going to do that (straight away).
"In training, yes, you stop, you speak, you repeat. In competition, no, the ball arrives to you and you have no time for that. You go for automatic, the instinct, so the dynamic is very difficult.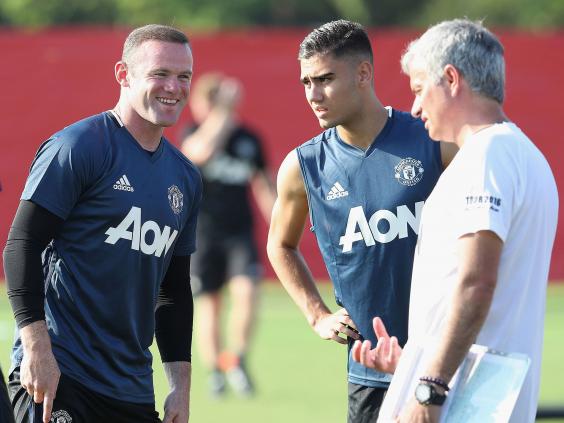 "For a central defender to mark man to man and to chase his opponent even if the opponent goes 15-20 metres away from him and again, I told that before. I am not saying that is wrong.
"I am saying it is not my way to do it and to say now, we play zonal, you don't follow the man and we make the team compact and in between our positions, we mark the movement of the opponent, it is a completely different profile, it takes time.
"But I have to change this. One is okay, let's go the same way because I am afraid to change or I want to change, it can take some time. I make the decisions and the players are working really hard to go in my direction and I am sure that they will because they try so when you see the way they try, I am sure we will go there."
Reuse content