August 18, 2016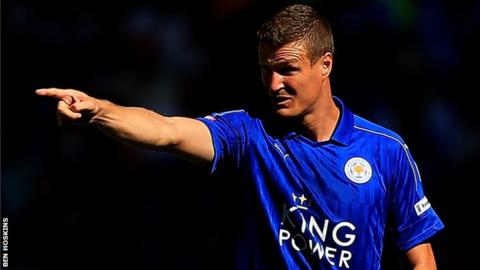 TEAM NEWS
Robert Huth returns to the Leicester squad to face Arsenal on Saturday after completing his three-match ban.
Jeff Schlupp remains available despite interest from West Brom.
Arsenal manager Arsene Wenger admits he may have to "gamble" on the fitness of Laurent Koscielny, who did not play in pre-season after reaching the Euro 2016 final with France.
Aaron Ramsey and Alex Iwobi both face three weeks out because of respective hamstring and thigh injuries.
MOTD COMMENTATOR'S NOTES
Steve Wilson: "A crisis, it seems, is never far away in the rarefied air of the Premier League, and both Leicester and Arsenal are firmly in the sights of those merchants of doom.
"The fact that the clubs who finished as last season's one and two both lost their opening games of the following season for the first time since 1953 is of historical interest, but not necessarily a great pointer to how they'll fare over the next nine months.
"Having said that – neither will want to lose again…
"The four-year contract signed by Riyad Mahrez at Leicester will have encouraged their fans – seeing Jamie Vardy's uncharacteristic wastefulness in front of Hull City's goal being remedied would encourage them still more.
"I'm not sure what would cheer Arsenal fans just now – except perhaps two or three stop-you-in-your-tracks new signings. That's about as likely as Arsene Wenger driving a camouflaged Bentley down the Holloway Road chucking £50 notes out of the window."
Twitter: @SteveWilson1967
WHAT THE MANAGERS SAY
Leicester manager Claudio Ranieri on Riyad Mahrez: "We are now in the Champions League and we need something more to play against the big teams. Now he knows very well what I want and my expectations are higher. Not only for Riyad but for all my players.
"He signed for four years, me too because I want to build. He wants to build something, Jamie (Vardy) wants to, Kasper (Schmeichel), everybody. It is good."
Arsene Wenger: "We have plenty of players who want to join us and I would say that even with the players who left, 99.5% of the players have asked to come back even when they left. It's not so difficult to attract players.
"You are absolutely convinced that I do not want to spend the money, but I reassure you we are ready to spend the money. What I fight against is to think that the only way in football is to buy. To buy in itself is not a quality but to buy the good players is a quality, and I think this club has been built on that."
MATCH FACTS
Head-to-head
Leicester City are on a 19-match winless run against Arsenal in the Premier League (D6, L13) and lost both games last season.
Leicester's only victory in the last 31 league and cup meetings came at home in the first Premier League fixture between the sides in November 1994.
Arsenal have only failed to score in one of the 27 most recent league encounters, when the sides drew 0-0 in January 2001.
Leicester City
Leicester City are the first reigning top-flight champions to lose their opening game since Arsenal in 1989. No defending champion has begun the following season with successive defeats since Aston Villa in 1981.
The Foxes have scored a league-high 11 penalties since the start of 2015-16.
Leicester have played four Premier League games without Robert Huth in their starting XI over the last year and have failed to keep a clean sheet in any of them.
Claudio Ranieri's next Premier League win will be his 100th in the competition.
Arsenal
Arsenal haven't lost their opening two league games since the inaugural Premier League season in 1992-93.
The Gunners conceded four goals at home in the league last weekend for the first time since May 2009, and only the third time in total.
Defeat by Liverpool ended Arsenal's 10-match unbeaten run.
Alexis Sanchez has scored four goals in his two previous league games at the King Power Stadium.
SAM (Sports Analytics Machine) is a super-computer created by @ProfIanMcHale at the University of Salford that is used to predict the outcome of football matches.