March 16, 2016
Kompany out for 'at least a month'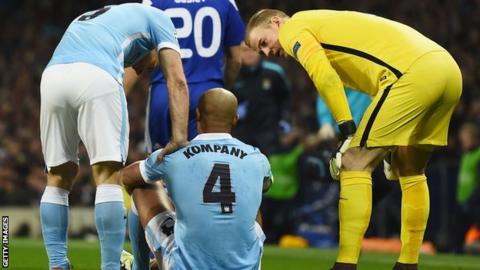 Manchester City will be without captain Vincent Kompany for at least a month after the defender injured a calf against Dynamo Kiev.
The Belgium international, 29, has started just 13 games in the Premier League all season and has had 14 calf injuries since signing in 2008.
"Vincent has again a muscle injury in his calf, the same problem he has had before," said Pellegrini.
"He will miss at least three quarters of the rest of the season."
Kompany is set for scan on either Wednesday or Thursday, with Pellegrini stating that "always with muscle injuries it is a minimum of one month".
The defender will certainly miss Sunday's derby against Manchester United, and is likely to miss City's Champions League quarter-final first leg on 5 or 6 April.
In all competitions this season, Manchester City have conceded a goal every 156 minutes with Kompany on the pitch and every 70 minutes without him on the pitch.
'Concern about his long-term career'
BBC Radio 5 live co-commentator Andy Townsend said Kompany's injury should be a serious concern for Manchester City.
"In the skipper's programme notes, he spoke about being asked to get back quicker than he would have liked," said Townsend.
"This is a recurring injury and it's becoming a chronic situation with his calf. It must be seriously worrying for him now.
"With players I've spoken to over the years who have had recurring problems, like Michael Owen, they say you run on the field and you're petrified that your body is going to let you down.
"That can happen at 35, 36 and 37, but in the prime of his career this is a chronic problem he's having to deal with and the club have to seriously think about the lad's long-term career here because this injury is such a persistent one that he is going to have a serious, serious issue with this if he's not careful."
"I think Vincent must be very strong mentally," Pellegrini said. "It's very difficult to accept but he has nothing else to do."
'An important achievement'
Pellegrini, who will leave the club in the summer to be replaced by current Bayern Munich boss Pep Guardiola, said reaching the last eight for the first time is an important milestone in the evolution of Manchester City.
"It's a very important achievement for the club because before we couldn't do it," said the Chilean.
"It's not normal to play Barcelona twice as we have the last two years and before that we didn't qualify. We're a club that is growing and to get this far is important.
"In this round of knockout you must be able to play this kind of tactical game and I'm happy in that sense and I'm sure we will continue to improve in this competition."
City will learn who their opponents will be in Friday's draw, with Barca the side to avoid according to Pellegrini.
"When you are at this stage, all the teams are difficult," he said.
"I keep having in my mind that the team that it is better than all the other teams is Barcelona. I think all the other teams are at a similar level."
'Man City have gone backwards'
Despite finally advancing to the last eight of Europe's premier club competition, former England defender Rio Ferdinand was unimpressed with City, who won the League Cup earlier this season but are 12 points behind leaders Leicester in the Premier League.
"I think they've gone backwards," he said on BT Sport. "Have they got any real chance of winning the Champions League? No. They're further down than at any time since the money was injected."