April 6, 2016
Klopp will show no mercy – Tuchel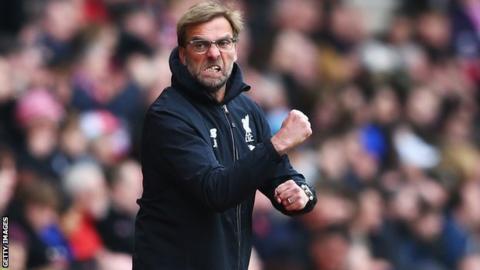 Borussia Dortmund coach Thomas Tuchel has warned his players Liverpool manager Jurgen Klopp will show no mercy on his return to his former club.
Liverpool play at the Westfalenstadion on Thursday for the first leg of their Europa League quarter-final.
And Klopp is preparing to face a team he won two Bundesliga titles with during a seven-year spell in charge.
But Tuchel said: "From the moment the whistle goes Jurgen Klopp will want nothing else than a win. And we too."
Tuchel has enjoyed an impressive first season at Dortmund, guiding a team which finished seventh under Klopp last season to second in the table, five points behind leaders Bayern Munich.
But the 42-year-old added that "no-one has forgotten" what Klopp achieved at Dortmund.
"Anything else but a warm welcome for Jurgen Klopp will be a surprise," said Tuchel. "We are now where we are because of our history with Jurgen."
Klopp said: "We have said Dortmund are favourites and I don't think anyone disagrees with that. We have looked at the way Dortmund play but my players haven't travelled here without any hope we will get a result tomorrow.
"My players have not come here and expected me to give them a detailed breakdown on every Dortmund player. Dortmund are in a better moment in their season but we have had good moments and not had the benefit of it.
"We have the highest mountain to climb but it is possible."
The Germans have received an injury boost with Mats Hummels, Sokratis Papastathopoulos and Ilkay Gundogan taking part in training on Tuesday after the trio missed the 3-2 league win over Werder Bremen at the weekend.
Forward Roberto Firmino, who has missed the Reds' last two matches because of a hamstring injury, has travelled with the Liverpool squad to Germany.