September 29, 2016
Kermorgant happy playing 'target man'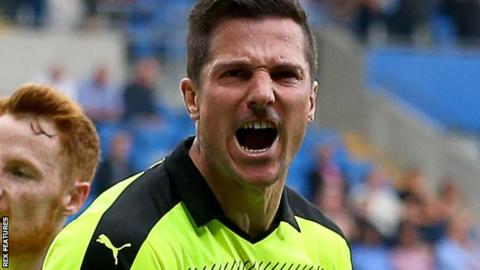 Yann Kermorgant says he is relishing being a sole target man in a new system under Reading manager Jaap Stam.
The 34-year-old, who moved to the Madejski Stadium from Bournemouth in January, has scored twice in nine Championship starts this season.
"It's a different part of my game and my mentality," the Frenchman told BBC Radio Berkshire.
"I've have to keep trying to adapt to my new position and keep getting in good positions to score goals."
Kermorgant has led the line in the league for Reading since Stam opted to start him as sole striker in the second game of the season.
"It's the first time I think I've played upfront on my own," he said.
"It's a different kind of play, where you have to learn to play higher rather than dropping back. I'm having to think about attacking more than defending.
"I'm really proud, as I'll be 35 soon and I don't think there's too many other players in the Championship my age who are playing as regularly.
"It's important to stay fit and to make sure the gaffer is happy with what I'm doing. As long as he's happy, I'm quite happy too."