June 28, 2016
Italy vs Spain reaction: Antonio Conte hopes identifiable style – aggressive, direct football – will see off Germany
Every team claims to play with belief but what sets Italy apart is their conviction. Their 23 players know how good Antonio Conte is, how important he is, what he gives them that their opponents lack. They do what he says not out of obedience or even optimism, but out of a zealous loyalty that cannot be faked.
Footballers that play with belief shout in the tunnel before games and charge around on the pitch. Footballers that play with conviction keep their heads clear, take the ball under pressure and carry out their instructions.
It was roughly 9.15pm on Monday evening and Conte had just enjoyed the greatest victory of his managerial career, the complete destruction of Spain, the ending of their era, which is not fully conveyed by the numbers 2-0.
Conte was in the basement of the Stade de France explaining what he has brought to this Italy team, just as Roy Hodgson's England were gifting two quick goals to Iceland in Nice.
"I have always said since I took over the Italian national side," Conte explained to his captive audience, "that the only route forward that we can have to try to achieve some semblance of success is to try to be a club.  We cannot allow ourselves to simply be a group of players."
In those words Conte explained the number one job of an international manager. The reason that international football is not as good as the top level of club football is that the national sides cannot hope to have the same tactical communication on the pitch. The players only work together for a few days at a time every few years. That is why the best international teams, Spain between 2008 and 2012, Germany now, rely on groups of players from the same club, who already have those bonds of knowledge between them.
What Conte has done, through ferocious hard work, tactical imagination, and force of personality, is to forge these Italian players into a coherent unit. The players themselves are not especially good, but they are brave, clever, and know their jobs in the team.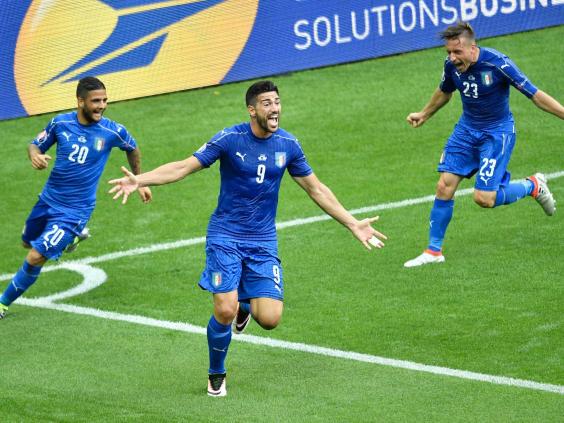 "There's no point in hiding the fact that it's not the rosiest period for Italy in terms of footballing talent," Conte admitted. "And so we need to be a team. I have tried to wage a battle over the last two years to make people realise this."
The militaristic language should be no surprise. Conte makes up for how little he sees his players with punishingly intense training. Since they have been together in France it has been physical training in the morning and tactics in the afternoon. When they work on team shape if any defender is just a few centimetres out of position then Conte will drag them back into place. The rest of their time is detailed video work, watching their own games and their opponents', trying to find the right way to win.
Leonardo Bonucci, at the heart of the Juventus defence which Conte built and which now anchors this Italy side, speaks with awe about his manager. "This process which started two years ago has been absolutely essential," he said. "This national side is short on great talent, so we have to come together as a team. We have to have a playing style, and Conte is really the master in this area."
Italy do have an identifiable style, aggressive, physical and direct. They are a clear representation of their manager, his personality and his philosophy. Conte is flexible, and while he played 3-5-2 in his first two years at Juventus, he spent the qualification campaign for this Euros trying different formations. He chopped and changed players until he knew the ones that he could trust, building on the Juventus foundations of Gianluigi Buffon, Bonucci, Giorgio Chiellini and Andrea Barzagli.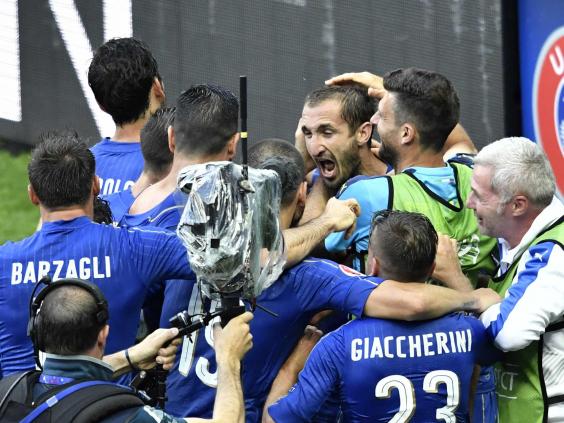 The performance against Spain was like the one against Belgium, only better. Italy were powerful and incisive in the first half then solid in defence in the second half. These were the type of performances – intelligent, flexible, disciplined – that win international tournaments. 
Few expected Italy to do this well but they are now heading for a quarter-final in Bordeaux on Saturday that almost feels like the final itself. Italy do not have the best squad, as the players themselves admit, but there is more to football than that. "Spain had the talent, but we had the idea, and an idea can beat talent," as Conte punchily put it.
Italy were heading back to their Montpellier base when England were knocked out by Iceland and the contrast between the two teams could not have been clearer. While Italy are inspired by Conte's clear thinking and force of personality, England, not the first time, looked muddled, confused, with no real vision or plan. For all the talk about passion and ambition they shrunk on the pitch, barely wanting the ball in games where they had to take control. That is the difference between conviction and belief.
<!–
Reuse article –>