June 27, 2016
Italy vs Spain Euro 2016 reaction: Antonio Conte hails his Azzurri side despite 'not the rosiest period in talent'
In Antonio Conte Chelsea may have found a manager as quotable as Jose Mourinho. Having secured another 90 minutes in his current role as coach to the Italian national side Conte was effusive about his team's 2-0 dethroning of the defending champions.
Revealing he clapped the team when they entered the dressing room he said: "I applauded them because they did something fantastic tonight. They are great men and wonderful footballers. I want to congratulate them. Every time there is injury or suspension they raise the bar.
"It was a great performance. I am pleased this is a team that plays football. We are very organised defensively but equally going forward. Often people just think that Italy are a defensive side, but that is not the case. I don't coach people to play counter-attack.
Having beaten the European champions Italy now play the world champions. "We need the players to be 130 per cent against Germany," said Conte. "We will need something absolutely extraordinary, as simply extraordinary may not be enough."
Germany have never beaten Italy in a competitive match but Conte cautioned: "We come into this on the back of a 4-1 defeat in March in Germany. I think we are playing the best side bar none, we will need a titanic effort against Germany from every perspective. But when the going gets tough we tend to respond, we will savour this victory and think about Germany from tomorrow."
Of his team he added: "There is no point hiding the fact it is not the rosiest period in talent. Given we can't fall back on the selection of players we have to be a team. From the outset the only route forward to achieve some semblance of success is to try and be a club, a team that plays a league season, we can't allow ourselves to simply be a group of players. I have waged a battle over the last two years to persuade people to grasp this point and we are a team."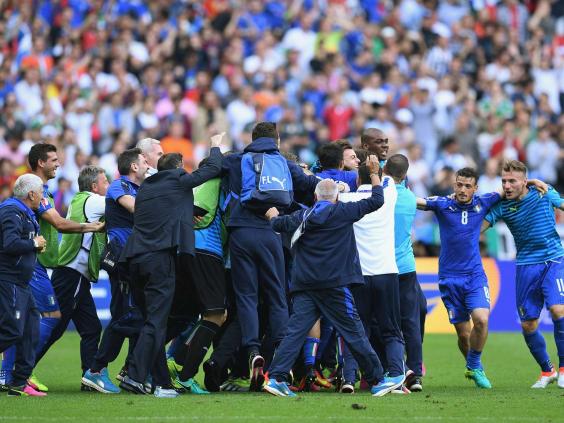 That has been achieved. Leonardo Bonucci, after a masterly display of defending, said: "This is a team not just a national side, it is a team. Antonio Conte is a coach who can implement a game plan, this national side is shorn of great talent so we need a playing style and Conte is a master of this."
For Spain it is probably the end of Vicente del Bosque as coach, but not, he insisted, the end of a golden era. "I have to speak to the president and we will think about it," he said of his own future. He added: "I think we have the style of football to keep going for many years. Spanish football has a great structure, been working for many years, good youth academy, an era has not finished.
"It is difficult to win a major championship. Italy were better than us but to say they battered us is excessive."
<!–
Reuse article –>