October 17, 2016
Inter Milan fans call Mauro Icardi 'vile piece of s***' and demand player gives up his captaincy
Mauro Icardi's turbulent relationship with fans at Inter Milan has hit a new low point after supporters called the player a "vile piece of s***" and cheered the striker's penalty miss during their side's defeat by Cagliari on Sunday afternoon.
Inter's passionate supporters were enraged by Icardi's newly released autobiography, titled 'Sempre Avanti' (Always Ahead), in which he discusses a fiery confrontation between himself, former teammate Fredy Guarin and fans in February 2015.
After a 3-1 defeat away to Sassuolo, Icardi and Guarin approached the club's Ultras to apologise and the Argentine allegedly threw his shirt to a young fan. But Inter's fans weren't impressed and the shirt was thrown back at the player.
Icardi flew into a rage and began swearing at the involved fans, calling them "a piece of s***" and stating that "you should all be ashamed". Icardi even recounts in his autobiography how he threatened the kill them.
The incident had been largely forgotten but the player's autography has reignited old feuds and fans unveiled an abusive banner during Sunday's game attacking the Argentine.
"You use a child to justify yourself and fling mud at us… You're not a man… You're not a Captain… You are just a vile piece of s***," it read.
To make matters worse, Icardi missed a penalty in the first half and was roundly mocked by the home fans.
Upon the book's release, incensed fans in the Curva Nord responded with a statement.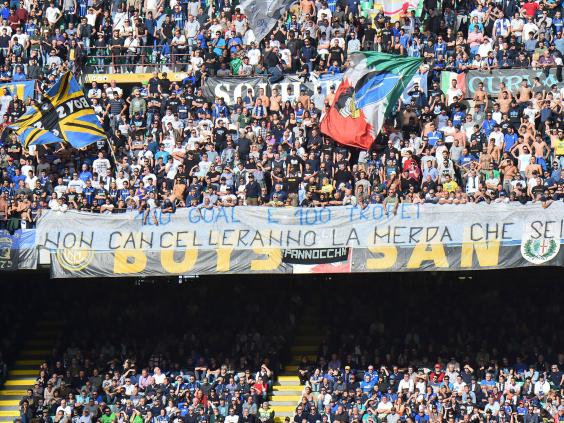 "We don't want to go back over that day when his own team-mates hauled him back by the neck to demand a less arrogant attitude towards the Inter population," it read.
"It is pathetic to read such things talking about us. In his book he writes: 'I am ready to face them one by one. How many are there? 50, 100, 200? OK, record my message and let him listen: I'll bring 100 criminals from Argentina who'll kill them where they stand, then we'll see.'
"He talks about helping little kids, then invents an incident that never happened to make himself seem superior to us, as if it weren't obvious to all that we are the only curva that helps kids design the choreography in the stands.
"You are finished with us. You're done. Take the armband off, you clown. Yes, that is what we demand."
Reuse content