May 14, 2016
Independent writers' end-of-season awards – the games, teams and players who impressed
MATT GATWARD
Best game you've been to
Chelsea 2 Tottenham 2: An absolute cracker of a match that sizzled throughout and how both teams finished with 11 men is a mystery. Eric Dier and Diego Costa barged shoulders as the teams swapped ends before kick-off which set the tone. John Terry put Heung-min Son into the advertising boards at the edge of the pitch in the first minute with a crunching tackle and the match finished with a brawl in the tunnel. The fare inbetween was of the roughhouse stuff. But there was also some wonderful football: Kane's goal was a lovely move and Hazard's a lovely finish. And of course, so much was riding on it.
Worst game you've been to
Arsenal 1 Crystal Palace 1: A match so typical of the ennui at the Emirates as a pretty Arsenal team failed to put away a poor Palace side and paid the price by conceding a late equaliser. The atmosphere was flat and the apathy towards Arsene Wenger and the team was palpable. How long can this go on?
Player of the season
N'Golo Kante. The non-stop Leicester City midfielder was the reason the Foxes won the league. Yes, Jamie Vardy and Riyad Mahrez banged in the goals but they wouldn't have had the ball without the little French midfielder. His ability to read play and win possession was sublime and he rarely went to ground so when he got it, he was in position to give it. He can also beat a man with his speed across the ground and play a pass too.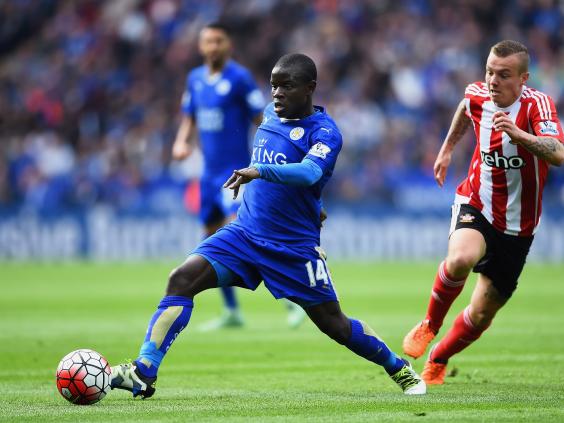 Team of the season
(4-2-3-1): De Gea; Bellerin, Morgan, Alderweireld, Rose; Kante, Dier; Mahrez, Alli, Vardy; Kane.
Pleasant surprise of the season:
Bournemouth: The south coast club were widely expected to disappear back from where they came after winning promotion to the Premier League. In fact, they stayed up comfortably and didn't get sucked into a relegation battle. They played some lovely football too, true to their manager Eddie Howe's beliefs, even when they were not winning. They have shown the likes of Newcastle and Aston Villa what team-work and togetherness at a well-run club can achieve.
Let-down of the season
Everton: Any team with John Stones, Ross Barkley and Romelu Lukaku down its spine and Gerard Deulofeu and Kevin Mirallas down its flanks should be challenging for the European places at the top end of the Premier League not down in 12th place with 44 points from 37 games. That Roberto Martinez, sacked last week, couldn't accept that and admit it made matters worse and drove a wedge between him and the Everton fans. The damage was irreparable and a season that promised so much delivered so little joy.
Flops XI
(4-4-2): Cech: Stones, Mertesacker, Bassong, Kolarov; Walcott, Schweinsteiger, Sissoko, Depay; Falcao, Bony.
Funniest moment of the season:
Claudio Ranieri's press conferences. The Italian has been a joy to watch this season and the way he has conducted himself with good humour and good grace serves as a lesson to others. Yes, Jose, you. The Italian has laughed at himself, downplayed expectations and brought the fun back to the football factory. The dilly ding, dilly dong moment was the cherry on the cake.
Manager of the season
Of course, Ranieri must win this award too: A mention to Mauricio Pochettino who has a built a brilliant team at Tottenham who play some wonderful football. But how can the award not go to the Italian? He has managed expectations brilliantly off the field but on the field has shown the tactical nous to switch styles of play mid-season when his team were conceding too many goals. He also was wise in coping with the loss of Vardy at the end of the season by bringing in Leonardo Ulloa and Jeffrey Schlupp to make sure the team still had pace in it. Wise, canny and a barely believable achievement. Bravo! 
Newcomer of the season
Dele Alli: The Tottenham midfielder has had an amazing first season in the Premier League that has established him as an England player in time for the Euros. He almost guided his team to the title and is a joy to watch. His performance at Stoke City when he scored twice and ran the show as his side won 4-0 was a particular highlight in a season packed with them for the young Spurs man.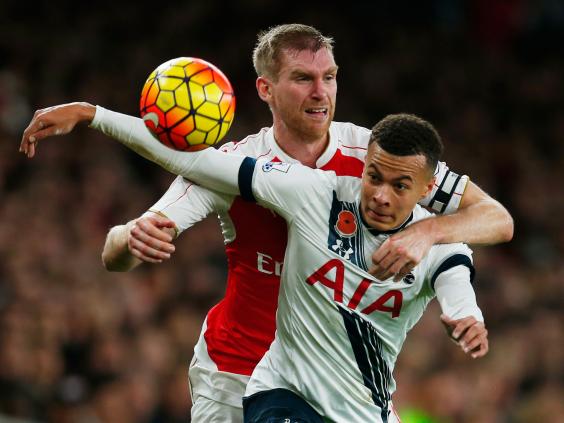 MARK OGDEN
Best game you've been to
Chelsea 2 Tottenham 2: The 3-3 draws between Newcastle-Manchester United and Liverpool-Arsenal in January had almost everything, but both lacked the needle and high stakes of Chelsea-Spurs at Stamford Bridge. Having led 2-0, Spurs saw their title hopes die when Eden Hazard, of all people, scored the late equaliser in a pulsating London derby.
Worst game you've been to
Manchester City 0 Dynamo Kiev 0: City had done the hard work in Kiev, comfortably winning the Champions League round of 16 first-leg 3-1, but the lack of any kind of action in the return fixture at the Etihad – barring another Vincent Kompany injury – produced one of the dullest stalemates you are ever likely to witness. It was, quite simply, 90 minutes of watching crisp packets blow across the pitch.
Player of the season
Wes Morgan: Jamie Vardy and Riyad Mahrez were both worthy winners of the respective Footballer of the Year and PFA Player of the Year awards, but defenders are often overlooked and Leicester City's incredible title success could not have been achieved without the leadership, drive and reliability of their captain. Morgan was Leicester's Nemanja Vidic, John Terry and Vincent Kompany rolled into one.
Team of the season
(4-4-2): De Gea; Walker, Morgan, Huth, Rose; Mahrez, Drinkwater, Kante, Alli; Vardy, Kane.
Pleasant surprise of the season
Jermain Defoe: The former England forward looked to be enjoying a brief flourish at the end of an impressive career when he arrived from Toronto to help Sunderland stay up last season, but the 33-year-old has taken his renaissance to another level this season, scoring 18 goals to prove that a goalscorer never loses his instincts.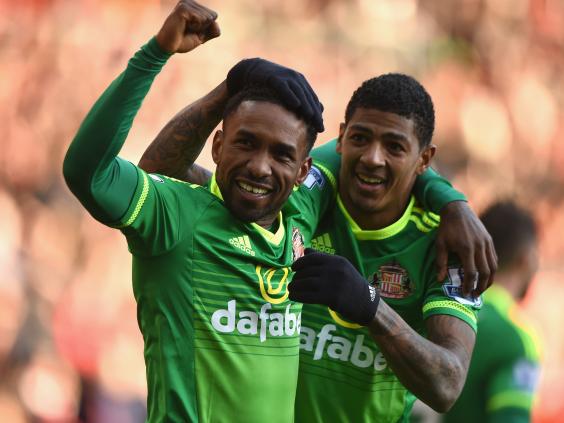 Let-down of the season
Raheem Sterling: The Manchester City winger started brightly enough following his acrimonious £49million transfer from Liverpool last summer, but the 21-year-old ends the campaign as understudy to the hugely inconsistent Jesus Navas. Sterling has now endured back-to-back seasons of mediocrity and, for a player with so much potential, next year has become a crossroads for him under Pep Guardiola.
Flops XI
(4-4-2): Courtois: Ivanovic, Kompany, Funes Mori, Rojo; Sterling, Schweinsteiger, Hazard, Depay; Benteke, Falcao.
Funniest moment of the season
Louis van Gaal is not quite as stern and dour as his reputation suggests and the Manchester United manager does have a humorous side, but the Dutchman left everyone open-mouthed by throwing himself to the floor to complain about refereeing decisions during the February victory against Arsenal.
Manager of the season
Claudio Ranieri: Both Slaven Bilic and Mauricio Pochettino have gone well beyond expectations at West Ham and Tottenham, while Ronald Koeman has also lifted Southampton to the brink of Europe again. But Ranieri has performed a football miracle by guiding Leicester to the title. Manager of the season? His feats will be remembered in a century.
Newcomer of the season
Marcus Rashford: Anthony Martial has scored more goals than Rashford in his first season in English football and Dele Alli has performed consistently since his move to Tottenham, but the 18-year-old's impact at Manchester United has saved the club's season and perhaps even Louis van Gaal's job. The youngster has been a revelation, just when United needed one.
JACK PITT-BROOKE
Best game you've been to
Tottenham 2-2 Arsenal, 5 March: When Tottenham were 2-1 up against Arsenal, they were heading to the top of the Premier League. Harry Kane had whipped in an audacious goal and White Hart Lane was rocking. But they let their guard down, Alexis Sanchez equalised, and Leicester slowly pulled away. That was the inexperience that cost Spurs.
Worst game you've been to
Crystal Palace 0-0 Everton, 13 April: The worst quality game was Aston Villa 0-0 Newcastle, but that was tense because it effectively relegated Rafael Benitez's side. The worst spectacle was a goalless draw between Palace and Everton, when neither side had anything to play for and were trying to avoid injuries before their respective FA Cup semi-finals.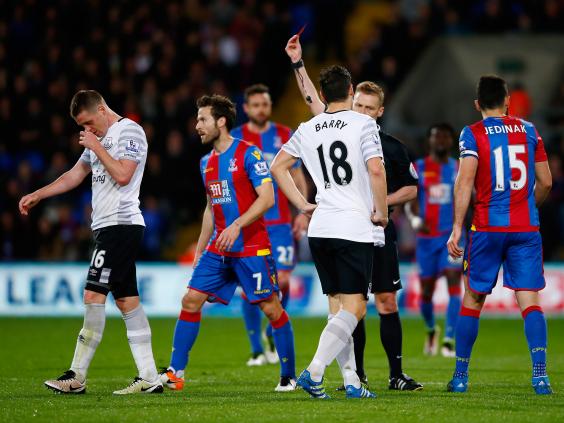 Player of the season 
Jamie Vardy: Sometimes the obvious answer is the right one. Vardy has been the best and most important player on a team that pulled off the most astonishing achievement of the modern era. He has scored 24 Premier League goals, and has set a new record having scored in 11 straight games. 
Team of the Season 
(4-4-2) De Gea; Bellerin, Alderweireld, Van Dijk, Rose; De Bruyne, Kante, Dembele, Mahrez; Vardy, Kane 
Pleasant surprise of the season
After such a good first full Premier League season, Harry Kane has proven that he is here to stay by going one better this year. Kane followed his 21 league goals last year with 25 so far this season, and his continued development as a powerful all-round line leader. Every team in the country would love to sign him.
Let-down of the season
This season Roberto Martinez had no European football and not many injuries either. Just a squad of hungry talented players in their third year under him. They have as much quality as Tottenham and Leicester. But they will finish the season stuck between Swansea City and Crystal Palace, despite Martinez's relentless optimisim.
Flops XI
(4-2-3-1) Courtois; Bacuna, Bassong, Lescott, Kolarov; Matic, Toure; Walcott, Niasse, Sterling; Bony
Funniest moment of the season
There is not enough theatricality from our managers and so Louis Van Gaal's dramatic dive when United hosted Arsenal was a rare highlight. Frustrated with Alexis Sanchez's perceived play-acting, he threw himself in front of fourth official Mike Dean, to the hilarity of millions. Bravo.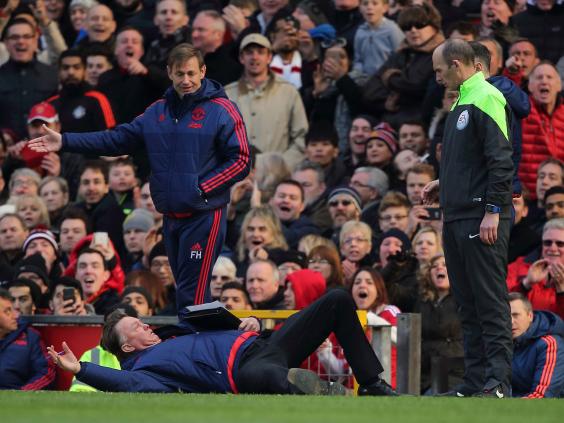 Manager of the season
Claudio Ranieri: It has to be the man who took a team tipped for relegation to the title. Ranieri's genius was to find a simple effective playing style which suited his squad, and which was different from the other sides in the league. Then when the pressure was on he knew how to protect his players.
Newcomer of the season
Dele Alli: Started the season as a teenager with no Premier League experience and ended it as England's leading midfielder. He is an aggressive, gifted, athletic goalscorer and looks far more mature than 20. He is also a lesson of the benefit of learning the game in the lower leagues, rather than cossetted Premier League academies.