May 24, 2016
Guardiola ideal for Man United – Cantona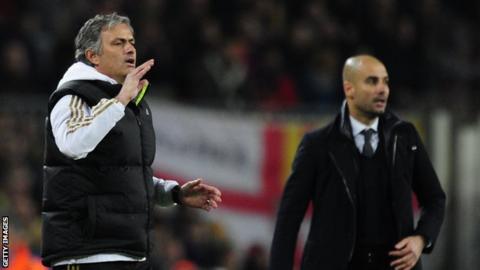 New Manchester City boss Pep Guardiola would have been a better fit for Manchester United than Jose Mourinho, says Old Trafford legend Eric Cantona.
United are in talks with the Portuguese coach to replace Dutchman Louis van Gaal, who was sacked on Monday.
City confirmed in February that Guardiola would take over this summer.
"I would have loved to have seen Guardiola at Manchester United. He is in Manchester, but at the wrong one," Cantona told the Guardian.
"Guardiola was the one to take. He is the spiritual son of Johan Cruyff. He is the only one to change Manchester United."
Mourinho's agent Jorge Mendes flew into London on Tuesday morning and is leading discussions with the club.
An official announcement on 54-year-old Mourinho taking over from Van Gaal – who won the FA Cup in his last game – is expected this week.
If he is confirmed in the role, he will renew his rivalry with Guardiola, who was Barcelona boss when Mourinho was in charge at Real Madrid.
"I love Jose Mourinho, but in terms of the type of football he plays, I don't think he is Manchester United," said Cantona on his 50th birthday.
"I love his personality, I love the passion he has for the game, his humour. He is very intelligent, he demands 100% of his players and of course he wins things.
"But I don't think it's the type of football that the fans of Manchester United will love, even if they win.
"He can win with Manchester United, but do they expect that type of football, even if they win? I don't think so."
Frenchman Cantona arrived at Old Trafford from Leeds in the 1992-93 season and was the catalyst for the club's first top-flight triumph in 26 years.
He won a further three Premier League titles and two FA Cups with them before retiring suddenly, and Cantona added: "They miss me. I think they have lost something. You can feel it."