August 11, 2016
Glenn Hoddle: Jose Mourinho knows that Manchester United is a bigger club than Chelsea but title is anyone's guess
So here it is then. A Premier League season like no other, one which has been in the making for years. José Mourinho, the Special One at the special club, has finally landed his emploi de rêve at Manchester United. City's five-year courtship of Pep Guardiola proved too tempting for the Catalan to turn down.
50 minutes down the M62, Jürgen Klopp has been afforded until 2022 to fine tune his heavy-metal brand of gegenpress football at Liverpool. Chelsea, meanwhile, have turned to a frenzied, restless Italian, Antonio Conte, to resuscitate the corpse left behind by Mourinho last December.
Of the top-flight's self-proclaimed super clubs, only Arsenal, whose stability is beginning to smell of stagnation, and north London rivals Tottenham have the same managers they started last season with. The root cause of English football's recent volatility can be found on the banks of the River Soar, at the home of champions Leicester City.
That prefix is as peculiar to write as it is to read. "It's a long season," muses Glenn Hoddle. "I've always said it's a Grand National, not a sprint."
The former England, Southampton and Tottenham manager was one of those who prophesied a year of struggle for Leicester 12 months ago. With a militia of world-class managers bound for the Premier League, more tears are likely to be shed by the establishment this season regardless of whether Leicester can do the unthinkable and retain their crown.
Hoddle continues: "Six don't go into four, does it? I believe that what Leicester did last year caught out everybody in football, me included. I expected them to suffer. But credit to everybody at that football club, it was a footballing miracle what they did.
"But when you set a standard is one thing; to keep that same standard is another thing, I can tell you. That is why the best players have a career and the best clubs go for longevity over a long time. This is the test that Leicester have got: can they keep up that standard that they have set themselves?
Manchester United's best XI with Paul Pogba
1/11



David De Gea

Has been Manchester United's best player for the last four or five seasons and, after having a move to Real Madrid collapse last summer he is now more important than ever. He saved United repeatedly under David Moyes and Louis van Gaal and will hope under Jose Mourinho that there is less to do.

Getty

2/11



Matteo Darmian

A good player whose first season at Old Trafford was badly affected by injuries, Darmian should improve next year under the guidance of Mourinho. He has played for a similarly prescriptive coach for Italy in Antonio Conte and will provide exactly what Mourinho wants in the role.

Getty

3/11



Chris Smalling

One of United's most improved players under Louis van Gaal, he established a leadership and consistency that he had lacked before. Now he is near the peak of his powers and gives Mourinho someone to build around at the back.

Getty

4/11



Eric Bailly

The first of Mourinho's summer signings, the £30million man from Villarreal has looked good in pre-season already. Will need to adjust to the speed of the Premier League but looks well equipped to do that and form a strong pairing with Smalling.

Getty

5/11



Luke Shaw

Had his last season ruined by a broken leg against PSV Eindhoven and without him United lacked pace and width down the left. Mourinho will like his competitive attitude and Shaw will surely feature in Sam Allardyce's England squads soon enough.

Getty

6/11



Morgan Schneiderlin

Mourinho teams always have a midfield anchor, what he calls a 'number 6', and there is no-one better suited to the job at United now than Schneiderlin. Did not play as much as he should have done last year but that should change now.

Getty

7/11



Paul Pogba

The big issue for Mourinho will be where to fit in the £100million man. There will be times when he plays alongside Schneiderlin in a 4-2-3-1, when United can afford to attack more, and others where he is pushed further up with two midfielders behind him. Finding the perfect platform will be Mourinho's hardest task.

Getty

8/11



Henrikh Mkhitaryan

Not the highest profile summer signing at Old Trafford but a technical wizard who excelled in his three seasons at Borussia Dortmund, which is why Arsenal wanted him too. Likelier to be on the right of a 4-2-3-1, where he will provide creativity and intelligence.

Getty

9/11



Wayne Rooney

Mourinho said very clearly that Rooney will not play in midfield this season for United, so he will have to partner with Zlatan Ibrahimovic up front. Rooney will likely start as a second striker or number 10, but has a job to prove that he is still sharp enough for the job.

Getty

10/11



Anthony Martial

Never looked weighed down by his fee last season and showed pace, class and natural calm in front of goal. Likely to continue on the left this season where he will provide pace on the break, as long as he does the defending Mourinho demands too.

Getty

11/11



Zlatan Ibrahimovic

One final challenge for the big Swede who has won the league everywhere else he has played. Still has incredible strength and skill, even if he will be one of the slower strikers at the top this year. Just needs to find a way to be a focal point for his team-mates.

Getty
"I have got to say, it was fantastic what they did for football. Do I see them challenging for the top four this year? Probably not. I think they will be in mid-table, eighth or 10th, something like that. I don't think they will be fighting relegation."
It's remarkable that relegation is even fathomable for the champions of England, but these are strange times. While Guardiola's appointment at the Etihad is the culmination of years of work, United's decision to turn to Mourinho is a direct response to the helter-skelter events of last year. Eric Bailly, Zlatan Ibrahimovic, Henrikh Mkhitaryan and Paul Pogba have followed the Portuguese to Old Trafford.
"There's a pressure there, without a doubt," Hoddle adds. "I think he knows now that he might have thought Chelsea was a big club. I think he knows now that Manchester United is a bigger club. Through his pre-season he'll realise the expectations are massive. But then again you've got to look at his pedigree, he's already managed Real Madrid which is probably the biggest in the world.
"He won't fear anything about taking that job on. What he will do is get his impressions across to his players, how he wants that team to play." Getting a message across to his players is a forte of Guardiola's, too, a footballing maniac and insatiable winner wherever he goes.
"I think he knows [what to expect]. I think that's a really intriguing situation because I think he knows it's the biggest test he's going to have. I think having been at Barcelona all his life and knowing the players and the system and playing as dominant as they were is wonderful.
"And then going to Bayern and having that, they're the dominant force in Germany. Manchester City now probably thought they might have been in a more dominant scenario over the last five or six years but they're not. You know it's still very open if they're going to win the league or do well in the Champions League. So this is going to be a test for him.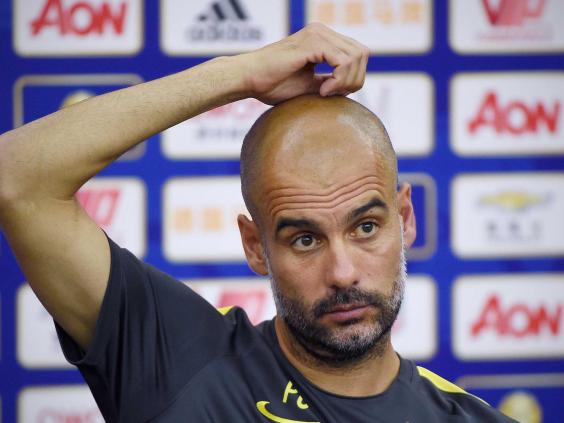 "Going to Middlesbrough away from home on a Tuesday night – or a Stoke as we always say – I don't think in Germany or Spain he would have experienced that sort of thing that he's going to experience. He's got to learn very quickly about the culture of the game here."
After getting their fingers burnt by Leicester last season, everyone's pre-season picks for relegation, it's perhaps unsurprising that pundits and former managers alike are loathed to shout their predications from the rooftops this time around.
There are so many permutations there for clubs I don't think you can actually pick a favourite. I think you would be having a real guess and a real punt.
58-year-old Hoddle muses: "Coming up in the car I was contemplating which team [could win it]. In the Derby, there is usually a favourite. You never have six horses – I just can't pick between six teams, it is going to be that tight. There are so many permutations that clubs are going through.
"The two Manchester clubs have got new managers in, new philosophies, new ways of playing, new players being brought in. It might take a little bit of time for them to hit the road running. You have got Arsenal and Tottenham who have probably got the most stable squads at the moment.
"But the new coach at Chelsea is the one I am most interested in seeing how he goes – whether he will play with three at the back. That will be completely different to the way they have played for the last 10 or 12 years. There are so many permutations there for clubs I don't think you can actually pick a favourite. I think you would be having a real guess and a real punt."
BT Sport is the only place to watch all four major football competitions in one place, with exclusively live coverage of the Premier League, UEFA Champions League, UEFA Europa League and the Emirates FA Cup. Watch Manchester City v Sunderland exclusively live on BT Sport 1 from 5pm on Saturday August 13. For more information visit bt/com/sport.
Reuse content