June 26, 2016
Germany vs Slovakia: Joachim Löw demands more if Euro 2016 title hopes are to be realised despite strong showing
Germany coach Joachim Löw said that his team still needs to improve even as they progressed to the Euro 2016 quarter-final with a dominant performance in a 3-0 defeat of Slovakia in Lille on Sunday evening.
Löw's team kept their fourth straight clean sheet but they will face a far harder quarter final against Italy or Spain in Bordeaux on Saturday. Löw said that Germany would have to play better to beat either of 2012's finalists in the next round.
"We have to improve if we want to talk with the others for the title," Löw said. "The first sides we played were not in the top 10. Poland have proceeded, but of course you improve. Now the task will be more difficult. We have to improve. There shall not be any neglect. We cannot allow spaces in the next games."
Germany were slightly profligate in front of goal in Lille, as Mesut Özil missed a first half penalty, and Löw said they would need to be more efficient from here on. "We have to take our chances, there will not be so many," he said. "That's where we have to improve."
Germany's three wins have come across Ukraine, Slovakia and Northern Ireland, and they drew 0-0 with Poland in Paris. That is why Löw demanded an improvement in their remaining games against far harder teams. "In the beginning like other sides we had our problems, in the group stage there are a lot of tactics," he said. "With due respect to our opposition this was no sign to say we will dominate this tournament. There were other opposition. We will have to improve if we want to win it."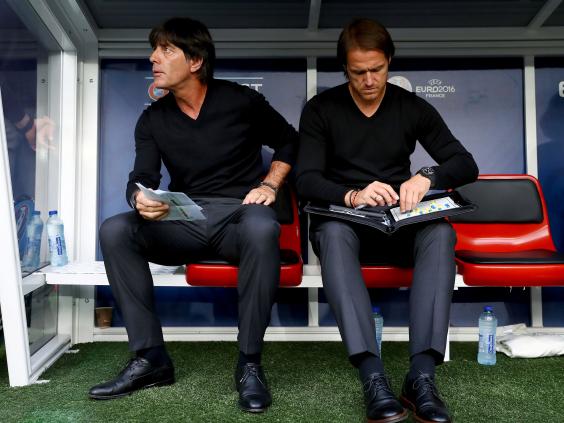 Having kept four straight clean sheet so far, Löw said that maintaining that same compact defensive organisation would be key to beating opposition with far more firepower than Slovakia.
"I am happy the defence worked that well," he said. "But now we will play against a lot more dangerous sides with top strikers. We will face a lot of quality. So it was good with the defence, but also mid and attack we enforced long balls by pressing them. If we continue to play compactly it will be difficult for any oppositions."
<!–
Reuse article –>