July 7, 2016
Germany vs France Euro 2016 preview: The night Toni Schumacher escaped horror challenge on Patrick Battiston
There is only one relevant piece of footage whenever France play Germany. 
It begins with the through ball from Michel Platini that sends Patrick Battiston into a vast gap in the West German central defence. Then comes Toni Schumacher's challenge, elbows up, studs high. Battiston collapses, two teeth and three ribs broken and suffering back trouble that still plagues him. 
The referee, Charles Corver, orders a goal kick. Schumacher stands staring blankly ahead. Platini's first thoughts are that Battiston is dead because he cannot feel a pulse. Because the Red Cross have been banned from the touchline at the Ramon Sanchez Pizjuan, it will take three minutes for any treatment to arrive.
France make their second and final substitution. The game will run for another hour in Seville's shattering heat. The Germans will go through to the 1982 World Cup final. On penalties.
This has been a European Championship for confronting ghosts. In the quarter-finals Germany, for the first time in their history, overcame Italy in a major tournament. Now, in Marseilles on Thursday night, the French will have to do the same. One of the reasons Schumacher's foul on Battiston still resonates so powerfully is because it has never been avenged.
Even before the semi-final, there had been many reasons, on and off the pitch, to want France to win. West Germany, the reigning European champions, had begun the World Cup by losing 2-1 to Algeria and then coming to an agreement with Austria to eliminate the Algerians. The France manager, Michel Hidalgo, who had gone to Gijon to watch the Germans, suggested they be awarded the Nobel Peace Prize. He had not made a single note on the game.
Off the pitch, the Germans were an utter shambles. Lothar Matthaus, a man who is not easily shocked, was left aghast when training sessions had to be delayed while the manager, Jupp Derwall, waited for players to recover from hangovers. "They were not just drunk," Matthaus recalled. "They were out of their heads." 
There was a fashion show at the team hotel which ended with a number of the models disappearing with the footballers to their rooms.
Eventually, the striker, Horst Hrubesch, declared: "what this team needs is an iron hand."  They got iron fists. At half-time during the World Cup final itself a row between Karl-Heinz Rummenigge and Uli Stielike almost came to blows.
This was a team France should have beaten easily. In his book "The History of the World Cup" the veteran journalist, Brian Glanville, gave a reason why they did not. "France had an embarrassment of midfield talent – Platini. Genghini, Tigana and Giresse. They selected four artists, running the risk that that was no real hard man, no tackler among them."
Even from the bench, Battiston could see how wound up Schumacher was. The Dutch referee Corver, said more than 30 years later: "Throughout the game, Schumacher was very nervous. When the incident happened he did not once come over to Battiston to ask how he was or to apologise. Instead, he just stood there saying over and over again. 'I did nothing. It wasn't my fault.' I have to say that he really irritated me. 
"I didn't see the incident. My view was blocked so I went over to my linesman and he said: 'There was no intent'. Had there been video replays available I would have taken a different decision."
France should still have won. After 13 minutes of extra time, the score was 3-1. "Germany are dissolving," said Martin Tyler from the ITV commentary positions. "I can't ever remember saying that about a German side."
It was then that the Germans displayed two of their great attributes. One was already well known to those who had seen them knock England out of the 1970 World Cup from two goals down – Germany's intense resilience when they appear beaten.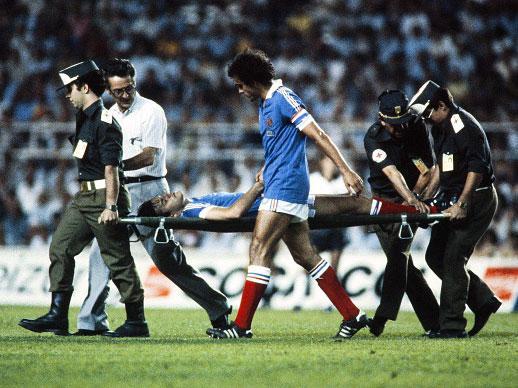 The other was to come to the fore now and has been with them ever since – an ability to win a penalty shoot-out.
Four years later the two met in another World Cup semi-final. Just as France ought to have won in Seville, so they ought to have won in Guadalajara in 1986.
Germany were probably more ordinary than they had been four years before.
In their group games, they had managed to beat only a Scotland side managed by Alex Ferguson, while their progress in the knockout stages had been a 1-0 win over Morocco and a goalless draw with Mexico, settled once more on penalties. 
To take them to the quarter-final in Monterrey, the Germans had been given a plane belonging to the Mexican president that was then buffeted by an electrical storm. Thomas Berthold kept the team's spirits up by singing loudly as the lighting flashed around the jet.
For France, now the reigning European champions, progress had been rather smoother. Victories against Italy and Brazil, eliminating the World Cup holders and the tournament favourites. There was plenty of talk of revenge. The midfield was virtually the same as it had been in Seville – Tigana, Fernandez, Platini, Giresse.
Franz Beckenbauer was managing West Germany now and he chose Hamburg's Wolfgang Rolff to man-mark Platini out of the game. This he did ruthlessly and effectively. Had the French keeper, Joel Bats not allowed Andy Brehme's early free-kick to squirm under his body, it might not have been enough. Once more Battiston was clear on goal but the angle was tighter and this time Schumacher stood his ground.
"Schumacher was the key," Matthaus recalled. "He stopped three or four golden chances and, had he played that well against Argentina in the final, we would have finished up world champions."
Two years ago, in Brazil, Germany did finish up world champions, knocking out France in the quarter-final at the Maracana. Before, there had been a rash of articles on Schumacher and Battiston. The old goalkeeper appeared in a documentary on German television, his hair no longer permed but unnaturally brown for a 60-year-old to once more say he had done nothing wrong. Battiston, who was managing Bordeaux's youth team, said he had forgiven Schumacher but had no wish to meet him.
The game itself was a shadow of the epic semi-finals in Spain and Mexico, decided by a header from Mats Hummels who will be missing from Thursday's encounter in Marseilles. However, all the old ghosts will be in attendance.
Reuse content