March 30, 2016
Gary Neville sacked comment: Why Ryan Giggs will take careful note of what has unfolded at Valencia
Those who know at Manchester United have always credited Ryan Giggs with an ability to detach himself from emotion and display a strength of character beyond that of many of his team-mates and contemporaries, so it will be interesting to gauge his reaction to the end Gary Neville's brief reign as Valencia manager.
If, as expected, Louis van Gaal's time as United manager comes to an end when this season draws to a close, Giggs will face a crossroads which could ultimately lead him away from Old Trafford for the first time in his professional career.
But Neville's experience in Spain will have been noted by Giggs, who will know that leaving United in an effort to enhance his prospects of becoming the permanent manager at the club at some point in the future may not be the wisest move.
Giggs is becoming restless for the responsibility of the number one job and he believes he is ready for it.
Sir Alex Ferguson has made no secret of his belief that Giggs can take the job on, while many of those who have played alongside the 42-year-old share the same view.
But there is a feeling within the game that he may now need to leave United to prove himself rather than remain at the club, and potentially work under another new manager, in order to convince the Glazer family and executive vice-chairman Ed Woodward that he is the man to take charge.
Neville surprised many at Old Trafford last November when he jumped into management by taking the job at Valencia – traditionally Spain's third major club after Real Madrid and Barcelona.
But in doing so, he found himself mentioned within the United hierarchy as a potential future manager, simply because he was prepared to put his reputation on the line at the Mestalla.
The problem for many young managers, however, is that football offers little sympathy to those who fall at the first hurdle and any failure is harshly magnified and therefore damaging.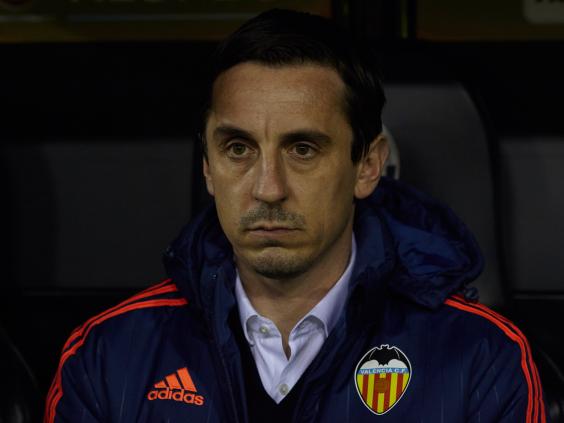 Giggs will realise that Neville's stock has now taken a battering because he failed to turn around an already difficult situation at Valencia, but he will also know it has happened before to so many of his former United team-mates.
Steve Bruce, Bryan Robson, Roy Keane, Mark Hughes and Ole Gunnar Solskjaer all went into management tipped as future United managers, but bad experiences early in their careers as managers have killed those hopes and ambitions.
None of the above will ever manage United, despite their knowledge of the club and its traditions.
They have all failed at least once, so they are now out of the game.
Neville has now fallen off the pace, if indeed he was ever a contender, but Giggs remains in the running because he is still within the walls of Old Trafford, learning the ropes from Van Gaal.
But if the Dutchman leaves in the summer and is replaced by Jose Mourinho, the temptation to strike out on his own might prove irresistible for Giggs.
He will not be short of offers, but how many of those will offer any kind of pathway back to the club, and job, that he wants above all others?
The answer, almost certainly, is none of them and Neville's fate in becoming the latest of Ferguson's former players to try and fail in management will be heeded by Giggs.
It may, after all, be the smartest move to stay where is and get the top job from within.