2 Jul
Gareth Bale studiously avoided mentioning Cristiano Ronaldo by name or making any kind of allusion to the individual contest between the two of them which adds an extraordinary layer of fascination to Wednesday's semi-final against Portugal which Wales have so improbably secured.  "It's Portugal versus Wales, nothing more," Bale said, as he departed the Lille Metropole stadium after the dizzying Welsh win over Belgium which puts the little nation into territory they have never occupied before.
Even the choreography of the build-up to Wednesday's semi-final creates a fascination, where he and Ronaldo are concerned. It has become such a ritual for Bale to offer his thoughts on Wales two days before a Euro 2016 fixture that it is a near certainty he will sit down to address the subject of Portugal on Monday. Football teams are generally superstitious about maintaining winning routines. For Ronaldo not to do the same at Portugal's base in Paris would hand the Welsh a win in the phoney war. So will his Portuguese Real Madrid teammate blink first? What will each man say of the other? Such is the fascination of the encounter. The working relationship between them has been difficult and the surface politesse extremely thin.   
But Hal Robson-Kanu, the out-of-contract Wales centre forward whose goal in Lille sent Wales in front, put Bale ahead of both Ronaldo and Barcelona's Lionel Messi in the global football order. "[Ronaldo and Messi] are both world-class players but we have a world class player who is better in Gareth," Robson-Kanu said. "Gareth has been fantastic for us and he is well on the way to being the best player in the world."
Quite who he had in mind as the best was lost in the euphoria of Friday night – a game for which some of the commentaries provided a soundtrack for all the years. "Put the bins out on Monday. I won't be coming home," the BBC's popular Rob Phillips told his sons over the airwaves after Sam Vokes' technically brilliant goal had put Wales into an insurmountable 3-1 lead.
Ashley Williams, who left the Lille stadium with the injured elbow he'd played with in a sling, was more respectful of Ronaldo, presumably because he – unlike Robson-Kanu – is going to face the task of marking him in Lyon. Williams was playing for Stockport County when Ronaldo helped eliminate England from the 2004 European Championships yet he will be up against him in the last four.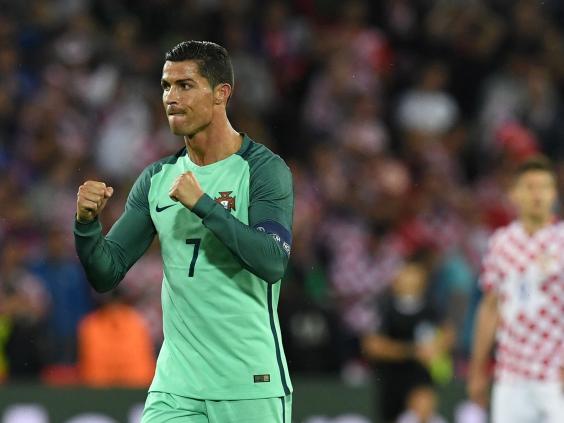 "He's obviously been one of the best for a number of years. He's an unbelievable player and he gets a lot of stick but everybody respects him and knows how good he is," said the captain, who has never played against him. "I would love to say that [we can win the trophy] but I would never be disrespectful to a team with Ronaldo in it. We can't look beyond [Wednesday]."
There's a symmetry here, because both Bale and Ronaldo have driven on their sides almost single-handedly at times in the past four weeks, though it is not jingoistic to suggest that Bale's inprimateur has been that of the coming man, while Ronaldo n'est pas le meme homme ('Ronaldo is not the same man') to cite Thursday's L'Equipe headline. 
We've seen Bale commanding a profile on and off the pitch, having plenty to say at his press briefings and scoring three times in the tournament so far. Ronaldo's goals, against Hungary, were a reminder of what he brings, though his Portugal form has been statistically indifferent, despite the spectacle he always offers. There have been seven shots, one decisive pass and just one successful run with the ball in 10 Portugal matches in the 2015/16 season, according to L'Equipe statistics. 
What gives Wales most reason to believe, though, is the collective which has built up around Bale – not least because he, the least demanding of the two of them, does not provoke fear in the lesser talents around him. Bale was eclipsed by Joe Allen, Aaron Ramsey and Ashley Williams on Friday night and would have quite happy with that. Ronaldo is the raging bull in the Portuguese side.
The absence of Aaron Ramsey and Ben Davies, suspended for the semi-final, is a blow. Ramsey influenced Friday night hugely after his slow first 20 minutes.
"We've grown in confidence," Bale said. "We've been learning from mistakes we've made before. We know they're a very good side with a lot of talented individuals but we showed what a true team we are [against Belgium.] It's in our hands now [whether we go all the way] We can't afford to look past the semi-final."
In the course of the next four days, the semi-final and its primary confrontation of two superstars will be quite enough to consider.
Reuse content