May 11, 2016
Father of 12-year-old Arsenal supporter punched by Manchester City fan demands apology
The father of a 12-year-old Arsenal fan who was punched in the face by a middle-aged Manchester City fan has urged him to apologise. 
Emerson Butler was hit in the face after he calmly said he thought a 2-2 draw between the two teams at the Etihad Stadium on Sunday was a fair result.
Emerson and his father Richard had been walking back to their car when they passed a parked mini-bus with a group of City fans who engaged them in brief conversation. 
After Emerson made his comment about the draw, one of the group punched him in the face, bloodying his nose and mouth. 
Mr Butler said his son was wearing an Arsenal top and is almost 6ft tall, but that he is obviously a child. 
He expressed his shock that "something like this could happen at a football ground in 2016".
He said: "Emerson is exceptionally tall, but there's no mistaking him as not a child and the man had spent time speaking to him before that.
"He had looked right in Emerson's face, he knew he was a child.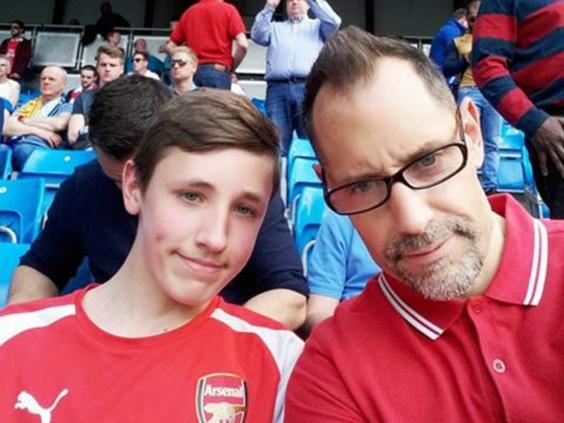 "Even now I still cannot believe that something like this has happened in 2016 at football. In the '80s stuff like this happened, but not now."
There has been widespread condemnation of the attack on football forums and now Mr Butler wants his son's attacker to come forward to apologise. 
He said: "I would like him to apologise. 
"If he has the character to do that, I don't know. It's probably not going to happen.
"I'm hoping he will understand the mistake that he has made."
Following the assault, Mr Butler said Emerson ran off "like an Olympic sprinter" and took a picture of his injuries when he got back to the car. 
Mr Butler, a sports journalist and lifelong Arsenal fan living in Darlington, said he had been taking his son to matches since he was five, but that Emerson is now wary of going to games.
He said his son had previously liked chatting to opposing fans.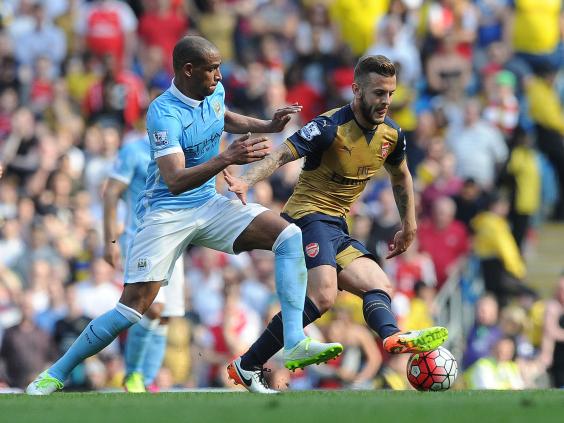 But the club has rallied around in an attempt to prove not all City fans behave like that. 
The club's management got in touch to offer Emerson a VIP trip back to the stadium when the two teams play each other again next year. 
Fans have also set up a gofundme page to pay for "a proper Manchester City welcome" to Emerson and his father. 
UK news in pictures
1/30



11 May 2016

Patricia Scotland (R), secretary-general of the Commonwealth walks with Nigerian President Muhammadu Buhari (C) on their way to address delegates at a conference to tackle corruption at the Commonwealth Secretariat in London

Getty Images

2/30



10 May 2016

Jeremy Corbyn speaks beside shadow Minister for Young People and Voter Registration, Gloria De Piero (2nd L) and deputy leader of the Labour Party, Tom Watson (L), in front of the 'Labour In For Britain' campaign bus at a launch in central London

Getty Images

3/30



9 May 2016

British Prime Minister David Cameron delivers a speech on the European Union (EU), at the British Museum in London. Prime Minister David Cameron warned that if Britain left the European Union it would put peace and stability on the continent at risk

Getty Images

4/30



8 May 2016

Mary Berry and Nadiya Hussain attend the House Of Fraser British Academy Television Awards 2016 at the Royal Festival Hall in London

Getty Images

5/30



7 May 2016

Britain's incoming London Mayor Sadiq Khan attends his swearing-in ceremony at Southwark Cathedral. London's new mayor Sadiq Khan thanked voters for choosing 'unity over division' as he was elected Saturday, becoming the first Muslim leader of a major Western capital

Getty Images

6/30



6 May 2016

Scotland's First Minister and SNP leader Nicola Sturgeon addresses the media outside Bute House, the official residence of the Scottish First Minister, in Edinburgh. Scottish nationalists won a third term in power but lost their outright majority in one of a series of local and regional elections seen as a key test for Labour leader Jeremy Corbyn

Getty Images

7/30



5 May 2016

Labour Party Mayoral candidate Sadiq Khan and his wife Saadiya pose outside The Richardson Hall St Alban's Church Centre in Streatham after casting their votes in London's Mayoral and Assembly elections

Getty Images

8/30



4 May 2016

An elderly couple relax in the afternoon sunshine in Green Park, central London

Getty Images

9/30



3 May 2016

A London Air Ambulance takes off from Parliament Square in London. The Air Ambulance is thought have been for a man who jumped off Westminster Bridge

Getty Images

10/30



2 May 2016

Leicester City fans celebrate their team becoming the English Premier League champions in central Leicester, after Chelsea held Tottenham Hotspur to a 2-2 draw. Leicester City completed their fairytale quest for the Premier League title after Eden Hazard's stunning late goal earned Chelsea a 2-2 draw with second-place Tottenham Hotspu

EPA

11/30



1 May 2016

Demonstrators from the Democratic Party of Alahwaz protest in Trafalgar Square during a May Day rally in London

Getty Images

12/30



30 April 2016

Sir David Attenborough and David Mooney attend the launch of the London Wildlife Trust's new Flagship nature reserve Woodberry Wetlands in London

Getty Images

13/30



29 April 2016

Sir Peter Soulsby, Mayor of Leicester hangs a 10ft Leicester City FC scarf around the Liberty Statue during a Leicester Backing the Blues Campaign in support of Leicester City

Getty Images

14/30



28 April 2016

SNP leader Nicola Sturgeon is given a kiss by five-year-old Holly in South Queensferry. Sturgeon has launched her party's final week of campaigning setting off on a seven day push for votes around Scotland

Getty Images

15/30



27 April 2016

Floral tributes to the victims of the Hillsborough disaster lie at the foot of the Hillsborough memorial at St John's gardens in Liverpool. Thousands of sympathisers were expected to pay an emotional tribute to the Hillsborough disaster victims after a landmark inquest found that 96 Liverpool football fans were unlawfully killed

Getty Images

16/30



26 April 2016

Relatives react after the jury delivered its verdict at the new inquests into the Hillsborough disaster, in Warrington

Reuters

17/30



26 April 2016

Doctor in acute medicine, Melissa Haskins, holds up a 'I ain't afraid of no Hunt' sign whilst striking with other junior doctors outside her hospital, St Thomas' Hospital in London

Getty Images

18/30



25 April 2016

An all-new interactive Digital Library from Vodafone and the British Library, giving the public free access to Shakespeare's iconic classics through scanning QR codes on the spines of virtual books

Oliver Rudkin

19/30



24 April 2016

Isla Stanton, 9, walks through bluebells in woodlands near Ashford, Kent

20/30



23 April 2016

Wearing masks of the "Bard of Avon", members of the public prepare for the parade marking the 400 years since the death of William Shakespeare, in Stratford-upon-Avon. William Shakespeare's hometown of Stratford-upon-Avon leads the global celebrations to mark 400 years since the playwright's death, with enough star-studded plays, concerts and parades to bring the town to a standstill

AFP or licensors

21/30



22 April 2016

Queen Elizabeth II and Prince Philip, Duke of Edinburgh stand with US President Barack Obama and First Lady of the United States, Michelle Obama in the Oak Room at Windsor Castle ahead of a private lunch hosted by the Queen in Windsor. The President and his wife are currently on a brief visit to the UK where they will have lunch with HM Queen Elizabeth II at Windsor Castle and dinner with Prince William and his wife Catherine, Duchess of Cambridge at Kensington Palace. Mr Obama will visit 10 Downing Street on Friday afternoon where he is to hold a joint press conference with British Prime Minister David Cameron and is expected to make his case for the UK to remain inside the European Union

22/30



21 April 2016

Britain's Queen Elizabeth receives flowers and cards from well-wishers during a walkabout to celebrate her 90th birthday, in Windsor

23/30



20 April 2016

Ben Bennett, 83, tends to artificial leaves which form the hair on a terracotta head sculpture of Queen Elizabeth II which stands next to one similar of the Duke of Edinburgh in his front garden in Fifield, Berkshire, ahead of the monarch's upcoming ninetieth birthday

24/30



19 April 2016

Royal fan John Loughrey poses for photographs outside Windsor Castle ahead of Queen Elizabeth II's 90th birthday celebrations

2016 Getty Images

25/30



18 April 2016

Hamlet actor Paapa Essiedu launches first circulating versions of the new £2 coins into tills and purses at the Royal Shakespeare Company in Stratford-upon-Avon. The Royal Mint commemorates 400 years since the death of William Shakespeare with limited edition commemorative coin collection

© Mikael Buck / The Royal Mint

26/30



17 April 2016

A depiction of a gas mask placed by environmental protest group Greenpeace is seen on a statue of Britain's Queen Victoria near Buckingham Palace in London

27/30



16 April 2016

Campaigners marching in an anti-austerity demonstration in central London. They hope the march, organised by the People's Assembly, will be a "critical moment" for the government, which has faced growing pressure over issues including the future of the beleaguered steel industry and the continuing dispute over junior doctors' contracts

28/30



16 April 2016

Protesters with placards and banners demonstrating on a variety of domestic issues including a call for British Prime Minister David Cameron to stand down, organised by the Peoples Assembly Against Austerity, listen to speeches in Trafalgar Square after marching in central London

29/30



15 April 2016

Anfield Memorial during the memorial service marking the 25th anniversary of the Hillsborough Disaster, at Anfield Stadium in Liverpool. Thousands of fans, friends and relatives are attending the service at Liverpool's Anfield Stadium to mark the 25th anniversary of the Hillsborough tragedy. 96 Liverpool supporters lost their lives during a crush at an FA Cup semi final against Nottingham Forest at the Hillsborough football ground in Sheffield, South Yorkshire in 1989

2016 Liverpool FC

30/30



14 April 2016

A demonstrator from the Sea Shepherd marine conservation organisation protests with a placard outside Excel London where BP are holding their annual general meeting in London. BP's chief executive Bob Dudley faced a shareholder revolt over a vast pay rise despite heavy losses and job cuts at the British oil major
The page said: "We are raising money to show Emerson that the majority of Manchester City fans are decent, caring human beings."
Mr Butler said the page has helped Emerson to see that the incident was a "one-off".
He added: "I think Man City have come out of this really well except for one guy and his group."
A spokesman for Greater Manchester Police told Mirror Online the attack was a "really nasty thing to do" and appealed for anyone who may have been in the area at the time of the attack to come forward. 
Additional reporting by PA