19 Sep
For vast swathes of last season, the hardest working part of Everton was Roberto Martinez's tongue as he tried to convince the world – and probably himself – that his squad and their season was not disintegrating around him.
Now, like Martinez himself, that is no more. Saturday's win over Middlesbrough was further proof that a new, steely Everton are in the early throes of a season that could be one to savour.
Last year – and throughout Martinez's entire tenure actually – conceding one goal early on was often the precursor to two or three more in quick succession.
However, new manager Ronald Koeman has already forged a stronger unit, both physically and mentally, and allied with the brilliance of Idrissa Gueye, Ross Barkley's desire to prove his critics wrong and Gareth Barry's innate understanding and game management, this victory was further evidence that the Dutchman has given Goodison Park one hell of a wake-up call.
"Yes there is a fear, definitely, just down to the fact that there have been people who have had good pre-seasons and they haven't started a game yet," Everton captain Phil Jagielka said. "That is what happens when a new manager comes in. He is not afraid of making decisions before and after the game. It is like being back at school with a new headteacher who is trying to be a little bit stricter."
Everton had to be strict with themselves after Maarten Stekelenburg bundled into his own net after clearly being fouled by Alvaro Negredo in the air.
Barkley and Barry huffed and puffed at referee Lee Mason to no avail. Crucially though, and in a diversion from last year, they did not simply give up.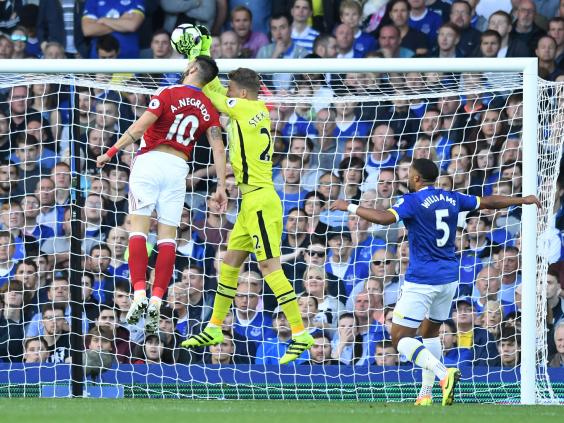 Almost immediately, Barry – on his 600th Premier League appearance – equalised from close-range after Ashley Williams had also ironically fouled Victor Valdes in the build-up and suddenly an Everton win felt like an inevitably. That is the Koeman factor for you.
A fine Seamus Coleman finish set them on that path before Romelu Lukaku confirmed it with a dainty last touch on a Yannick Bolasie cross.
Goodison Park feels relieved and reborn. No longer are Everton a nervous wreck at the back, Barry is playing with the spring of a man half his age, Barkley and the brilliant Gueye are full of running and they are providing strength in abundance in every corner of the pitch. Gueye, in particular, is looking like an astonishing piece of business at just £7m from Aston Villa. In fact, he could be this season's N'Golo Kante and you cannot currently give a midfielder higher praise than that, although Koeman tried.
"He was outstanding, he was perfect in every aspect of football," the Everton manager said. "Yes he wins a lot of the second balls and tackles, but he also showed composure on the ball, left and right and he is alway trying to play forwards, he is fantastic signing for the club."
Barkley, too, was superb and more than made up for his half-time substitution at Sunderland last Monday evening, on a night where he did not click and Koeman did not let him forget it afterwards. The way he marshalled the midfield with Barry, freeing Yolasie up to cause chaos, was a reminder of his better qualities – and his mental strength.
"That's Ross isn't it?" Jagielka added. "He is not going to go and crawl into a hole or hide.
"He has had such a lot of expectation from a young age but he has learnt to deal with it. I am delighted for him that he has played a big part."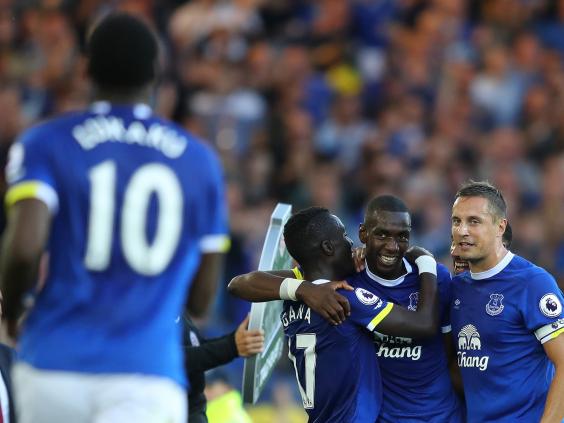 Middlesbrough, for all their lack of penetration were not actually that bad. They were blunted in attack and fairly unimaginative but they have a fundamental security and organisation around them that helps refute the idea they are just going to be freshly-promoted cannon fodder, as Marten de Roon pointed out.
"This was the best team we have played this season," he said.
"You can dominate and play better than another team but then out of nothing they can score another goal and then you see the quality of Everton after that.
 "It is a lesson but we can have the zero, the clean sheets, of course we can. We have to be compact and if we play like we did here then we will win more games than we lose."
He is right there. He is also right that Everton are looking like one of the best teams in the country at present.
They are direct, disciplined, determined and decisive. If they carry on in this manner, they could also be deadly.
Reuse content