June 18, 2016
European Grand Prix 2016: Lewis Hamilton laments 'worst' qualifying session after crashing out in Baku
Lewis Hamilton described his qualifying performance for Sunday's European Grand Prix as the worst of his career after he spectacularly crashed out.
Hamilton, fastest in all three practice sessions at the Baku Street Circuit ahead of Formula One's inaugural race in Azerbaijan, will start only 10th following an error-strewn display, while an unchallenged Nico Rosberg comfortably secured pole position.
By virtue of winning consecutive grands prix in Monaco and then Canada, Hamilton had slashed the gap from 43 to just nine points heading into the eighth round of the championship.
But the title momentum has now swung back in Rosberg's direction with the world champion facing an afternoon of damage limitation following his uncharacteristic mistake on the entry to turn 10.
"It was not a good day for me, and probably the worst session I've ever had in qualifying," said Hamilton, who ran off the track on three occasions before ending up in the wall in the closing moments.
"It was nothing to do with anyone else, it was just me not doing quick laps. There was no question if I was quicker (than Rosberg). I just didn't finish the laps.
"The car was a little bit different yesterday. We made some changes and it was not as good. I was not able to brake in the same places as I was, and I didn't adjust for it, so it was my mistake."
With Mercedes so dominant on a street circuit which is being billed as the fastest on the calender, Rosberg, joined on the front row by Red Bull's Daniel Ricciardo, will start as the overwhelming favourite to claim his fifth win of the season.
But Hamilton insists he can still fight for the victory.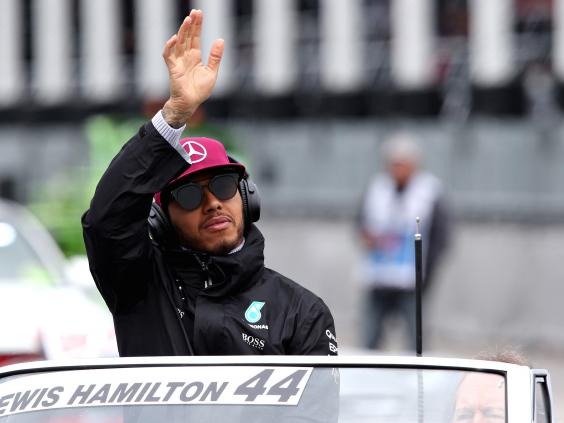 "The best thing I can do is look forward," he added. "There is no point looking back in the past no matter how pissed off you can be.
"I have got another opportunity tomorrow, so providing we can remain clean on track and not get caught up in other people's mistakes, then we should be able to make good points. It is not impossible to win."
Rosberg, who will be keen to bounce back from two miserable race weekends, added: "It is not imperative that I win. I would love to win tomorrow, but I don't think too far beyond that because my best approach is to concentrate on the race."
An impressive Sergio Perez was second fastest, but was demoted to seventh following a gearbox change after he crashed his Force India in final practice. Ferrari's Sebastian Vettel was bumped up to third on the grid.
Jenson Button, who has scored only five points this season, endured another troubled day – a theme which has become all too familiar in the twilight years of his career. The 2009 world champion will start only 19th – and behind both Manor drivers – after aborting his final timed run in Q1. Button's early exit capped a poor afternoon for McLaren after Fernando Alonso managed only 14th.
Jolyon Palmer qualified plum last on another disappointing day for the British rookie.
PA.
<!–
Reuse article –>