June 28, 2016
Euro 2016: Germany may have enjoyed Slovakia stroll, but Italy will pose their first real threat in the quarters
Germany enjoyed their first step into the serious rounds of Euro 2016, even describing their 3-0 defeat of Slovakia as "fun". But they must all know that the fun is about to stop when they play Italy on Saturday. 
For the last few years Germany had suffered with the same problem that afflicted Spain when the rest of the world realised how good they were: no space. The most exciting displays in the early years of Joachim Loew's Germany side were against England and Argentina in the 2010 World Cup, two sides who were complacent enough to give them room to attack into.
Germany scored four goals each time. Their greatest night, the 7-1, came against a Brazil side with no serious thought of defending whatsoever. Saturday will be the polar opposite of that.
So on Sunday night in Lille when Germany played a Slovakia side whose plan was to sit in, contain and frustrate, it felt like it might be another long night of defence against attack. As it was for England against Slovakia six days before. But Germany responded with the best football display of the tournament before, routing Slovakia with a 3-0 win that did very little justice to their dominance or, crucially, the number of chances they created.
Germany are far better for having Mario Gomez up front rather than Mario Gotze, and the Besiktas man has given this side an incisive power that they lacked before. Gomez scored once against Slovakia, won a penalty which Mesut Ozil missed, and looked like a man who was loving playing with Ozil, Julian Draxler, Toni Kroos and the rest. 
That is why Gomez said it was "fun", and that is certainly what it looked like as they tore through a team who were powerless to stop them. "Against a team who played very defensively, there with five or six men, and just against them we did a really great job," Gomez said. "We had so many chances, we had a lot of movement, we had a lot of flexibility. So for today, we can be happy, but we know that the rest of the tournament will be much more tough."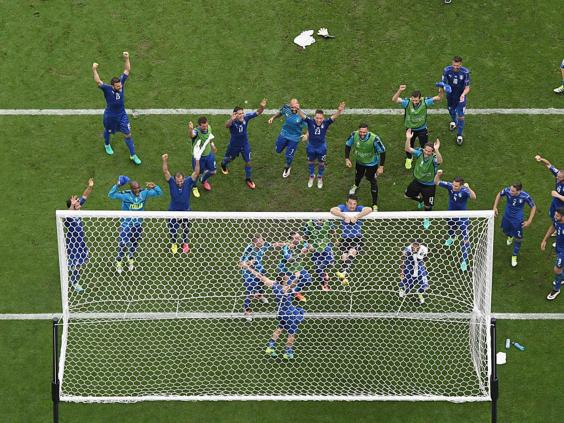 But tough is what this side wants. They are World Champions and so far their three victories – Ukraine, Northern Ireland and Slovakia – have not been against the best. That is why Joachim Loew was so reluctant to talk up his team's chances on Sunday night. What the want is a real test and that is what they will get against Italy in Bordeaux on Saturday evening. "Of course we prefer to play the stronger teams," said Jerome Boateng. "It is more fun and you want to play against the best."
Germany will have felt slightly anxious watching Italy yesterday afternoon, as Antonio Conte's side put in a display of counter-attacking ruthlessness to beat Spain at the Stade de France. Germany have a slight complex about Italy: four years ago Mario Balotelli's two goals knocked them out of the semi-final of Euro 2012.
This Italy team may not have as many names as that side did but they are stronger defensively and tactically, and have the best coach. They are the test that this Germany side needs to assert themselves as they want as Europe's finest. 
<!–
Reuse article –>